In today's economy, it's no longer enough to be just "okay" at something. To get ahead, you need to be exceptional, and it's no different for ISO agents.
But how do you become a successful ISO agent? How do you make people start seeking out your help for merchant services?
For an ISO agent, the industry is always evolving. That's why to be a successful ISO agent, you need to have the desire to learn and grow with the industry.
This will ensure that you can offer your clients the best customer service while expanding your portfolio.
There are a few specific qualities and traits each successful ISO agent has in common.
In the article below, we will go over a few of those traits.
Table of Contents
What Is an ISO Agent?
An Independent Sales Organization, or ISO, is a business owner or 1099 freelancer that sells credit card processing products and other merchant services.
ISO agents can have any experience level, whether you are brand new fresh out of school, or an industry vet with 30 years of experience.
An ISO Agent will sell credit card processing and merchant services to merchants, improving the payment processing experience for their customers and increasing customer retention.
Give Merchants What They Want
No matter what you're selling, you have to give your customers what they want.
As an ISO agent selling credit card processing, you want to offer consulting services, back-office optimization, and anti-fraud products as well.
Merchants want an agent that can give them everything they need and improve how their business functions.
Back office mechanics and efficiency should be completely optimized, allowing for a smooth and secure payment processing service.
If you can offer all of these services, merchants will use you and recommend you to others.
Pick A Niche
We've all heard the phrase, "jack of all trades, master of none."
In sales, you want to have a general knowledge of various fields, but if you're going to really excel, you have to pick a niche to become a master in.
As an ISO agent selling merchant services, you should pick an industry and dive deep into it.
When you choose a niche industry, you can serve your customers better, grow your business through referrals, and use past experiences in that industry to show prospective clients why you are their best option.
If you are a brand new agent, you are better off picking one industry and going all-in than trying to go broad without choosing a specific industry.
Be Passionate About What You Do
To be a successful sales agent, you have to be passionate about what you do.
If you aren't fully invested in your products, it will show, and merchants will pick someone else to work with.
When you are passionate about what you do, you will care about your products and your customers, and your business will grow.
Keep Up With Technology
To sell credit card processing products, you have to keep up with technology and be tech-savvy.
Merchants might not have time to keep up with the new technology and software to improve their business.
That's where you come in.
Keep yourself on the cutting edge so you can inform the businesses you work with of new technology that will improve their business.
When you show them what you can do for them, they will embrace your services.
Keep Up To Date on Industry Trends
Similar to keeping up with new technology, you have to keep up with industry trends.
Again, the merchants you work with likely won't have time to do this on their own.
You need to stay up-to-date on the ISO Merchant Services Industry and changes to processing or rising fees, as well as any changes that will affect your current & future clients.
As a knowledgeable sales representative, you will be able to educate the businesses you work with on changes in the industry.
Having this knowledge will increase your odds of closing sales because you aren't only looking out for the client's best interests, but your knowledge will help provide them with valuable information to keep up with the industry leaders.
Invest In Your Customers and Education
Talented and dedicated ISO agents will know that knowledge is power.
When you have a strong understanding of your industry and the people you're serving, you will be better able to position yourself to highlight pain points and issues that you can solve with your services.
Knowing which POS systems, products, and services will benefit their business will differentiate you from other ISO agents because you are devoting time to helping the business owner on a professional level and a resource level as well.
Since the merchant services industry changes dramatically over time, it's important to do continuous research so you're able to serve your customers by being up to date on all things ISO.
Partnering With The Right Merchant Service Provider/Payment Processor
Partnering with the right merchant service provider or payment processor is likely the most important aspect of becoming a successful ISO Agent.
If you're new or looking for a new merchant service provider, Electronic Merchant Systems offers excellent opportunities to their agents with their ISO program.
EMS wants the opportunity to help you grow your business and take the waiting out of receiving your residual payments with daily residuals.
EMS's daily residual program will allow you to receive your funding quickly without waiting while maintaining transparency.
And if you're ready to take the next step in the industry, EMS can help you become a registered ISO and enhance your brand by adding your company logo to merchant applications, statements, and more.
EMS also allows you the opportunity to market their tools as your own.
You can white-label your agent portfolio and take advantage of the look and feel of an advanced marketing team with no added cost.
Another one of the excellent benefits EMS has that your merchants will love is the ability to recover some of the costs associated with accepting credit cards.
Electronic Merchant Systems' Surcharge Program will allow merchants to pass along a percentage or a fixed amount on all credit card sales.
No matter where your merchant operates, Electronic Merchant Systems has the right business solution.
Contact EMS Today
Choosing a partner is the most critical decision you will make as an ISO agent.
You deserve a merchant service provider that provides support and transparency and assists you in the growth of your portfolio.
To get started with EMS and elevate your career as an ISO agent, click the button below.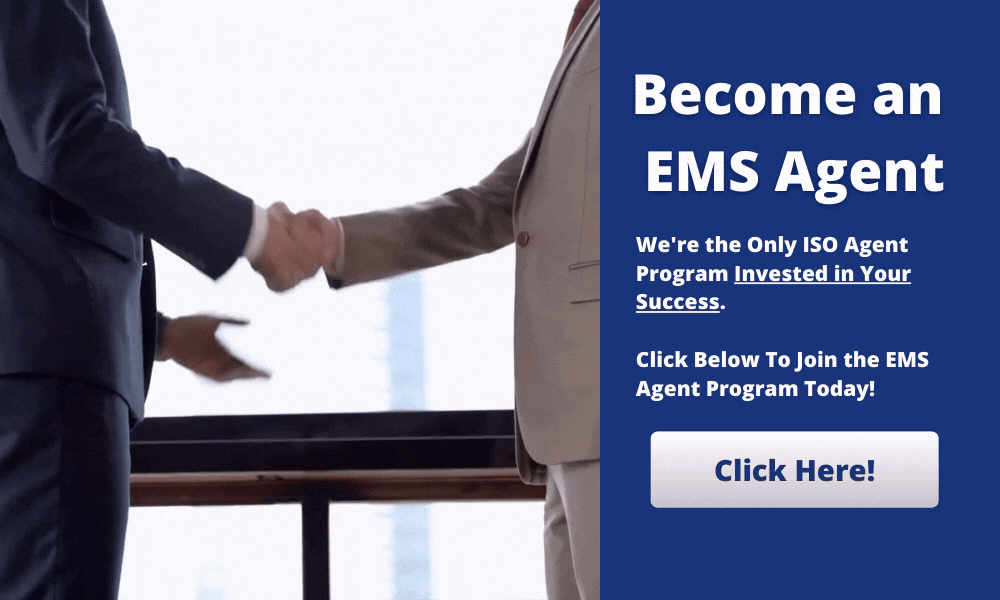 Check out our other articles:
Why You Need an ISO Agent Program Equipped for the Digital World
The Best Tips For Growing Your Merchant Services Business
What to Consider When Choosing a New Merchant Services Partner