What Should You Ask Your Merchant Services Provider?
Partnering with a reliable Merchant Services Provider is an essential part of running your business.
Your provider works as a liaison between your business, banks, and customers to make sure you get paid and all data is kept secure.
Key Takeaways You Will Get From This Article

1. A merchant account is an agreement between a business, the bank, and a payment processor to settle credit and debit card transactions.

2. The relationship between you and your Merchant Services Provider should be considered a partnership.

3. A good payment processor should give you all the necessary resources to ensure your experience is hassle-free and seamless.

4. We are able to accept virtually any payment type, as all our terminals are equipped to handle NFC and EMV payments.
When a customer swipes their credit card at your business, your Merchant Services Provider moves their funds into your bank account.
They handle all credit and debit card payments for your business. It's a vital role and not a decision on your part to be taken lightly.
If you're not familiar with the merchant services industry, it can be challenging to choose the best provider for your business on your own.
Electronic Merchant Systems can help!
We know this business inside and out, thanks to more than 30 years of experience serving businesses like yours.
We know you have questions, and maybe you aren't sure where to turn for the answers.
That's why we created this post to explain the top questions you should ask a Merchant Services Provider before signing a long-term contract. And, since we know ourselves best, we provided answers based on the services and solutions EMS provides. Check it out!
1. What Exactly Is A Merchant Account?
To start, we need to understand what a merchant account is since not every merchant account provider will offer them.
A merchant account is a bank account that allows you to accept payments via credit or debit card.
It is an agreement between your business, the bank, and a payment processor to settle card transactions, including credit and debit card processing.
At Electronic Merchant Systems, we believe in the phrase "No Good Merchant Left Behind."
So even if your credit score is below average, we will work hard to find a way to approve your account.
2. What Happens If I Have Issues With My Service Or Products?
Your Merchant Account Provider should provide you with excellent customer service at a reasonable cost.
The EMS customer support team is available 24/7/365 to assist our merchants.
As a business owner, you need to know you can accept card payments whenever necessary.
Whether you have a question at 3 pm or 3 am, send us an email or give us a call – a real person will be here!
3. How Secure Are Your Services?
Partner with a Merchant Services Provider who cares just as much about security as you do!
At EMS, PCI Compliance is very important.
EMS has been a certified Level 1 PCI Service Provider for more than ten years, which means we hold our services and solutions to the most stringent industry security standards.
You will not have to worry about PCI non-compliance fees.
We are as serious about your transactions and the health of your business as you are, so we always ensure the services and solutions we provide are secure.
4. Do I Need To Sign Lengthy Contracts?
The relationship between you and your Merchant Services Provider should be considered a partnership.
While EMS does utilize a Merchant Agreement, we believe that transparency is the key to keeping this partnership healthy.
You won't find any hidden fees or contract clauses when you work with us!


5. Can I Read Reviews On Your Merchant Services Company?
A merchant services company may sound competent, but how can you be sure? Check their reviews.
EMS has been around for 30 years, has gathered more than 950 Google Customer reviews, and maintains a 4.7/5 star average.
We have an unmatched track record in the industry.
We have not found a competitor that comes close to our review count and ranking.
6. How Do Merchants Get Burned By Their Payment Processing Provider?
Unfortunately, some providers take advantage of their customers by imposing:
Hidden fees
Poor customer service
Lack of security
Solutions that don't fit your business model
Watch for these red flags when choosing your provider. If you sense something is off, start looking elsewhere.
7. Can You Help Me Compete With Big Companies?
Competing against other small businesses is essential.
However, the best payment providers offer tools to build you up against the big boys as well.
EMS helps you build your brand by offering services beyond payment processing.
Ask about our gift and loyalty card programs and custom options such as web hosting and design.
8. Is Mobile Friendliness Important?
It is almost impossible to pry people away from their smartphones!
To stay competitive, it's important to have equipment that accepts virtual payments, such as Apple Pay or Google Pay.
When you partner with EMS, you'll be ready to accept virtually any payment type, as all our terminals are equipped to handle NFC and EMV payments.
It's also essential to make sure your website is responsive and mobile-friendly.
If you need to optimize your website for mobile or aren't sure if your site is mobile-friendly, contact us!
Our creative team would be happy to help you get your website on track.
9. What Happens If I Need Help With Funding?
Assistance with funding is just one of EMS' wide range of services.
EMS offers a funding program called BizFunds.
For applicable businesses, we will purchase a pre-determined amount of your future credit card sales volume to help raise capital.
The best part is, instead of a fixed monthly payment, you pay an agreed-upon percentage of your daily credit card sales until the amount has been paid in full.
10. Are There Options For Service-Based Businesses?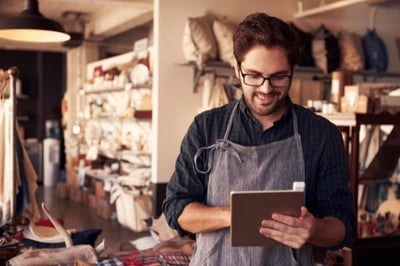 Not all businesses have brick-and-mortar locations for point of sale systems, but those businesses need to process payments.
EMS' Virtual Terminal & Payment Gateway solutions make email invoicing, recurring payments, and collecting repeat payments simple.
Bonus - 11. How Long Will It Take To Get Set Up With Your Technology?
Setting up a payment terminal should be as easy as "plug and play."
You should keep your focus on your business and sales opportunities, and your workday should not be interrupted by your merchant service provider.
Accepting digital credit card payments and different card types does not need to be a complex, lengthy project.
Many payment processors can get you approved for a merchant account in under two business days. Your equipment should be shipped to you in under two business days, as well.
Getting the hang of new technology from your merchant service provider can be a bit of a learning curve.
However, a good payment processor should give you all the necessary resources to ensure your experience is hassle-free and seamless.
Bonus - 12. What Is The Actual Processing Fee?
When signing up with your merchant services provider, make sure you understand if you're getting an "introductory rate" that could increase at some point.
Ask if there is a rate guarantee that the payment processor can offer.
Credit card processing rates vary depending on the type of credit card transaction, the card used, and the business's monthly processing volume.
If the processing rate they're offering as a merchant is lower than what you expected, be sure you know which transactions or card types the rate does, and does not, apply to.
Clarify if the processing fee is a flat rate or a percentage of your transaction volume.
How a payment processor calculates their fees can make a big difference in what you end up paying monthly.
You can also inquire about termination fees and cancellation fees.
Try to choose a merchant service provider that offers interchange-plus pricing widely regarded as the most affordable way to accept credit cards.
We hope you found this information regarding what you should ask your merchant services provider helpful.
For more tips on accepting payments and growing your business, check out these articles on our blog!
The Beginner's Guide to Accepting Mobile Payments
Start Accepting Credit Cards for Your Small Business
Your Complete Guide to Restaurant Business Success