About Electronic Merchant Systems
Electronic Merchant Systems (EMS) is a multi-billion dollar company that has been protecting merchant data and processing credit card sales for over 30 years.
We are an industry leader in merchant services because of our unparalleled customer service and innovative technological advances in Mobile Payments.
Since 1988, we have worked extremely hard to become the largest independently owned and operated Credit Card Processor solely located in the United States.
Yes, even our customer service staff is in the US!
No matter if your business is starting or has been around for a while, EMS is the #1 choice when you want to process, protect, and safeguard sensitive cardholder information of your customers.
Why EMS Mobile Is For You
With EMS Mobile, you can run itemized or simple transactions, and use either an iOS or Android device.
Our EMS Mobile devices can easily attach to a smartphone or tablet, which gives you the ease of moving around and running a business on-the-go. How convenient!
A convenience factor means more money for your business: studies show that 90% of customers would prefer to be able to pay with some card payment; consumers tend to spend 30% more when paying with a card versus cash.
You even have the option of allowing your customers to have a smooth, convenient way to pay you with online payment processing, which helps to get money into your pocket quicker and increases the flexibility of your business.
As long as you have a WIFI or cellular network connection, you can accept payments anywhere and have fast, real-time payment processing.
Old-School Customer Service, New-School Technology
We understand that more mobile payments and new technology-based products sometimes means more errors, the absence of reliable customer service, and no more physical copies of bills or statements.
When you choose to work with us, you don't have to worry about that.
At EMS, we put customer service first. It is our promise to our clients that we won't change our approach to taking care of you.
We combine old-school with new-school − you still get mailed monthly statements and 24/7 phone support with our closest US office location AND the latest technology advances in mobile payment solutions.
If you ever need to call for assistance from our customer service staff, you aren't talking to an outsourced telephone operator − you are getting help from one of our employees located in the United States.
A Mobile Service Fit For Your Business
The EMS Mobile and EMS Mobile Premier are both perfect for any sized company that accepts mobile payments.
This is a great solution for any service area business as well!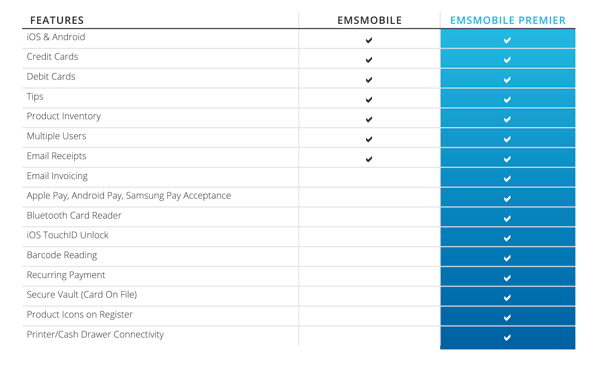 *We do recommend for anyone who uses an iPhone 7 or newer should consider the EMS Mobile Premier option with the Bluetooth capabilities.
Are you ready to outfit your business in the new convenient and affordable Mobile Payment Solution that is gaining popularity overnight?
Contact our Expert Staff at EMS by clicking the link below to get started with EMS Mobile today!