Businesses are like snowflakes – each one is unique. However, many businesses experience similar roadblocks and scuffles when it comes to securely accepting and processing payments. In this post, we'll explore five common merchant services struggles and what to do about them.
Merchant Services FAQs by Business Type
We've created five business owner characters with common questions and concerns about their merchant services offering. Start reading from the top or choose your business type from the list below to skip to that specific section.
Choose Your Business Type:
General Contracting/Home Construction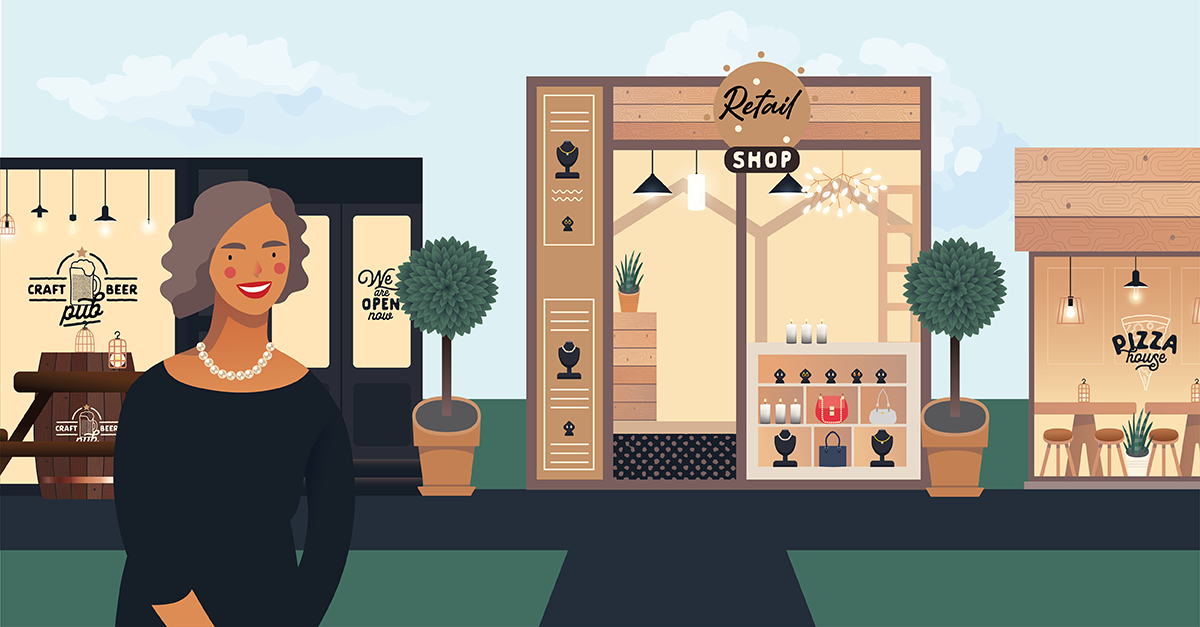 Retail Rita
Hi, I'm Rita! I own a small retail store in my town, where I sell my handmade candles, jewelry, and home décor creations. Business has been wonderful! I've added more staff to help me offer personalized service to every customer, so I can be confident that everyone leaves with exactly what they need for their home. But lately, I've found myself losing customers because I can only accept cash at my store. Plus, it's getting hard to manage everyone's schedules and sometimes I end up putting in extra long hours when there's a schedule snafu. Is there a solution that can help me?
The best solution to help Rita manage her employees' schedules and accept non-cash forms of payment is an intuitive point of sale solution, such as MaxxPay®.
MaxxPay Point of Sale is a cloud-based solution designed to seamlessly connect an entire store with its customers. This simple solution is scalable for any small business, with the following variations available:
MaxxPay® Mini
MaxxPay® Mini is the perfect all-in-one payment solution for the busy business owner. This solution makes accepting payments simple and helps you manage your business, all while fitting in the palm of your hand. Additional benefits include:
Small footprint with big functionality
Easy-to-use interface
Cloud-based back office for reporting and management
MaxxPay® Pro
MaxxPay® Pro is a complete point of sale solution that offers top performance in a compact package. This system makes getting paid easy and is always secure. Trust MaxxPay® Pro to help your business grow! Additional benefits include:
A PCI-certified, integrated payment device
Innovative point of sale software
The ability to personalize receipts with your logo and custom messages
MaxxPay® Premier
The MaxxPay® Premier point of sale system offers retailers and restaurants a complete solution for a fraction of the cost of other systems. This system boasts uncompromising quality and functionality to help take your business to the next level. Additional benefits include:
Access to business analytics from your cloud-connected portal
Real-time sales, inventory, and customer reports
Capability to export data to Excel

Randy the Restaurateur
Hello there, my name is Randy. I run a quick-service pizza restaurant in my busy town, and business is booming! My staff works really hard to keep everything running smoothly, but sometimes the wheels just fall off. I'm starting to suspect that our order entry system might be to blame. It's pretty complicated and causes problems when customers order pizzas with half mushrooms and pepperoni, and the other half sausage, peppers, and onions. I'm tired of getting phone calls from customers with order errors – can you help?
What Randy needs is a simple but powerful point of sale solution for his restaurant, like Total Touch®.
Total Touch Point of Sale is an easy-to-use restaurant software designed for to serve bars, restaurants, and the dining industry. It offers a simple interface and powerful features to help restaurant owners like Randy better manage their business and focus on delivering the best dining experience possible. Plus, Total Touch is a preferred solution for all restaurant concepts, from quick-service pizzerias to premier fine dining rooms. Some of the impressive features available with Total Touch include:
Open Table Management– manage tables, servers, and improve guest experience.
Simple, Easy-to-Use Interface– keep staff focused on the customer and not fighting with a complicated system.
Gift Cards and Loyalty Programs– integrated features to reward customers and keep them coming back.
Online and Mobile Ordering– increase sales and reduce order errors.
Pre-Authorize Bar Tabs– ensure bartenders charge the customer correctly to keep profits healthy.
Kitchen Display System– support for KDS and expo kitchen printing.
Payment Options– options for customer-first service, such as splitting checks by seat.
Employee Management– manage employee permissions, schedule staff, and track time from any terminal.

Landscaping Larry
Larry, here. I run a lawn and landscaping business and I'm having some trouble getting customer payments on time. Usually, I don't see my customers during the day, so I've been asking them to drop a check or cash payment at my office or leave it for me in a secure location. Well, that's not working out so well. One time, the payment was stolen from where they left it. Plus, often my customers forget to drop their payment off at the office in time for me to get the materials I need to complete the work. I'm committed to getting my job done on time, which means I'm dipping into my own pocket to pay for customer materials more often than I'd like. What should I do?
Larry's business would benefit from a digital payment experience that allows him to accept a credit card in person or online, such as EMSmobile.
EMSmobile is a simple, yet powerful front and back-office payment acceptance method for any small business. This mobile solution empowers your phone, tablet, or computer to accept payments anytime, anywhere.
Supported by EMS' Virtual Terminal technology, EMSmobile offers:
On-site mobile payment acceptance
Email invoicing
A secure vault for storing card information
Recurring payment features
With this solution, Larry will have the power to accept a credit card on the spot or send his customer an email invoice with a button for quick, secure online payments. That means he won't have to worry about stolen checks or footing the bill for materials ever again!

Food Truck Friends - Fiona & Fatima
My name is Fiona – it's nice to meet you! I have a fantastic food truck that I own with my best friend, Fatima. We've been serving up delicious donuts to the morning commuters in our city for a few years now. We've had some ups and downs, but overall, I'm still excited about our little truck and our customers are still excited about our donuts! I am looking for some advice, though. We've been cash-only this whole time, and I know we need to start accepting credit cards. I'm hoping to find something small that I can keep in my pocket, since space is tight. But we've also started talking about expanding our business to add a brick-and-mortar shop, so that's thrown me for a loop. Is there something out there that we can use for our food truck now, and grow to add to our shop later?
Fiona and Fatima would also benefit from a MaxxPay Point of Sale solution, because it can grow right along with their business! For now, we'd recommend they start with MaxxPay Mini, because it's the pocket-sized solution they need for their food truck. Once the business expands, they can seamlessly add one of the other options from the suite. That's one less thing to worry about on moving day!

General Contractor George
Howdy! I'm George and I am a general contractor. I serve a few small towns near me, and there is no shortage of work to be done! I've done everything from remodels, to roofs, fence projects, home repairs, and more. Because some of these projects are large-scale, I'm looking for an easy way to let my customers pay in installments over time. I was trying to send them an email to remind them that their payment was due, but my days are so busy that sometimes I forget. Is there a simple solution that can help me out?
The solution George is looking for is a Payment Gateway, because it will allow him to set a schedule of fixed payments to be automatically made over time.
Electronic Merchant Systems offers powerful Payment Gateway solutions equipped with innovative Virtual Terminals. This solution will empower George to:
Get Paid Faster with Email Invoicing
If you don't usually see your customer in person, don't waste time trying to call them for payment. Send a convenient invoice via email instead! Email invoicing allows you to increase your business agility by sending personalized invoices for quick and secure online payments. Plus, you can see which invoices have been viewed and paid, or even resend receipts via the Merchant Console.
Securely Store Customer Card Information on File
Our Virtual Terminals are equipped with a secure vault that safely stores customer card information for future use. Simply create a profile for your customer and they're set for simple future sales or billing. No more requesting credit card information for every sale! Plus, our account updater technology has the power to update customer card information, even without a request.
Set & Forget Payments with Recurring Billing
Create a recurring billing plan for any customer who is making scheduled payments. All you need to do is set the schedule and let the technology handle the rest.
Improve Business Management Processes
Manage the most important aspects of your business online through our intuitive Merchant Console. This cloud-based program serves as the hub for your business and can be accessed on any web-enabled device. Through the Console, you can:
Review the status of email invoices
View all transactions and manage inventory
Access intuitive reports
Analyze sales trends
Identify your best customers
And more!
While these business owners may be fictional, their struggles are quite real. If you identify with any of these characters, Electronic Merchant Systems can help! Contact us today and let's talk about the best merchant services solution for your business.