Today, many consumers choose to pay with a credit or debit card instead of carrying cash.
Why? Well, partially because fumbling around with cash and change at the counter can be cumbersome. Cards are simply more convenient.
Key Takeaways You Will Get From This Article

1. A surcharge program allows merchants to charge an additional fee on credit card transactions only, which helps them offset the fees associated with processing those transactions.

2. Discount programs you don't do anything to credit card users, but you decrease the cost for cash users.

3. Surcharging allows merchants to take back the revenue lost to the credit card networks.

4. Surcharge programs are a way for merchants to require customers to pay for their own convenience, rather than take on those expenses themselves.
However, that convenience comes at a price to the merchant through credit card fees for each credit card transaction.
Electronic Merchant Systems offers payment method solutions, creating a simple and seamless payment experience for your valued customers. We empower companies with mobile processing, web commerce, and POS Solutions. We understand the importance of digital and e-commerce literacy.
In the payments industry right now, there's plenty of buzz around cash discount and surcharge programs to help merchants offset credit card processing fees.
People are wondering which is better, how the programs work, and if they're even legal.
Allow us to clear things up. In this article, you will learn about cash discount programs, surcharge programs, and much more.
Table of Contents
Cash Discount Programs
A cash discount program allows merchants to offer customers a discount on their transactions when they pay with cash, check, or debit card.
This helps them avoid paying costly credit card processing fees. The discount amount typically falls within 3 - 4% of the total sale amount.
Businesses that most often use cash discount programs are gas stations.
You may have even seen signage for this type of program at your local gas station.
Participating stations typically post a per-gallon price for credit card customers next to the discounted cash price to encourage customers to step inside and pay with cash.
According to Visa, gas stations like these are among the only merchants that "properly utilize a cash discount method."
While this type of program is legal in all 50 states, major card brands like Visa, MasterCard, and Discover have publicly indicated that they want merchants to use a surcharge program over cash discounts.
Visa released a bulletin in 2018 which stated that many cash discount programs are "non-compliant" with their regulations.
Surcharge Programs
With a surcharge program, merchants charge an additional fee on credit card transactions only, which helps them offset the fees associated with processing those transactions.
While this is the preferred program by the major card brands, it is not yet permitted by all 50 states. The states that currently do not allow surcharging are Colorado, Connecticut, Kansas, Maine, Massachusetts, and Oklahoma.
If a merchant conducts business in multiple states, they can still surcharge, but only in states where it is legal.
You may be wondering, why would a merchant choose that program if it's just going to cost their customers more money?
That's a valid question, and of course, merchants take their customers' wallets into account. However, the industry consensus is that merchants who complete just one month of the program generally stick with it.
This is because the amount of money a merchant can save on their processing fees by surcharging transactions outweighs the handful of customers who may balk at the fee.
When you explain the benefits and show the program's value, it's an easy sell for small to mid-sized retail stores, restaurants, service businesses, and more.
Keep reading to see how it works.
The Difference Between Surcharge Programs and Cash Discount Programs
There's not much difference between these two fee-recovery methods.
A surcharge program increases the cost for each credit card transaction.
With legal cash discount programs, you don't do anything to credit card users, but you decrease the cost for cash users.
Cash discounting offers savings instead of additional charges.
The primary difference is the amount of compliance.
For credit card surcharges, you have to jump through hoops to charge consumers for credit card transactions.
Some states won't allow you to use surcharges at all.
Credit card surcharges are limited and do not apply to debit cards, cash purchases, ACH payments, a gift card, prepaid card, etc.
With a surcharge program, business owners typically vary the surcharge percentage depending on the purchase amount and its added pre-tax.
Merchants add this fee because the cost of credit card processing costs more, causing profit margins to be slimmer on low-cost items.
Surcharge programs are not legal in all 50 states, so it's essential to learn the laws carefully if you're thinking about adding a surcharge to offset the costs of credit card service fees.
And, since surcharge fees are not very common, your customers might be put off by the additional cost tacked onto their purchase.
How Do Credit Card Surcharges Benefit Your Business?
Businesses are frequently trying to lower the fees they have to pay the credit card companies and give their profits a boost.
Some merchants set a minimum for credit card payments, raise their prices, negotiate with their payment processor, or look for a new processor.
Some of those strategies are better than others.
However, there are three clear-cut ways surcharge programs could potentially benefit your business: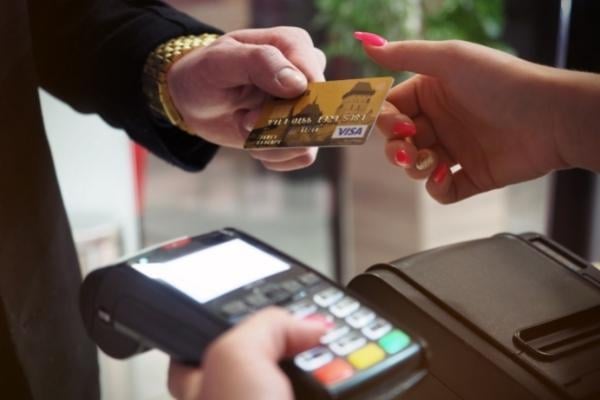 Surcharges Offer an Easy Revenue Boost
Surcharging allows merchants to take back the revenue lost to the credit card networks.
To understand the significance of the savings, let's look at an example.
Let's say your business collects most of its revenue in two ways: cash payment and credit card payments. On average, your business pays a 4% processing rate for credit card purchases.
If you have $300,000 of credit card payments, you're losing $12,000 each year to fees.
Covering those costs with a small 4% surcharge, or "customer service fee," puts over $10,000 back in your pocket each year.
Surcharges Lower Operating Costs
Surcharging programs are essentially "free credit card processing" programs because they all but eliminate the expense of accepting credit cards.
Beyond daily savings, surcharges are a lifeline to businesses struggling to stay afloat.
Small business revenue dropped 52% and payroll expenses dropped 54% in response to the COVID-19 pandemic and shutdown.
Adding a small, additional cost to credit transactions can help small businesses respond to a sudden lack of revenue without increasing their pricing and upsetting customers.
You can call the fee anything you want, such as a "checkout fee" or an additional service fee.
Surcharges Strengthen Businesses With Low Average Transaction Values
Some industries rely on low-price, high-volume purchases or small average order values like restaurants and bars, convenience stores, and some retailers.
For them, it can be challenging to make a profit on credit card transactions.
Adding these fees to customer transactions relieves financial pressure so businesses can focus on increasing purchases or raising their AOV.
As you can see, there are many reasons a surcharge program could be a smart move. However, for many businesses, their annual savings will speak for themselves.
How Our Surcharge Program Works
While surcharge programs may differ slightly between payment processors, the root of them remains the same.
It's a way for merchants to require customers to pay for their own convenience, rather than take on those expenses themselves.
EMS' surcharge program, as we highlighted above, allows a merchant to substantially reduce their monthly credit card processing fees because those fees become the customer's responsibility.
This helps merchants to rapidly increase profitability, which can be incredibly impactful for smaller businesses.
Here's how it works.
First, a merchant doesn't have to change any of their prices to implement this program.
All they need to do is post signage stating that all credit transactions now carry a 3% customer service charge.
EMS will provide this signage and register merchants with card brands when they implement a surcharge program. We'll also provide a terminal or POS system equipped to process surcharged transactions simply and securely.
With over 30 years of experience and a 4.7/5 stars Google Review rating from over 1,000 actual customers, there's a reason why merchants all over the country choose EMS as their merchant services provider.
Related EMS Blog Articles -
EMS' surcharge program truly is a win-win for salespeople and merchants alike. For more information, click below -