What You Need to Know About Choosing a Retail Location
Online retailers have the advantage of being accessible anywhere at any time.
However, studies have shown that 55% of shoppers prefer to purchase from a retailer with a physical location.
Key Takeaways You Will Get From This Article

1. Be strategic when choosing a physical location, it can help your business thrive for years to come.

2. Before signing a lease for a new storefront, do your research and consider all the recurring costs of the new location.

3. Creating a clean, organized space for your customers to browse encourages them to buy more and come back again.

4. Each retail space has its benefits, depending on the type of shop you want to open and the kind of foot traffic you need to see.
No matter what type of business you have, there's no way to replicate the experience of shopping in a store through a computer screen or mobile device.
This gives you, the new business owner, a distinct advantage.
Capitalize on that with a great retail store location that attracts your customers and encourages them to visit repeatedly.
In our last post in this blog series, How to Write a Business Plan, we discussed using your business plan as the foundation for your retail shop.
Today, we'll explore the next stage of construction; building the frame, walls, and roof by choosing the perfect location to sell your products.
Unless you're pretty handy with power tools, you probably won't be building a physical frame, walls, and roof for your shop.
Most likely, you'll choose a storefront that is already standing to make your own.
There may be some remodeling that needs to be done, some new countertops or light fixtures, but that's nothing you can't handle.
After all, you have a plan!
Table of Contents
What to Consider Before Choosing a Location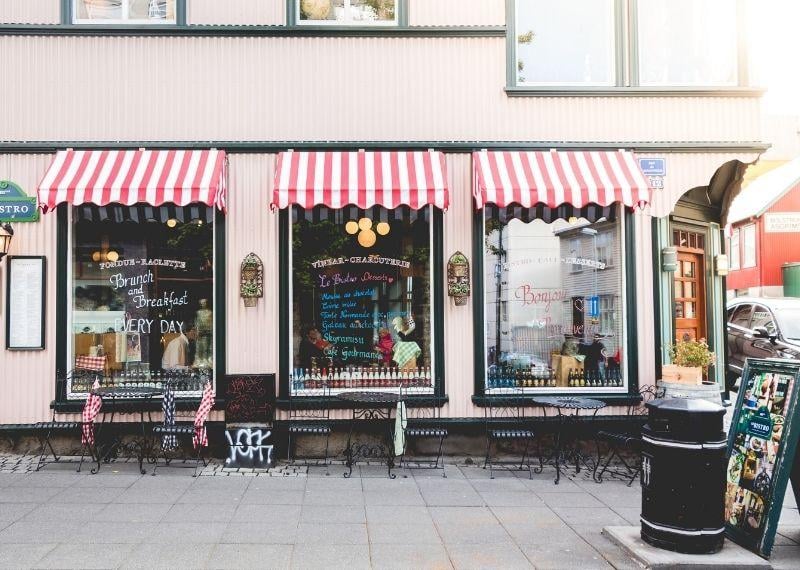 The first step in finding your perfect storefront is to decide where you want to plant your retail shop.
To get this adventure started, ask yourself the following questions:
Who are your customers/target demographic?

Where does your potential customer live?
Where do they work?
What do they do for a living?
Do they use public transportation?
What do they like to do on their days off? (Hopefully, go shopping!)

What does your dream building look like?
How much space do you need for displaying your products, inventory storage, and an office?
Will you be commuting to and from the store?
What is your budget for rent, and how much wiggle room do you have for repairs or remodeling?
A vital factor to consider ahead of time is the amount of parking you will need.
This depends on the retail store location you choose.
For example, a storefront in the city may be a perfect location for you, but it has limited parking space or street parking only.
A more rural location could include a nice parking lot.
A good rule of thumb when deciding on what sufficient parking looks like for your store is to offer around 5 to 8 spaces per 1,000 square feet of store.
The visibility of your store will also impact your business success.
If you choose a location in a mall or shopping center, you will have a high level of foot traffic, and you can invest less in advertising/marketing, as long as your target customers are frequenting that location.
However, if you choose a location off the beaten path, you will need a strong focus on marketing to get customers in the door.
Another helpful element to keep in mind is your neighbors and nearby competition.
Take note of the businesses near your potential space and consider whether their presence will help or hurt your shop.
The Balance Small Business shares the following example; "a high-end fashion boutique may not be successful next door to a discount variety store. Position it next to a nail or hair salon, which tend to draw the same demographic of customers."
Be strategic in which location you choose, and it can help your business type thrive for years to come.
Just like with your business plan, there is no right or wrong way to choose your store location.
It all depends on your products, customers, and you!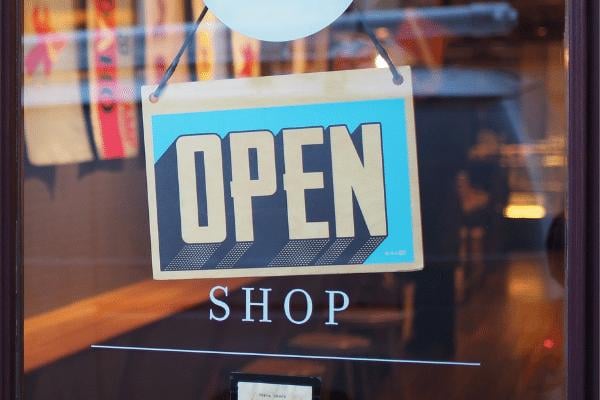 Types of Retail Locations
There are many different types of retail locations, all providing unique shopping experiences.
Each retail space has its benefits, depending on the type of shop you want to open and the kind of foot traffic you need to see.
When deciding which type of location best suits your retail business, remember that a lot of traffic doesn't mean you'll see a lot of business.
It isn't enough to have foot traffic; it has to be the right traffic.
Keep reading for a breakdown of the different types of retail locations:
Malls and Shopping Centers
This type of retail location is a mixture of different types of stores, all competing for customer attention in the same spot.
Before committing to a mall or shopping center, consider the good and the bad:
Advantages

Increased foot traffic is almost guaranteed
Customers seek out these locations when they want to shop
Ample parking for your customers

Downtown Locations
A downtown location is often a desirable option for retail stores.
While it may offer you more freedom than a mall or shopping center, typically, parking is a big issue for customers.
Consider the following before committing:
Advantages

Diverse foot traffic offers the opportunity to grow your customer base
Many cities (like Cleveland!) are working to revitalize and reimagine their downtown areas which can majorly benefit your shop
Standalone Real Estate
Geographically, this type of shop can be anywhere.
That gives you extreme freedom but also comes with some uncertainty regarding traffic.
If you want a standalone location, it's essential that you first know your target audience inside and out.
Keep the following in mind when making your decision:
Advantages

Typically there are no rules or restrictions, depending on your landlord
Parking is usually plentiful and affordable
Office Building
If your target customer is a busy businessman or woman, setting up shop in an office building may be the way to go.
Advantages and disadvantages include:
Advantages

An upscale, professional atmosphere that speaks to your target customers
Tenants typically share maintenance costs
Managing Costs, Zoning, and City Planning
Before you sign a lease for your perfect storefront, we've got a few more words of wisdom to share.
Do your research and consider all the recurring costs of the new location.
These may include:
Rent
Lawn care/maintenance
Security
Heating and air conditioning
Electricity
Water and sewer
Property taxes
Cleaning service
Waste removal
Depending on the space you choose, you may also need to invest money into repairs or remodeling.
And, of course, you'll want to decorate your shop in a way that is inviting and exciting for your customers.
But, keep in mind you don't need to break the bank here, either.
We believe that less is more when it comes to retail spaces, as too many displays and shelves can overwhelm your shoppers.
Creating a clean, organized space for your customers to browse encourages them to buy more and come back again!
You'll also want to contact the local city hall and zoning commission for your shop's area to make sure you understand the rules and regulations regarding signage.
Sometimes a city will limit sizes and imagery used for local business signage.
While you've got them on the phone, don't forget to ask about any future city planning that could change traffic patterns near your shop.
If all these things are falling in line, you may have found your new storefront!
It's All Coming Together
With that, your shop is moving right along! Your foundation is poured, the frame, walls, and roof built, and now it's time for the fun stuff.
We're not saying that writing a business plan and choosing a location isn't fun - to each their own, of course!
Check out the rest of the posts in this series for more new retail store advice!
Post One: Create a Business Plan
Part Three: Marketing and Merchandising
Part Four: Promote Customer Loyalty
Sources: The Balance SMB, The Balance SMB