How to Start a Small Business in Tampa, Florida
Tampa is a spectacularly sunny, smart place to launch a small business.
Key Takeaways You Will Get From This Article

1. When starting a small business you need to choose and analyze your idea from all angles and then develop a plan for getting started.

2. For increased credibility with your customers and protections from personal liability, you'll need to register and obtain an EIN for your business.

3. Keep your personal and business banking separate and invest in an accounting system to help you track your business performance and make annual tax filing easier.

4. Aquire the proper permits, licenses, and general liablity insurance.

5. The most successful and memorable businesses are built on the foundation of a solid brand.
In fact, Florida ranks 1st in the United States for lowest income taxes, and is rated #1 by Forbes for economic growth prospects.
So, how do you get started? Maybe you have this great idea, but no clue how to bring it to life. Allow us to help.
Follow this ten step guide to get on the road to small business success.
10 Steps for Starting Your Business


Choose Your Small Business Idea
For many entrepreneurs, the initial idea is the easy part. Maybe it hits you as you're walking down the street, taking a shower, shopping for groceries, or squeezing some fresh orange juice.
If you're on the other end of the spectrum with plenty of plans but no idea, here are some popular Florida business types:
Fishing Charters
Boat Cleaning
Pool Cleaning
Fence Companies
Pressure Washing
Italian Ice Shops

Practice Careful Planning
Before you commit your savings to your new business, analyze your idea from all angles and develop a plan. Ask yourself the following questions, and document your answers:
What problem does your business solve for customers?
What sets your product or service apart from the competition?
Who are your potential customers?
How will you get potential customers' attention and convert them into buyers?
What positions will you need to hire for?
What professional relationships or partnerships will you need to form?
How many sales will you need to break even?
How much money will you need to spend to get in front of those customers?
Where will you get funding?
Register Your Business
For increased credibility with your customers and protections from personal liability to you, register your company as a Florida LLC or Corporation.
An LLC is a great option for most small businesses, as it is easier to set up and manage.
It's also fairly inexpensive. According to TRUiC, you can register an LLC in Florida for as little as $125. If you choose not to register your business, you may need to file a Trade Name, or "DBA".


Obtain an EIN
Most businesses are required to have an Employer Identification Number (EIN), or Tax ID Number.
This number will be used to identify your business in its federal tax filings, which means you won't be able to legally hire employees without one.
In addition to obtaining your EIN, you may need to register for Florida taxes, such as the Florida Sales Tax and Florida Re-employment Tax.


Set Up Your Business Banking
If you mix your business and personal accounts, your valuables such as your home and car will be at risk if your business is sued. Use a dedicated business checking account and dedicated business credit card(s) to protect your personal assets and make banking easier.


Utilize an Accounting System
Keeping diligent accounting records is an essential part of successfully running a business. Invest in an accounting system to help you track your business performance and make annual tax filing easier.
You don't have to find a fancy, expensive system either. QuickBooks is a commonly used software that offers multiple pricing structures and will get the job done.
Acquire the Proper Permits and Licenses
Give your new small business every chance for success by making sure you operate it legally. You will need to comply with all federal, state, and local government regulations for businesses.
These can include:
building permits
fishing licenses
health permits
signage permits
etc.
It depends on the type of business you have.


Get Insurance
When you insure your business, you can manage risks and focus on growth. General Liability Insurance is a very common type for businesses of all sizes.
In Florida, businesses with one or more employees are also required by law to have a Workers Compensation Insurance policy.
Professional Liability Insurance is another common choice for businesses.
Develop and Define Your Brand
The most successful and memorable businesses are built on the foundation of a solid brand. When you begin to develop your brand, ask yourself: what are the core values that drive my business?
Customers are looking to support companies with a solid brand just as much as they are looking for high-quality products and services.
Establish a Web Presence
If you're planning for long-term success, your business needs a professional website. In today's world, your website is one of the most important marketing tools you have because it allows potential customers to learn about your business and enhances your credibility. You should also consider the following for marketing your business:
Create pages for your business on social media
Create accounts on review sites such as Yelp and Google Reviews
Update your Google My Business page (for free!) and keep it updated
Simple, Secure Payment Processing for Your Small Business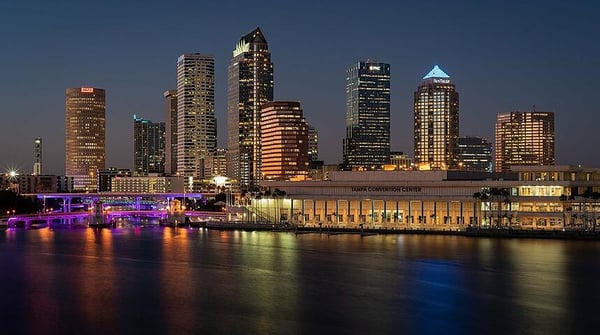 When you're planning to grow your small business, don't forget to think about how you will get paid! After all that hard work you'll want to see that revenue start flowing in, and we can help!
Electronic Merchant Systems offers affordable payment processing options for all business types. All of our payment processing products are secure and simple to use, from payment processing terminals, to mobile loyalty programs, to complete point of sale systems.
It is our mission to provide products and services that allow you to spend more time investing in your business and less time worrying about how you'll get paid.
Contact us today and let's talk about how we can provide local merchant services support for your new Tampa small business!