Tips on Starting a Business From Home
We've been doing practically everything from home for the past year, so why not start a home-based business?
If you have a great idea, now could be the perfect time to move forward.
Key Takeaways You Will Get From This Article

1. When starting a home-based small business you first need to form your idea, then put together a busniess plan, choose a business name and entity, register your business and obtain a business license, separate your personal finances and secure funding.

2. As a home-based business owner, you'll need to be set up to pay self-employment taxes quarterly to the federal and state government.

3. Even as a home business owner, you should consider investing in business insurance.

4. Choose a payment processing company to help with all of your merchant service needs.
The concept of a home-based small business is not new, and many types of businesses can be home-based now.
Take Etsy.com, for example. Etsy is a trendy online marketplace where people worldwide come together to make, sell, and buy unique items.
You can find everything from jewelry, clothing, and shoes to art, wedding supplies, toys, and more on this unique site.
According to Statista.com, "as of 2020, more than 4.3 million sellers sold goods through the Etsy platform, up from approximately 2.7 million active sellers in the previous year.
By comparison, there were over 39.4 million active Etsy buyers worldwide."
Wow! Those are some big numbers. And equally as impressive is the fact that most of those 4.3 million sellers operate their business out of their homes.
So, are you convinced?
Would you like to join the ranks of other home-based business owners?
Allow us to help you get started. Keep reading for five initial steps to get your home-based small business up and running!
Table Of Contents
Should You Open a Home-Based Business?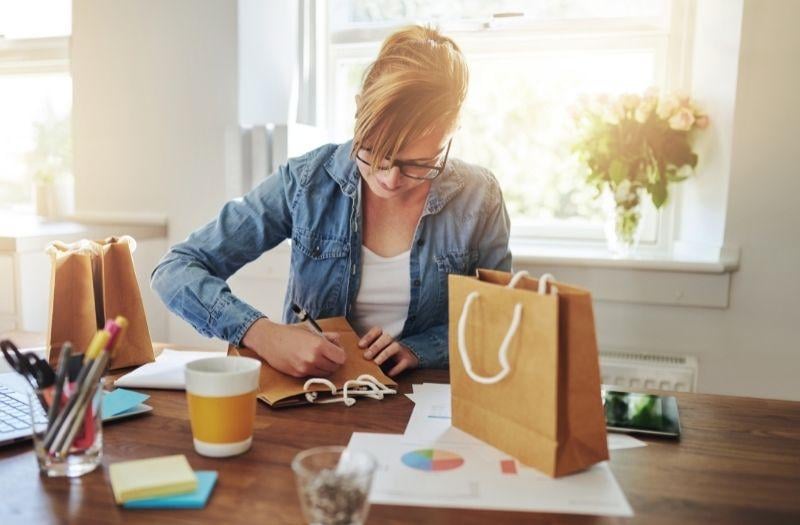 Before starting any type of business, it's important to ask yourself a few key questions to determine if a home-based business is a good fit for you.
You also need to determine if you are ready to do the work required to run a successful business.
You should consider the many advantages and disadvantages of owning and operating a home-based business.
Starting a business based out of your house allows you to:
Reduce overhead costs. The number one factor that kills most businesses is overhead costs. High overhead costs often pile stress onto new business owners. For example, renting retail space or commercial office space and setting up vital services is expensive. However, a home-based business makes use of space you are already paying rent or a mortgage, and you can piggyback off services you already pay for.
Be flexible. One big pro of running a home-based business is that your home office is just a few steps away. You'll never have to deal with the hassle of driving to a commercial office space. Working from home without set office space size and cost allows you to scale up or down as needed. So if you grow quickly and need more help, you aren't restricted by how many workers will fit in the office space you lease. Or if business stalls and you need to streamline temporarily, you're not stuck with space you don't need.
Get more accomplished. Not worrying about a commute allows you to transform minutes or hours stuck in traffic jams into focused, productive work time. The only commute you have to worry about with a home-based business is from your bed to your couch.
Enjoy tax breaks. Home-based business owners can benefit from tax breaks available only to them. The home office deduction really helps when tax season comes along.
But working from home can pose challenges, too.
You will likely have limited space in the home, issues separating work from family life, struggles with motivation, and problems with neighbors.
Make sure your business idea, personality type, work style, and family life are a good match for a home-based business.
Some businesses, homes, and business owners are perfect, while others might pose too many challenges.
5 Steps to Open a Small Business at Home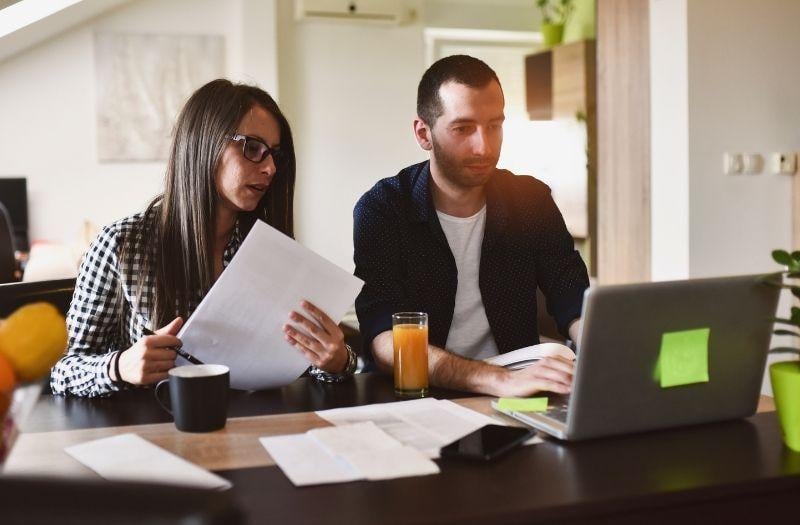 Aspiring entrepreneurs like you have seen the pandemic as an opportunity to capitalize on their ideas and launch their small businesses from home.
Starting a business from home certainly has its advantages, but there is quite a bit of prep work involved, just like any other business.
Here are five initial steps you will need to take to make your business official!
1. Form Your Idea
Before you can do anything, you need to flesh out your business idea fully. Get it down on paper, and then share it with a few people you trust.
Ask for their honest feedback on the idea. What do they like or not like about it? Does it seem like a realistic undertaking?
And, most importantly: does it sound like something they would want to buy?
Another crucial question to ask yourself is, can this business idea actually be run from home?
If it's going to take up too much space or you don't want to sell your products online, you may want to check out our other series on how to build a business from the ground up.
Click below to head over to those posts!
2. Build a Business Plan
This is a significant initial step for any business, whether it's being run from home or a storefront. A well-written business plan will help you:
Educate Investors - If you don't plan on funding your shop entirely on your own, a well-crafted business plan will help you convince investors or the bank that they should fund your shop.


Seek Employees and Partnerships - You'll certainly need employees to help you around the store, and partnerships with other local businesses can drive traffic to your shop. Your well-organized business plan can get these people excited about working with you.


Set Realistic, Attainable Goals - Laying out your entire plan on paper can help you set clear goals for your new business. It also gives you something to go back to when it's time to revisit those goals.


Create a Timeline - Your business plan can help you create a timeline for getting your shop up and running. Define a target opening date and work backward from there.


Stay Organized - Your business plan will be an essential point of reference for you during the process of starting your business. With everything documented, you won't have to worry about forgetting a step.
There are seven critical pieces for all good business plans.
These include: Executive Summary, Company, Overview, Market Analysis, Products & Services, Marketing Plan, Logistics & Operations Plan, and a Financial Plan.
For in-depth information to help you write each of these sections, click here.
3. Choose Your Business Name and Entity
Now we're getting to the fun part! Once you have your idea solidified and your business plan is written, it's time to decide on an official name for your business.
The possibilities are truly endless when naming your business, but we suggest choosing something that explains what you offer and is memorable.
Here are a few examples of Cleveland-area small businesses with creative names that are both practical and easy to remember:
If you need help choosing a name, you can use a business name generator.
Enter a few keywords into a generator, and the results may inspire you!
Once your name is chosen, you will need to select an entity for your business.
We recommend consulting with an attorney or other legal counsel at this point to make sure you choose the right one for your operation.
Visit irs.gov to review the different options for small business entities.
4. Register Your Business & Obtain a Business License
Depending on which business entity you have chosen, you may need to register with your state.
Again, seek legal counsel or business bureau assistance for this step to make sure everything is completed properly.
You'll also need to register your business with the federal government and obtain the proper business license.
By registering with the federal government, you will receive an Employer Identification Number (EIN), which will help you hire employees, open a business bank account, file taxes for your business, and more.
Your business license requirements will vary depending on your business type and location. Some general licenses you may want to research include:
A home occupation permit
Property use permit
Zoning permit
Business operating license
Professional or trade license
5. Separate Your Personal Finances & Secure Funding
Now that your business is official and legal, it's time to think about your finances.
Even though you may be running a sole proprietorship, it's essential to separate your personal and business finances.
Keeping your money separate is crucial for bookkeeping and filing taxes, but it can also help protect your personal assets.
Start by opening a business bank account and applying for a business credit card. You'll need that EIN we mentioned earlier to accomplish this.
If you plan on accepting credit card payments for your business, you'll also need to secure a merchant account through a payment processor. We'll talk more about that later.
You may also need to secure funding to help cover some of your business startup costs.
Be sure to have your written business plan handy when searching for investors.
You can also check out our BizFunds™ program, which provides startup funding for qualifying businesses.
With these five initial steps completed, you're just about ready to launch your small business! But first, you'll need to take a second to think about how you want to get paid.
Additional Steps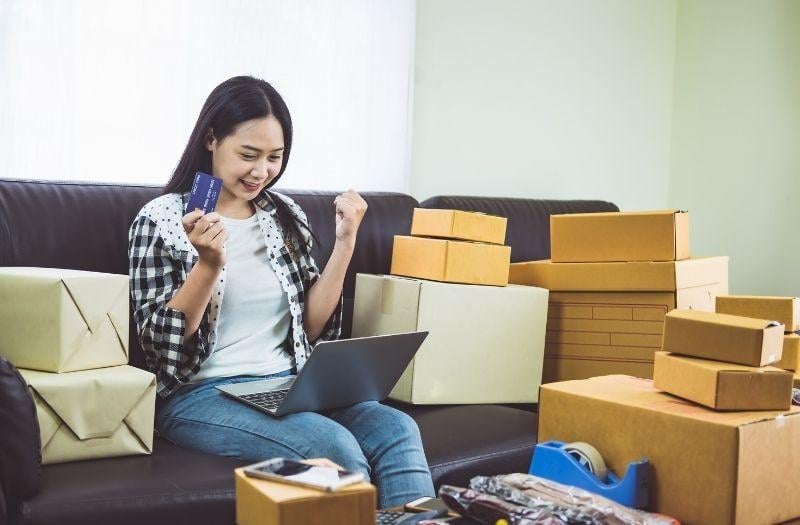 Once you've completed the initial steps, there are a few more things you can do to ensure the success of your home-based business.
Set Up Tax Accounts And Research Deductions
Understanding business taxes is a tricky part of running a business.
A home-based business will have unique tax obligations.
As a home-based business owner, you'll need to be set up to pay self-employment taxes quarterly to the federal and state government.
If you have employees, you'll need payroll withholding accounts. If you collect sales tax, you have to set up sales tax accounts with your state.
You should also look into home office tax deductions you can enjoy when running a profitable home business.
If you use your office regularly and exclusively for your business, you'll qualify for the home office deduction.
You can claim this deduction by calculating the square footage of your office or by calculating specific home office expenses.
Look Into Business Insurance
Even as a home business owner, you should consider investing in business insurance.
Insurance might not be one of your initial priorities, but proper insurance coverage can be crucial to mitigating risks and protecting personal assets.
You should at least look into general liability insurance for your home-based business.
Process Payments for Your New Small Business
Cash-only may seem like the best option at first. However, most consumers today do not carry cash, making cash-only a less profitable option.
The same can be said for checks – most consumers don't carry their checkbooks for security reasons or otherwise.
That leaves credit and debit cards!
We know when most business owners hear "accept credit cards" they see dollar signs, but if you choose the right payment processor, your credit card fees won't break the bank.
Electronic Merchant Systems is a leading provider of payment processing and merchant services.
Since 1988, we have been helping business owners like you realize their full potential and grow their financial well-being.
We're headquartered in beautiful Cleveland, Ohio, with offices and agents coast to coast serving tens of thousands of retail, internet, and startup businesses.
Our goal is to empower small business owners like you to grow and thrive in the digital payments landscape.
Therefore, we provide a full suite of innovative payment products and solutions designed with simplicity and security in mind.
No matter what type of small business you run, EMS can help you get paid!
We can also tell you everything you need to know about payment processing. Click here to get started by reading our payment processing guide.
To learn more about how we can help you grow your business, check our product pages, or contact us at the button below.
Sources: JustBusiness