Coffee Shop Credit Card Processing & Merchant Services
At Electronic Merchant Systems, we have developed payment processing for coffee shops with local cafes in mind.
We offer a point-of-sale solution that will save you time and money.
Our innovative technology has been designed to work quickly and efficiently and is also safe and secure.
The merchant services for cafes and coffee shops are easy to use, and our products and services can be great tools to help your business grow.
Our coffee shop payment processing solutions can increase your sales by streamlining the payment process and can help you keep loyal customers by making the café experience smooth and convenient with each visit.
In addition, the EMS team consists of experts who can customize a unique merchants' experience for every small business at a custom monthly price that suits your shop's needs.
Our winning formula and amazing customer service make us one of the best credit card processing companies in the country. And this, for over 30 years!
Top-Rated Cafe Credit Card Processing
As a coffee shop owner, there are two things that you take to heart - great coffee and exceptional service. They are what make up the reputation and success of your coffeehouse. But there is more! For your business to thrive, you also need customer loyalty.
Though a coffee shop's credit card processing products are a small detail in the customer journey, the payment process contributes to the overall customer experience.
Clients appreciate the convenience, and our POS terminals make accepting payments quick and efficient with the most advanced technology on the market.
Credit card processing is a safe, practical, and hassle-free way of handling transactions. Better yet, it is more affordable than you think!
In fact, our processing fees are highly competitive.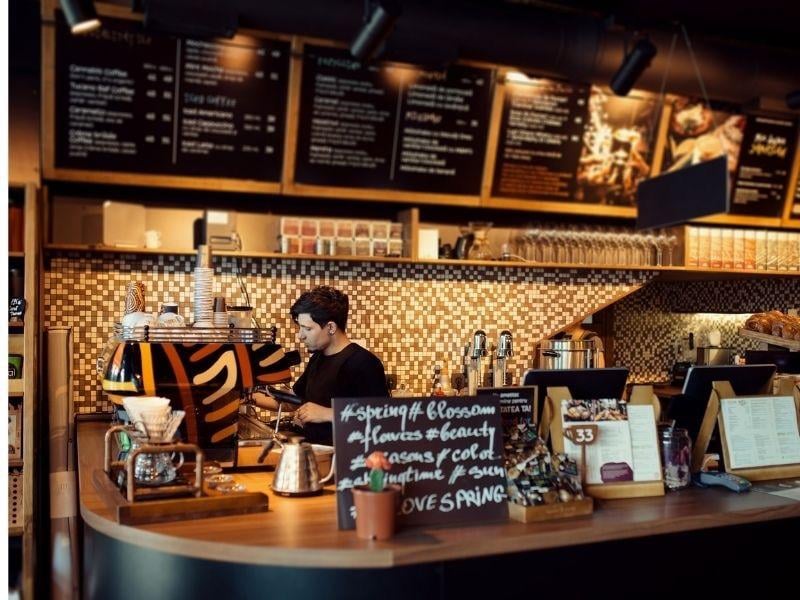 Why EMS
EMS is here to help you grow your Coffee Shop.
Point of Sale Systems
Process all forms of payment, easily manage inventory, run essential reports in minutes, and more.
Gift & Loyalty Cards
Attract new customers with a gift card and use your loyalty program to keep them coming back for more.
Modern Wireless Terminals
Accept all payment types, including EMV chip cards and contactless options such as Apple Pay and Google Pay.
How EMS Merchant Services Benefit Your Café
With our products and services, handling transactions is easier than ever. Our payment processing systems accept most major credit cards, mobile device payments, and even electronic checks.
In addition to flexible payment processing solutions for your café or coffee shop, Electronic Merchant Systems can also assist you with your cafe's website.
Whether it is for website design, hosting, or customer retention, we have it all!
For our coffee shop merchants, we strongly recommend:
With the addition of the above products and services to your coffee shop, you'll be able to accept any payment from your caffeinated customers prefer and keep them coming back with strong customer loyalty.
We Safeguard Personal Information
Rest assured that every card transaction is in safe hands. We value you and your customers' privacy and financial security. As a result, we make it our business to keep your personal data safe.
For over ten years, we have upheld the Level 1 PCI Certified Service Provider.
Moreover, the Payment Card Industry Data Security Standard has certified our payment processing for coffee shops as being safe and secure.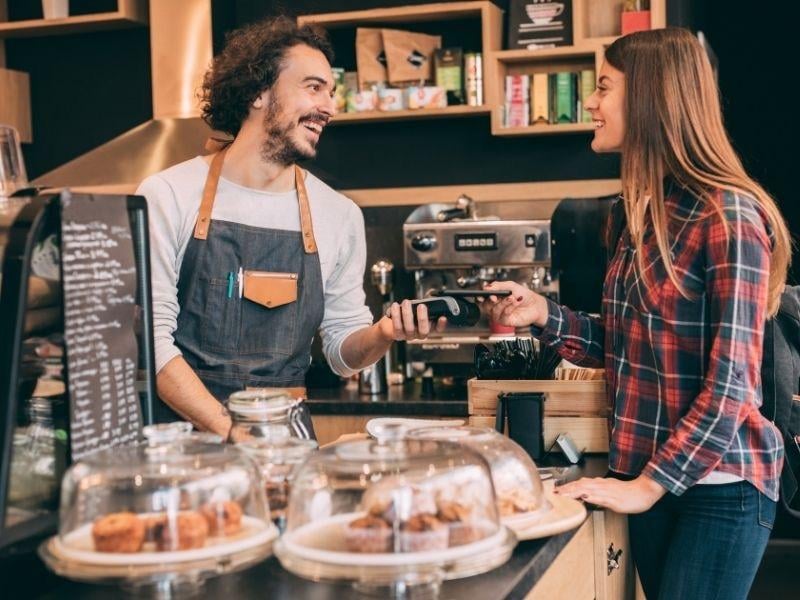 Why Coffee Shops Choose EMS for Payment Processing
There's something magical about drinking your first cup of coffee in the morning. It feels good and it gives you the energy to get through your day.
Here at EMS, we want to help your coffeehouse spread the feeling by boosting your business' productivity.
Here at EMS, we've attained a standard of excellence. We make it easy to set up your merchant account so you can transition to seamless payment processing for your coffee bar.
We can help you save money, time and stress.
Fill out the form below to discover how EMS can help your coffee shop grow and retain loyal customers.
Find Out How Much You Could Save
Would you like to know exactly how much your coffee shop could save with Electronic Merchant Systems? We're anxious to find out, too! And we can do so with a free, no-obligation rate review.
All we'll need from you is a copy of your most recent credit card processing statement and a few minor business details. Fill out the short form here to get started!
975+ Google Reviews | 4.7-Star Rating
Here's What Our Customers Say:

"EMS has been a pleasure to work with. Always providing great customer service. Our representative is always available to assist and as a small business we appreciate that."
AME Loyal Inc

"I have had great service from EMS. I recently had a hardware issue that they were excellent to deal with and immediately got my issue resolved."
Brian P.

"Tech support has always been available and takes care of a problem in one call. Had the system for many years now and only called for help 4 to 5 times. Great system and support."
Brita L.