Should I Open A Merchant Account Prior To Starting My Business?
Have you decided to start your own small business? Are you choosing to accept multiple types of card payments from your clients or customers?
If so, you may have researched and found − or been advised to do so − that you need a merchant account.
Do you really need a merchant account?

Yes.
But it's more than just a simple 'yes.'
Should you get your business up and running before you open this account? Or, should you open the account prior to welcoming in your first customers? How does a merchant account get set up?
With all of these questions popping up, there is a lot to learn!
Let's take a look at a few things regarding opening a merchant bank account before starting your small business.
What Is A Merchant Account?
The most pressing question to get out of the way: what exactly are we talking about when we say 'merchant account?'
A merchant account is a type of bank account that allows the account holder (AKA, you and your business) to accept multiple forms of payments, like credit and debit cards, from customers.
For you to make money right after transactions, the merchant account helps you by fronting the money so you aren't left waiting for customers to pay credit card bills to get your money.
How Do Merchant Accounts Work?
So, we already covered that your merchant account is the bank account that your business' earned money from customers' card purchases will be housed.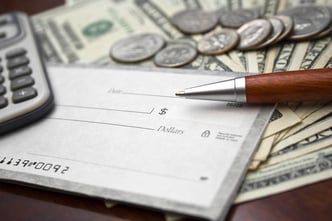 When your customer pays with their card (whether credit or debit), the card processor sends the transaction details to your merchant account. From there, your merchant account provider sends the details onto the customer's card issuer.
When the card issuer confirms that there is enough money to cover the transaction amount, approval is sent back through the merchant account.
Once all the information and details are sent through an approval is granted, your merchant account then fronts your business the money (minus fees) to your business bank account.
Why
Is A Merchant Account Important To Have?

A merchant account is essential to have if you are planning on accepting payment methods other than cash. This one account allows for many opportunities and helps to add value to your company.

Having a merchant account will help you avoid getting bad checks that will bounce, have better money management of your business earnings, and increase overall sales.

Since a merchant account is what lets you accept many forms of payment, you will have higher customer satisfaction because of the convenience you are providing them.

Your customers will have more options, like paying with a credit card or mobile payment method, rather than feel burdened to make sure they have enough cash to come into your business.

If you are wanting to grow your sales, manage your money better, and satisfy your customers, getting a merchant account is a great step in order to accomplish those goals.
What Is The Process of Getting A Merchant Account?
Before you go to open a merchant account, you will need a business bank account. Even if you are the sole entrepreneur.
Your business bank account is where the transaction fees are taken from, as well as any funds transacted.
Be sure to keep a balance large enough to take care of any processing fees, monthly business bills, and anything else necessary for your business expenses.
For you to make money right after transactions, the merchant account helps you by fronting the money. This way you aren't left waiting for customers to pay credit card bills to get your money.
There is an application (sometimes can be completed online). For your application, you will need your business license, business bank account and routing numbers, processing rates estimates, and tax ID (EIN).
A merchant account provider is fronting the costs of card transactions to you, so the decision to approve you is a serious one. Getting all of the essential information like business revenues, your history with your business, and more, will allow your merchant provider to make a confident decision in approving you.
Once you apply and are approved for a merchant account, you will then get the account set up.
You will need to connect your merchant account to the payment processing systems for the services that you will offer your customers (like a card reader, payment gateway, etc.).
After you connect the necessary technologies and systems, you are good to go! You can now accept card payments and continue to grow your business!
Choose EMS For Your Merchant Account Needs!
EMS offers products and services such as MaxxPay®, Web Services, Mobile Pay, and Loyalty and Gift Card Programs to clients.
Outfit your business with a merchant account, responsive website, secure payment processing systems, and more with EMS!
Contact one of our Account Executives by clicking on the blue button below!