Mobile Loyalty
The ultimate mobile loyalty program for savvy local retailers.
Essentially, Flok is a mobile rewards program that allows merchants to connect with and reward their customers like never before. This engagement platform is designed to maintain these important relationships with your customers.
The app-based program is simple to understand and use.
It uses a simple digital punch card system
Offers your customers visit-based rewards
All the while, connecting a merchant's various social media properties
In our opinion, the most powerful feature Flok offers is the unlimited In-app push messaging with program numbers.
This feature will assist in building customer loyalty and maintaining customer engagement that is high-quality.
Merchants can even offer customized rewards to an individual, specific customer based on outlined criteria on the Flok product page.
The awards offered often depend on the business.
You may offer the following:
Member-only offers

Specials

Discounts

Points for free items
For other situations, some companies choose to often convenience rewards, such as priority scheduling or shortcuts in line.
Rewards and discounts are always specifically based on the service or product that your business provides.
What Are Some Mobile Loyalty Benefits?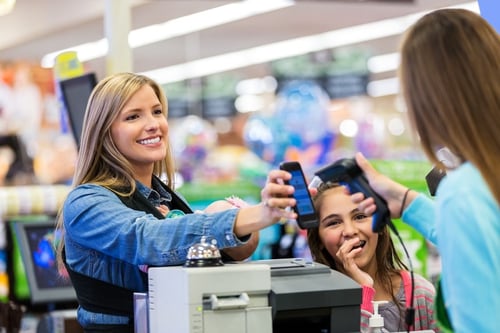 1. Replacing Physical Punch Cards
How often do your valued customers lose or forget those "physical punch cards?"
With Mobile Loyalty, tangible cards are a thing of the past! Since it is an app on your customer's phone, the ease of use is through the roof.
2. Social Media
What about social engagement?
Where are all of your friends, children's friends, and employees in their downtime?
Social Media!
By connecting to social media platforms such as Facebook, Twitter, you will be doubling up and driving engagements and metrics up on your own social media (on top of being a great way to connect to customers) as well.
3. Ease of Connection
Okay, what about customer's that don't spend their afternoons and evenings on Twitter? Well, with Mobile Loyalty you can still easily connect with them.
With Mobile Loyalty, you can engage customers with SMS text messaging and email. This is great for special events and deals, just be sure to not overshare.
Have your company stand out in the crowd with Mobile Loyalty.
Click the button to learn more about EMS and Mobile Loyalty today!