Airline Merchant Accounts & Payment Processing Solutions
There are so many different transactions when traveling with the airlines.
Passengers first book their flight then they pay for bags, travelers insurance, and possible upgraded seats. From there, passengers get on the plane and continue to make purchases such as food, beverages, gaming, and movies.
All of these transactions are usually done with credit cards. Making it fast, easy and convenient.
As an airline company, there are many different options to process these transactions. Mobile credit card processing systems and hardwired terminals are two broad categories that have many of options within them.
Hardwired terminals are common to have at actually check out counters.
Mobile for tablet check-ins and bag add ons.
Mobile for any on plan transactions and online processing for the original booking.
That seems easy but it can get pose more choices. You have to decide if you are going to only accept credit cards as a swipe, EMV Chip or mobile payment from a smartphone.
Providing these different forms of payment options can increase the number of transactions a passenger will make.
Traveling can be overwhelming and stressful especially if you lose an item, such as your phone or wallet. Which is why it is beneficial for your airline company to accepts mobile payments, EMV chips, and swipe credit cards.
Options for Travel and Airline Companies Credit Card Payment Processing
Since there are so many different payment options to consider companies have to decide how to accept these different payments. What systems are going to work best for their travel company?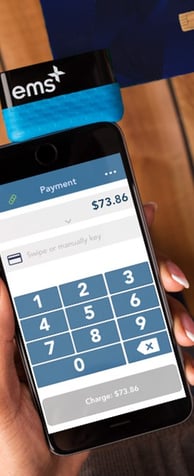 Here are a few options to consider:
EMSplus Mobile Swiper is a device that can be added to a phone or tablet to easy access to carry around. It easily connects to a headphone jack with a rubber base for a snug fit.
Benefits to Mobile Swiper
Superior Swipe which makes swipes successful

Lowest swipe rate at 2.25% per swipe

No Hidden Fees to startup, cancel, monthly or annual fee
EMSplus All-in-One Reader which is a handheld device that accepts all major types of payment, compatible with Android and iOS device and connects via Bluetooth with a long-lasting battery.
Benefits to the All-in-One Reader
EMSplus Lightning Port Swiper connects to the lightning port on their phone. It is iPad compatible and secure.
Benefits of Lightning Port Swiper:
Low battery consumption

Reads up to three tracks of card data

Long Swipe path

Compatible with newer iOS devices
Benefits of Working with EMS
EMS offers the three devices mentioned above that make airlines and travel companies able to process transactions in the most tech-savvy, secure, and fast ways keeping travelers on time.
There are also many other terminals that EMS offers that hold the same standards as the equipment above. Talking with a sells rep will help you figure out what devices your business will benefit most from is an easy call away at 800-726-2117.
If you have concerns about your business being high risk, no worries EMS can support you. We understand that you are not high risk because of your carelessness but rather just because that is your industry. We are here to help you find the best solutions for transactions and we even offer more support for our clients with other services.
Here are some of the service our clients utilize most:
EMS Mobile

MaxxPay

Mobile Loyalty

Website Design

Retail Sales

Bizfunds

Gift and Loyalty Cards
These services along with our outstanding customer service that has been rated an A+ by the Better Business Bureau will improve your travel agency.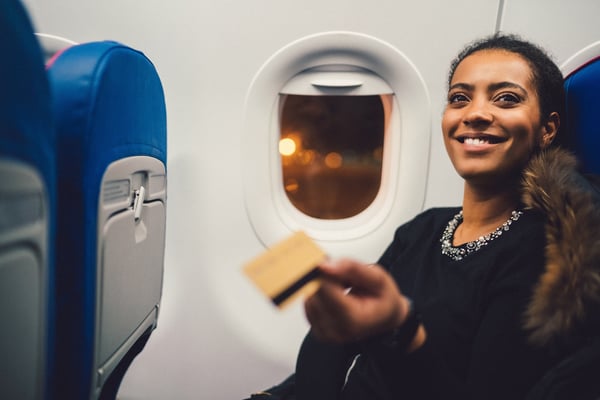 Who is EMS
We are an Electronic Merchant Service Company that beats out our competitors. Here is what makes us stand apart from our competition:
COST-EFFECTIVE: We provide your business with low wholesale processing rates.

LONG-STANDING: We have been in business for over 30 years.

SECURITY: For over 10 years EMS has been a certified level 1 PCI provider.

RECOGNIZED: Retail CIO Magazine has ranked us at a CIO Top 10 Retail Mobility Solutions Provider.

REPUTABLE: We proudly hold a 4.7-star rating with our Google reviews!

RELIABLE: The Better Business Bureau gave us an A+ rating for our outstanding customer service.
Our headquarters is in Cleveland, Ohio and we have 100 sales offices all over the U.S.
We have 24-hour merchant customer service that is with an actual person here in the US. Any challenge your company encounters you can call this help or online chat to get help any time of the day or night.
We are the largest independently owned and operated payment processing company in North America.
Best Credit Card Processing for Airline and Travel Companies
If you are ready to work with the best credit card processing company call EMS to schedule an appoint to get more information about setting your business up for success.
Read more about our company or submit a form to get in contact with the best representative for your travel or airline business.