How Partnering with EMS Could Benefit Veterinary Clinics
At EMS we understand the importance of customer service, satisfaction and privacy.
While we are experts in preventing fraud on millions of payments and credit card transactions, you are an expert at treating and rehabilitating man's best friend.
Each requires a high level of customer service, loyalty, and privacy, so why not partner with someone who understands that?
Providing your patients a simple and safe way to conduct electronic payments and transactions is just another step in that direction.
And while we want you to be able to offer your customers top of the line merchant services and payment technology, you are our customer and we want to offer you our dedicated customer service team, Level 1 PCI Certified security, the lowest fees in the industry, and overall commitment to your financial well-being.
When we say we have a dedicated customer service team and the lowest fees in the merchant service industry, we mean it.
In fact, our credit card processing fees are 2.25% which is the absolute lowest you will find when compared to our competition. And who doesn't like saving money? With lower fees, your veterinary clinic will be making more money than before, which means more money to invest back into our business.
Our dedication to customer service is also unparalleled in the merchant services industry. For the last 30 years, our core value has been to serve our customers 24 hours a day, 7 days a week, 365 days a year. That means, any day, any time we are just a call or click away.
Our experienced customer service individuals will be standing by to address your concerns and answer your questions.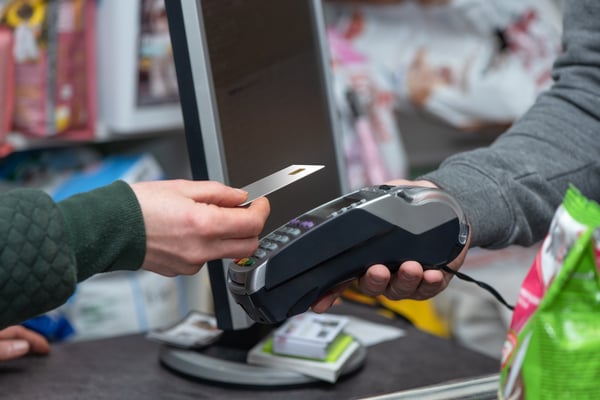 Services Provided by Electronic Merchant Systems for Veterinary Clinics
Still wondering why EMS is the right choice for your veterinary clinic?
In addition to protecting your data and processing transactions and credit card payments for over 30 years, our innovative suite of products and services have allowed our merchants to accept all major debit and credit cards, electronic checks, and even mobile payments.
Electronic Merchant Systems offers a wide range of services that a vet clinic like yours could most definitely utilize. Some of the most advantageous services include:
POS Systems

MaxxPay

EMS Mobile

Retail Sales

Gift and Loyalty Cards

Bizfunds

Website Design
Combine this list of valued services with our unbeatable customer service, top of the line data security, and low fees, and you will see why EMS is the premier credit card payment processing company for small to medium sized vet clinics, like yours!
The Importance of Safeguarding Your Transactions
We understand better than anyone that your patients want to feel safe and confident when you process a payment for them.
That is why EMS takes extensive measures to certify our merchants and their paying customers remain safe and unaffected by fraud.
Over the last 30 years, EMS has proven our dedication to your financial safety.
Since our founding in 1988, we have continued to stand by our commitment and have maintained a status Level 1, PCI Certified Service Provider for the last ten years.
Additionally, all of our payment processing terminals have been certified as safe and secure by the PCI DSS (Payment Card Industry Data Security Standard).
Contact EMS Today to See if Our Services are Right for You!
Are you an owner or manager of a veterinary clinic in need of a quality and reliable payment processing solution? If so, contact Electronic Merchant Systems today!
You can call to speak with one of our experienced customer service team members or stop into a corporate location near you.
Despite our size as a company, we have headquarters throughout the United States. We find it important to keep local ties in the communities we serve because it allows us to better understand and assist with the challenges our merchants are facing day to day.
Contact EMS today!