Best Merchant Services and POS Systems for Ambulatory Surgical Centers
Low wait times for outpatient clinic patient processing ensures patients enter and leave the surgical clinic with a positive experience.
Maintaining an organized appointment schedule, tracking patient information, and quickly processing transactions are all affected by the merchant services system your outpatient clinic uses.
Patients have come to expect quick, courteous, and reliable service from their healthcare providers. Successfully managing patient flow and tracking patient data in an outpatient clinic is essential for delivering the experience that will keep customers coming back for their return procedures and appointments.
Electronic Merchant Systems (EMS) has over thirty years of experience providing high-quality merchant services specifically designed to keep your patient flow organized and to process payments quickly and safely.
EMS' point-of-sale systems feature a simplified user interface making staff training and data input simple and intuitive.
EMS technology is adapted for HIPAA compliance and for processing Health Savings Account (HSA) and Flexible Spending Account (FSA) cards. EMS Systems are also adapted to easily input the insurance company data your clinic regularly uses.
Reliable and efficient check processing, credit card processing, and mobile payments are always available to your patients with EMS payment processing. Providing multiple payment options and keeping patient data organized can cut down lines in the outpatient waiting room and create better flow in your office's appointment schedule and daily operations.

All of your patient transactions will be safe on secure on EMS hardware and software.
EMS is certified against fraudulent activity by the PCI DSS (Payment Card Industry Data Security Standard) and maintains consistent status as a Level 1 PCI Certified Service Provider.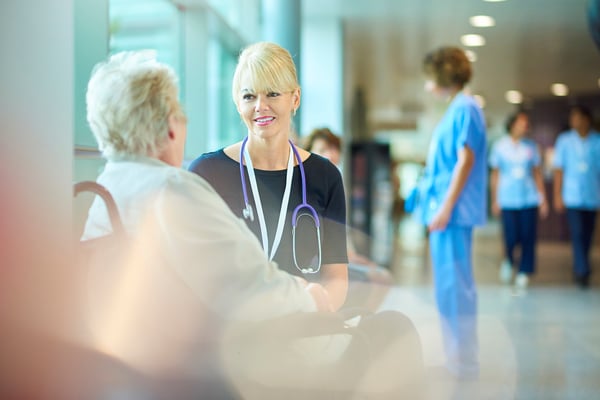 Electronic Merchant Systems Leads the Industry in Payment Processing for Healthcare
Electronic Merchant Systems' mission is to lead the industry in merchant services. Our company is proud to be the largest independently owned and operated credit card processor in North America.

EMS currently provides merchant services to tens of thousands of businesses nationwide and handles over $3 billion in annual credit & debit card transactions.

We have the payment systems your ambulatory surgery center needs to handle peak transaction volume.
Recent EMS Accomplishments
4.7-star rating on Google with over 700 customer reviews

A+ rating with the Better Business Bureau

Ranked as a CIO Top 10 Retail Mobility Solution Provider

Level 1 PCI Certified Service Provider ten years running
EMS Payment Acceptance Services for Outpatient Medical Facilities
EMS offers a range of quality, effective payment processing options for your Outpatient Surgical Center.
This includes Check Processing, Payment Gateways, Credit Card Transacting, Mobile Payment and more.

Credit Card Processing
Accept all Major Debit & Credit Cards

Reliable, EMV Chip Card Certified Terminals

Apple and Android Pay Compatible

Handles Health Savings Account (HSA) and Flexible Spending Account (FSA) cards
Check Processing
eCheck & eCheck Plus Conversion
Process checks electronically for face-to-face transactions just like a credit card.

Check 21 Plus
Accept and process checks with limited restrictions.

ACH Debit
Single or scheduled recurring ACH check payments without the check.

Checks-By-Phone
Accept and process checks over the phone.
Payment Gateway
Remote Transactions Process transactions without a card on the back office computer.

Virtual Point of Sale (VPOS)
eCommerce shopping cart compatibility online
Mobile Payment Processing
Turn a Smart Device into a Credit Card POS or provide patient payment options via your clinic's Android or iOS Supported App
Low Payment Processing Rates
In a climate of fast-changing federal regulations, fewer insurance payments, and a highly competitive healthcare industry, outpatient surgery centers look to their payment processors to keep their rates low while accepting more patient payments.
Many people today are accustomed to paying for their day-to-day purchases and bills with credit cards rather than traditional paper checks.
Offering payment forms such as credit, debit and other electronic payment types is convenient for patients and can make a substantial difference in the bottom line for outpatient clinics.
Procedures administered in ambulatory surgical centers can cost patients 45-60% less than hospitals.
Outpatient medical professionals can capitalize on these significant savings to patients, insurers, and taxpayers by providing an excellent overall patient experience.
As patients continue to have low-cost, efficient experiences in outpatient surgical center processing, outpatient medical facilities will continue to gain popularity.


EMS Payment Processing Features and Services that Benefit Outpatient Healthcare Facilities
The variety of ways payment processing technology can be used to benefit patient experience in global ambulatory surgical centers are endless.
A few customizable options for your medical center include:
Process transactions and gather data from anywhere in your office on a portable tablet

Set up single or recurring payments for patients enrolled in a payment plan

View custom reports for outstanding balances quickly

Free 24/7 access to a fantastic U.S. based customer service support team

Integrate system with accounting software for easier bookkeeping and auditing compliance

View AVS and CVV data to ensure security and legitimacy of transactions

Encrypt patients' sensitive data during transactions for their security

Store all data on a Cloud-based system to ease the burden on in-house systems and provide management with remote access
With EMS, you begin a partnership with a commitment to end-to-end sensitive data protection to keep your clinic safe from a data breach.


Outpatient Clinic Staff Members Prefer EMS' POS Systems
Our comprehensive MaxxPay POS software platform can be used in all areas of your outpatient clinic, including check-in, filling out forms, check-out, follow up appointments and more.

1. MaxxPay Mini is the ideal point-of-sale system for processing patients from their seat in the waiting room. Patients can rest while they fill out forms and complete payment transactions.

2. MaxxPay Pro is a standalone point-of-sale hardware system with an attached cash drawer. Complete every transaction quickly and securely.

3. MaxxPay Premier offers full-service payment processing services with a 360º view of patient services. Users can quickly view patient procedures, insurance information, inventory management, patient reports, employee clock-in, and more right from the terminal.

Outpatient employees have noted how quickly they can process patients on EMS pos systems.
Transactions are simplified whether employees complete medical transactions from a MaxxPay mini in the waiting room or a MaxxPay Premier at the follow-up appointment window.

Adjust your Payment Services for Profitability and Efficiency

Many payment processing vendors offer only a single POS option.
If clinic staff want to change or expand services with a single service payment processing provider, they have to change companies to acquire additional services.

With EMS, additional services can be adjusted easily to include the payment acceptance services of your choice.

EMS offers a range of services beyond payment processing which clinics are welcome to take advantage of at any time.
Additional Services EMS Offers:
Web hosting

Web Design

Social Media Management

Merchant fund Advancement

Mobile Payment Options including Apple Pay, Samsung Pay, and Paypal
EMS is the Best Choice for Comprehensive Outpatient Clinic Management
EMS has the industry knowledge and experience to handle the payment processing needs of your Global Ambulatory Surgical Center.

EMS does the work of numerous merchant service companies.
The variety of merchant services offered by EMS for healthcare gives your facility the versatile functions your medical facility is looking for without the complication of multiple contracts and partnerships.

Contact EMS today for a free quote.

You can expect:
Reduced Patient Wait time for Transactions.
24-hour Customer Support Entirely Based in the U.S.
Intuitive and Easy-to-Learn User Interface on all EMS Software Systems.
Secure Transactions your Patients will Appreciate.
Comprehensive Patient and Employee Management Software
EMS offers a range of payment processing options for outpatient surgical clinics.
Our fast, easy-to-use point of sale systems will shorten wait times and help to improve patient satisfaction, medical compliance, patient return rate, and overall patient attitudes toward outpatient centers.
Contact EMS today at 800-615-1330 for the best in Outpatient Surgical Center Merchant Services.
One of our experienced customer service team members is available to answer payment processing questions for your global ambulatory surgery clinic.
Call or click below to begin streamlining your office management operations and payment solutions to give each patient an excellent outpatient experience.