How a Partnership with EMS Could Benefit a Gym like Yours
At EMS we understand the importance of customer service and satisfaction. To run a successful gym, you have to keep your members happy, and having a simple and safe way to collect electronic payments and conduct transactions is just another step in that direction.
Probably the most important piece of information any gym like yours would look for in their merchant service company is the fee they charge for processing credit card payments.
Well, we are proud to share that our card processing fees are the absolute lowest in the entire industry.
At 2.25% our credit card processing fees will not be beat. And with the lowest fee in the industry, your gym will earn more money to put back into your pocket and invest into your business.
So whether you are selling water bottles, t-shirts, memberships, or guest passes, our payment processing suite is here to support your wellness center in whatever it may need.
Furthermore, all of our products offer the highest level of quality and our merchants can attest to the commitment we have to their financial well-being.
Our customer service representatives are available to help you 24/7 365 days a year. This is one of our core principles that EMS has stood by since it was established. We value all of our merchants, and want to help in any way we possibly can.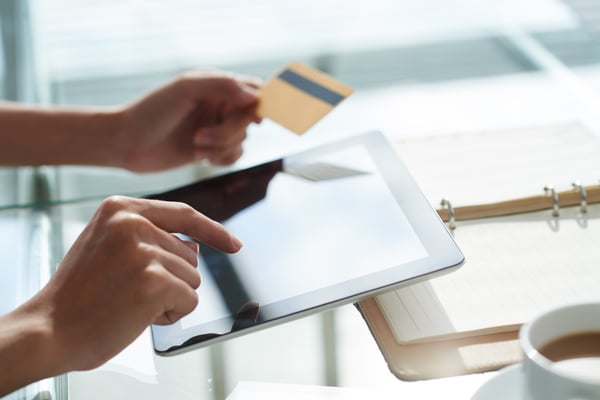 Services Provided by Electronic Merchant Systems
Still wondering why EMS is the right choice for you?
In addition to protecting our data and processing payments and credit card transactions for more than 30 years, our products and services allow our merchants to accept all major credit and debit cards, mobile payments, and electronic checks.
EMS offers a wide range of services that a wellness facility like yours could benefit from. Some of the popular services we offer include;
EMS Mobile

MaxxPay

Retail Sales

Bizfunds

Gift and Loyalty Cards

Website Design

POS Systems
Combine these top of the line services with our low fees, high level of quality and unbeatable customer service, and you will see why EMS is the premier card and payment processing company for small to medium sized gyms and other businesses, like yours!
Safeguarding Your Transactions is Our Top Priority
We know that your members, customers, and clients want to feel confident in where they spend their money, and for gym memberships that often automatically process payments, you can reassure your members their payments will be processed in good hands.
EMS takes precautionary measures to ensure our merchants and their customers remain safe from fraud.
We have proven our commitment to your financial safety since we were established in 1988 and continue to stand by this today by maintaining status as a Level 1, PCI Certified Service Provider for the last ten years.
You can also rest easy knowing that all of our payment processing terminals have been certified as secure and safe by the PCI DSS. This is the Payment Card Industry Data Security Standard.
Contact EMS Today to See if Our Services are Right for You!
If you are a gym owner in search of a payment processing solution, contact EMS today.
One of our experienced customer service team members is ready to answer your questions today, or you can stop in to a location near you!
Despite our size and nationwide success, EMS values the importance of keeping local ties in the communities that we serve, so we can better understand and assist with the challenges our merchants are facing.
You won't find a better merchant services company or one that beats our high customer satisfaction, low processing fees, and comprehensive payment processing services for your gym.
Call EMS today at 800-615-1330.