EMS offers dating site owners and managers an innovative suite of business solutions, a high level of quality service, and a professional dedicated support team.
Our company was founded to help businesses grow into success stories. Electronic Merchant Systems is an industry leader in payment processing.
We love what EMS customers have to say about our services. Forgive us if we provide a sample:
High chargebacks and Money Laundering Risks are the two main reasons the online dating industry falls into the high-risk category for merchant services.
When customers subscribe to online dating websites but don't find good matches, it is common for customers to file for a chargeback.
Customers are typically successful in receiving chargebacks with their credit card company because consumers cite that the online dating merchant failed to deliver its promised services.
Another common reason for chargebacks is infidelity. Dating sites have a certain degree of popularity among married individuals.
When a spouse learns that their partner subscribes to a dating site, the partner often denies enrollment and claims the charges were fraudulent and requests a refund.

Some online dating sites are used as a front for an illegal industry, such as an escort service or prostitution.
Because of these money laundering risks, our team takes more time to vet dating sites before offering a merchant services account.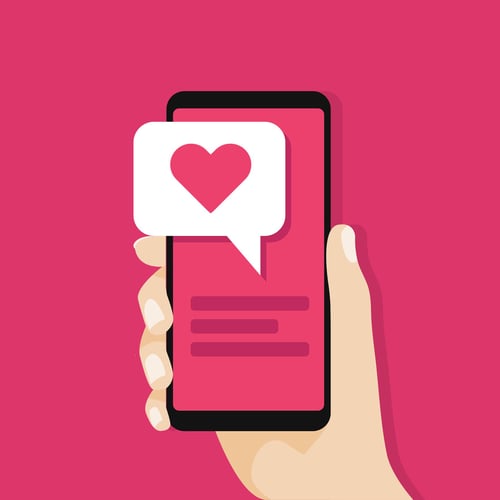 EMS Merchant Service Options for Matchmaking Sites
EMS offers several web-based products designed to help grow your online dating business.
By implementing a straightforward and secure e-commerce payment solution, your online dating site reduces overhead and expands the reach of your brand through consistent positive customer experiences.
And if you aren't ready for a commitment, that's fine with us! EMS offers the majority of products for online transaction on a month-to-month agreement.
If you want to avoid, lengthy lease agreements, you're with the right payment processor.
Payment Gateway
To begin processing payments online, businesses must first add a Payment Gateway to their site or app.
A payment gateway is the puzzle-piece that connects your site to EMS' payment processing system.
When singles submit their credit/debit card information to enroll in your company's dating services, the payment gateway routes the transaction data to EMS.
EMS works with select gateway network partners, USAePay and Authorize.Net, to process your customer payments in real-time.
EMS' Payment Gateway solutions give our merchants the opportunity to complete secure, online transactions in a way that works best for their business.
Payment Gateways are a Perfect Match for professional matchmaking sites that want to:
Process payments through your dating site.

Complete Card Not Present transactions on a "back office" computer.

Retrofit your site's existing online commerce solutions with a payment gateway supplied by EMS.
What is Included in a Payment Gateway?
Every EMS Payment Gateway includes a Virtual Point of Sale (VPOS)/Virtual Terminal and an Application Program Interface (API) which provides seamless integration in your dating business' payment processing.
Back Office transactions are processed via the Payment Gateway and VPOS/Virtual Terminal.

Online transactions utilize the Payment Gateway and API.
Virtual Terminal / VPOS
Dating site merchants may utilize EMS Virtual Terminals to process customer-not-present payment transactions in the following ways:
Business-to-Business (B2B) Transactions

Contracts

Mail-Orders or Telephone-Orders

Subscriptions

Services

Vendors
What is included in a VPOS Virtual Terminal?

Deliver Custom, Automated Email Receipts

Add and Track Purchase Order & Invoice numbers

View and Track Transaction History Database

Unlimited Multiple User Access with permission levels for each user

Complete keyed transactions in the back office

Securely store customer payment card data for convenient future purchases

Transact authorized payments from your customers automatically
eCommerce Cart+
EMS' Shopping Cart platform enables dating sites to sell their services over the web.
An online shopping cart can be attached to a website EMS designs in a WebPak bundle, or EMS in-house designers will design a shopping cart for your existing dating website through a Payment Gateway.
What is included in eCommerce Cart+?
EMS builds e-commerce stores on the 3DCart platform.
Our in-house designers are experts on the 3DCart commerce platform and provide a hands-off experience to merchants.
EMS will build the shopping cart, program and integrate the payment gateway, input product inventory, schedule applicable discounts, and coupons, and thoroughly train the merchant on maintaining the information in their cart.
Other Key Features Include:
Affiliate Programs
Coupons
Comparison Shopping Links
Auto-Responses, i.e., Thanks for subscribing.
Daily Deals
Newsletter Manager
Mailing List
Refer-A-Friend
On-Site Promotions
Customizable Checkout Questions
ROI tracking to track the effectiveness of your marketing campaigns
Mobile Payment Options
Mobile payment options like Apple Pay, Samsung Pay, and Paypal are popular with customers for their ease-of-use.
With mobile payment, customers can make secure purchases in apps and online without the hassle of pulling out a card.
Add EMS mobile payment to your eCommerce Cart+ to provide additional convenience to your subscribers.
Web Hosting and Design
If you are looking for a Web Designer for your online dating site, the EMS Web Design Team can create the responsive, and attractive website you want in thirty days or less!
What you can Expect from Traditional Website Designers:
Typically Charge $125/hour (varies)

Customer provides detailed descriptions and plans for the site

Pay 50% upfront and 50% when the site is complete

Final cost can be $2,500 to $4,000

Customer provides all content

Recurring monthly fees for additional services
EMS' Web Hosting Services are cheaper, and easier for dating site owners and managers.
What is included with EMS Web Hosting and Design?
With EMS Web Hosting, you have the option to save money and free up your schedule to commit to the aspects of matchmaking you care about. EMS Web Hosting Offers:

1. Stunning, professional websites that add visibility, exposure, and legitimacy to your brand.
2. A Creative Department with the skills to troubleshoot any website issues.
3. A stress-free web design process that transforms your business objectives into a productive online strategy.
4. 1-on-1 consulting and service with a creative professional assigned to you.
5. Mobile optimization to ensure your site can be accessed and enjoyed on mobile devices.
6. Search Engine Optimization to improve your business' rankings
7. Social Media services to help expand your dating site's brand
A Supportive Merchant Services Match
EMS is committed to excellence in everything we do, and it all starts with excellent customer support.

Our US-based, live support team is available to our dating service merchants twenty-four hours a day, seven days a week, three hundred sixty-five days a year.

You can access our team by phone, email, and live chat and can expect our hold times to be significantly lower than the industry average.

The EMS 24/7/365 commitment to customer service is always free for our customers, and there are no additional costs or hidden fees from utilizing support services.

When we team up with merchants, we are committed to resolving issues quickly and thoroughly.
Build Trust with a Safe and Reliable Payment Acceptance System
Singles seeking an online dating service are cautious about the site they choose for services, and rightfully so.
High numbers of fraudulent online dating services abound. Customers think they are signing up to begin a new relationship and end up risking their financial interests and personal information.
Online Dating Sites are Considered a high-risk industry in the world of payment processing services.
To reassure your customers that their financial interests and personal information will be kept safe and private with your company, partner with a safe and reliable payment processor.
EMS does everything humanly possible to keep customer information safe and secure.
The Payment Card Industry Data Security Standard has awarded EMS Level 1 status as a safe and secure PCI Certified Service Provider.
Bolster your customer's confidence that your site is legitimate through a partnership with EMS, an industry leader in credit card processing security. With EMS, you'll protect more than hearts on your dating site.
Contact EMS Today to Learn if Our Services are the Right Match for Your Dating Site!

If you are in search of a payment processing solution for your dating service, contact EMS today.

One of our experienced customer service team members is available to answer your questions, or you can fill out the form below!
EMS is industry famous for high customer satisfaction, low processing fees, and comprehensive merchant services for your online dating site.