Jewelry Store Credit Card Processing
Jewelry store credit card processing must be reliable and convenient for secure, often high dollar transactions that businesses trust.
As technology advances, payment processing options evolve, so finding a simple, secure payment processing solution can be a tricky endeavor.
As a jewelry store owner, you recognize the need for a processing system that will keep up with various payment options and help you provide the best customer service.
Since buying jewelry is an intimate occasion, it is important that your customers feel safe and confident when making their purchases.
The jewelry store payment acceptance step is usually the last impression you have in your customer sale cycle, so it is important to finish with a smooth and convenient process that encourages return visits, and ultimately more jewelry purchases.
To keep the event special, it would be nice to have a small device that can take payment in the exact setting of the customer selecting their jewelry, which can be provided with the Electronic Merchant Systems selection of payment processing systems.
Electronic Merchant Systems (EMS), established in 1988, has become the largest independently owned credit card processing company in North America and has a range of innovative payment processing options available for jewelers across the nation.
Why EMS
EMS is here to help you grow your jewelry store.
Point of Sale Systems
Process all forms of payment, easily manage inventory, run essential reports in minutes, and more.
Gift & Loyalty Cards
Attract new customers with a gift card and use your loyalty program to keep them coming back for more.
Modern Wireless Terminals
Accept all payment types, including EMV chip cards and contactless options such as Apple Pay and Google Pay.
Jewelry Business Merchant Services
Customers visit your jewelry store for the quality of your products, but jewelers aren't just concerned with the products themselves.
Like any small business, a jewelry store thrives when customer sales drive revenue, and the surest way to transfer that revenue into tangible profit margins is through a payment processing system that accepts all kinds of payments quickly, securely, and effectively.
When processing transactions for expensive jewelry items especially, you will want to make sure the payment process is secure and your customers' information is safeguarded, so they will continue to purchase with you.
Having a set jeweler is always good for the customer because it provides them with the assurance that they are getting a great deal and they can rely on their jeweler to help them with all their precious purchases.
What are the Benefits for Your Jewelry Store When You Partner with EMS?
This is exactly what a business owner wants when doing business with a credit card processing company - reliability, security, cost-effectiveness, and loyalty.
Electronic Merchant Systems prides itself in fulfilling all those requirements! If you are a jeweler or jewelry store owner in the market for a better credit card processing company, we are the team you want to partner with.
Not only will transactions be secure, but you will also be able to upgrade your business to accept Apple Pay, Google Pay, all major credit cards, gift cards, EMV chip, and checks - making it easy for your customer to pay you in their convenient style.
For a jewelry store to be successful and stay in business for years, you not only need to sell jewelry, but you need customer loyalty. For most people, jewelry purchases only take place a few times a year, so for a jeweler, building a recurring clientele is a challenge. Electronic Merchant System expands on our jewelry store credit card processing services by helping you build loyalty with your clientele so you can maximize your revenue.
Here's how we stand out from the competition:
SECURE:

For over 10 years, EMS has been a certified Level 1 PCI Provider.
LONG-STANDING:

We are a payment processing powerhouse that has been in business for 30 years.
RECOGNIZED:

Retail CIO Magazine has ranked us as a CIO Top 10 Retail Mobility Solutions Provider.
COST-EFFECTIVE:

We provide your business with competitive processing rates.
RELIABLE:

The Better Business Bureau gave us an A+ rating for our outstanding customer service.
REPUTABLE:

We proudly hold a 4.7-star rating with over 975 Google customer reviews!
Our 24/7/365 customer support team is here in the U.S. to answer your questions, help you overcome challenges, and educate you on the products and services we offer.
We are the largest independently owned and operated payment processing company in North America.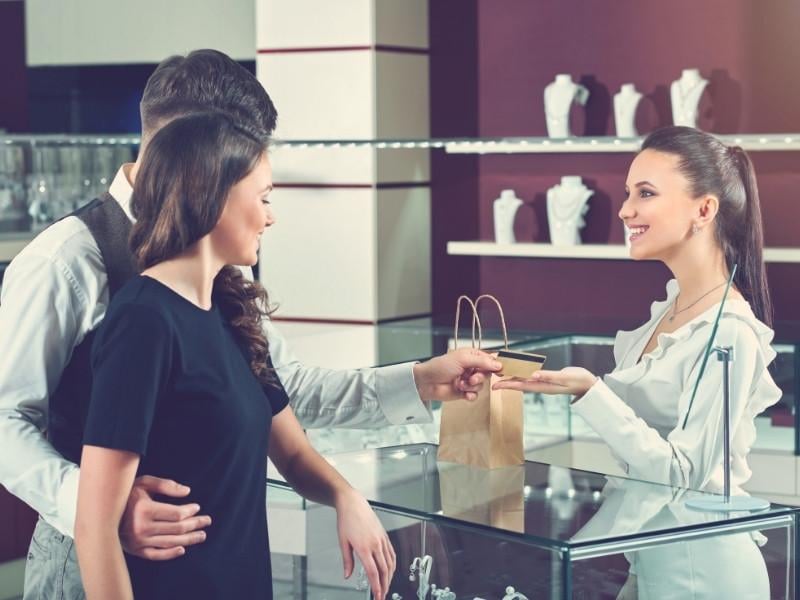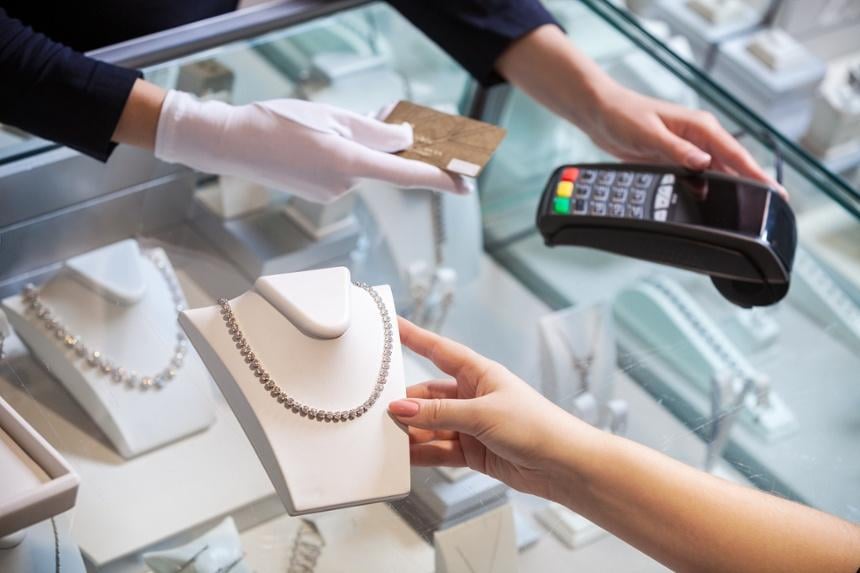 Why Jewelers Choose EMS for Payment Processing
Electronic Merchant Systems offers the latest payment terminals, making sure that your jewelry store is not bogged down by our of date payment equipment. With modern jewelry store credit card processing systems, your clients will experience more tasteful transactions with contactless, mobile processing stations at any counter.
In addition to the terminals themselves, our merchant services processing fee is competitive so we can provide you with the rates that will help put more money back into your business.
We offer multiple services that can help any jewelry store grow its business.
Here are some of the services our clients utilize most:
EMS Mobile
MaxxPay®
Bizfunds
Gift and Loyalty Cards
Website Design
These services, along with our outstanding customer service that has been rated an A+ by the Better Business Bureau, will improve your jewelry store operation.
Find Out How Much You Could Save
Would you like to know exactly how much your jewelry store could save with Electronic Merchant Systems? We're anxious to find out, too! And we can do so with a free, no-obligation rate review.
All we'll need from you is a copy of your most recent credit card processing statement and a few minor business details. Fill out the short form here to get started!
975+ Google Reviews | 4.7-Star Rating
Here's What Our Customers Say:

"EMS has been a pleasure to work with. Always providing great customer service. Our representative is always available to assist and as a small business we appreciate that."
AME Loyal Inc

"I have had great service from EMS. I recently had a hardware issue that they were excellent to deal with and immediately got my issue resolved."
Brian P.

"Tech support has always been available and takes care of a problem in one call. Had the system for many years now and only called for help 4 to 5 times. Great system and support."
Brita L.