A Complete Guide to Credit Card Processing
As a business in an ever-changing economy, you cannot afford to fall behind on the latest commerce trends.
Credit card processing is one of these developments that if you want to compete successfully, you will have to get on board.
Allowing credit card transactions is a lot easier and more convenient for you and your customers by eliminating the shortfalls of hard cash.
Technically-speaking, credit card processing systems are not new.
However, the continuous evolution to meet market demands has left many business owners in the dark.
If you would like to adopt these systems but have no idea where to start, then you've come to the right place.
Below is a complete guide to what credit card processing is, what the benefits are, and why more and more businesses are turning away from cash-only payments.
What Is Credit Card Processing?
A credit card processor is a system that uses a third party to handle payment transactions between a business and the client.
The processor facilitates the transfer of funds from the latter's credit or debit account into the company's bank account.
For the system to work, the customer needs to have a credit or debit card, and the business must have a processing machine.
The bank, card network, or credit card processing company may provide the device.
More recently, processors also handle transfers from mobile money carriers ensuring more convenience for everyone.
Types of Credit Card Processing Machines
Initially, credit card processing machines were meant to be used at business sale terminals.
These days, however, the technology has been refined, allowing multiple setups through which the transactions can be ran.
The 3 main credit card processing options available to businesses:
In-store card readers. These are the traditional credit card readers that you will find at any retail store, restaurant, or another service establishment.

They allow customers to deposit money directly from their accounts into the business's account by just swiping or inserting their credit or debit cards.

Mobile card readers. These are a new and more advanced alternative to traditional credit card processors. They are readers that can be attached to mobile devices, such as smartphones and tablets.

Mobile card readers allow customers to pay using cards and are ideal for mobile businesses including door-to-door sales.

Online virtual terminals. These enable credit card processing over the internet. In this case, the customer pays by entering their card details remotely.

The systems are designed to ensure security for the client such that their sensitive credit card information is not mishandled.
It is an excellent option for businesses that run app- or website-based transactions.
How Credit Card Processing Works
This is where it gets a bit more tricky for people. However, the process is not all that complicated.
Below is a step by step breakdown of how the systems work.
Despite the number of steps involved, it is important to note that all this happens within a number of seconds or minutes at most.
This involves entering the customer's credit card details. It could be manual as with the online virtual terminal systems or using a card processor.
The third party processor creates a link between the device or online terminal and the customer's bank or card carrier.
The bank or carrier verifies the details provided. This is also where it is determined whether or not there are enough funds for the transaction to continue.
If there is sufficient balance in the customer's account, the payment is approved. Here the money is withdrawn from the payer's account and deposited into the business's account.

If there isn't enough money or there was any other problem with the details, then the transaction is terminated.

With most systems, the final step involves the printing of receipts.

These do not always document the actual products or services purchased. However, it offers documented evidence of the otherwise virtual transaction.
Benefits to Credit Card Acceptance
So far one thing stands clear: credit card processing is not rocket science.
It is a pretty straightforward setup that is designed to make running a business very easy.
The best part is that you get to enjoy this simple system with numerous other perks.
Here are a few things that you and your clients get to look forward to:
Benefits for Your Business
It is secure. The process eliminates the need to handle large amounts of cash. This means that the target you automatically have on your back as a business is essentially removed.
It protects your business from fraud. You do not have to worry about things like fake currency frauds that could cost your business thousands.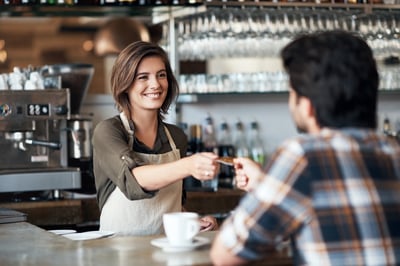 It allows for online expansion. This applies mainly with the online terminals that would enable your customers to conveniently make purchases remotely.
It facilitates accountability. If you have a lot of employees, the last thing you want is to continually have to monitor the register. With these systems, that is not something you have to worry about as there is no handling of cash.
Benefits for Your Customers
It is convenient. For clients interested in online shopping these processors make life easier.
It saves them money. Some credit card processing systems allow free running of transactions. This is in contrast to ATM and bank withdrawals that carry service charges.
It allows flexible spending. This is particularly important for emergencies. If the customer isn't carrying any cash on hand, they can easily bail themselves out with a card payment.
How to Get The Most Out Of Your Credit Card Processor
If you are going to invest in a credit card processing system, you might as well do it right from the start.
Here are three simple ways to make sure you are getting the most out of your processor.
Get a speedy system. Cheaper systems can take a long time to run through those five steps we covered earlier.

Investing in a faster processor will ensure efficient running of transactions without any annoying delays or hold-ups.
The advanced technology software EMS embeds in our processing systems self-updates.

Invest in reliable networks. The process needs to be as smooth and glitch-free as possible for you to enjoy the benefits.

The only way to ensure this is by investing in a good machine and service provider.

Make security a priority. While choosing your credit card processing company, be sure that you choose a company certified as secure by the Payment Card Industry Data Security Standard (PCI DSS) like EMS has been for the past 10 years.

This protects both you and your clients from any online identity theft schemes.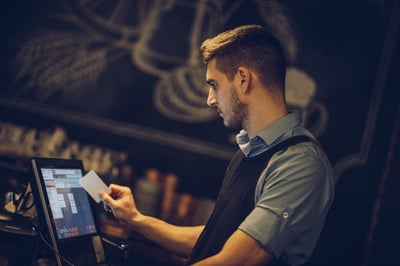 Choose EMS For Your Credit Card Processing Needs!
Credit card processing is the future of commerce.
This is not a difficult concept to wrap your mind around given all the advantages these systems have to offer.
Therefore, if you own or manage a business, this is something you should invest in.
While you might still encounter the rare brick-and-mortar shop that only accepts cash payments, any modern business needs to implement credit card processing if they are looking to succeed in a competitive market.
If you are trying to find a system for credit card processing for a small business, no monthly fee, Electronic Merchant Systems is the company for you!
Learn more about how investing in a safe and secure credit card processing system can elevate your business by clicking the link below to speak with an EMS sales representative today!