High-Quality Credit Card and Payment Processing Company
Electronic Merchant Systems offers a variety of merchant services to our clients: payment gateway integration, POS systems, mobile payment processing systems, and credit card processing terminals.
We give our clients nothing but the best. Our credit card processing systems are outfitted with the most advanced technology (that is still easy-as-pie to use) and our highly-knowledgeable customer service team is ready to fix your problems, questions, or concerns 24/7.
EMS has been around since 1988, and has grown to become the largest privately owned and operated credit card processing company in North America.
And that isn't enough for us.
It is our mission to become the #1 merchant service provider in America.
For your small- or medium-sized business needs, EMS is the company to choose. We supply businesses with mobile payment processing machines, point-of-sale systems perfect for restaurants or retail stores, loyalty programs, and we offer website design services as well.
Besides the safe and reliable products and business development services EMS provides are all certified by the PCI DSS as safe and secure, you also get a complete peace-of-mind that all transactions (and the sensitive information that goes with them) is safeguarded and protected.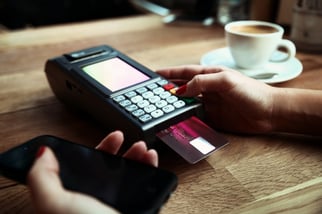 Since 2005, we have been a Level 1 PCI Service Provider, which has earned us an Elite Status for data security.
If you are in the market for a secure payment processing solution that you can rely on for years to come, give EMS a call or visit today.
You can also have a peace of mind that EMS has corporate locations throughout the United States, because we pride ourselves on being in the same neighborhoods as a our clients.
We want our merchants to feel comfort in knowing that Electronic Merchant Systems understands the everyday struggles and challenges in your community because it is our community too.
Don't let your Wilmington business go without the payment processing solutions it needs – contact us today to learn more about EMS merchant accounts.