Looking for a simple POS system that will increase the profitability of your Washington D.C. restaurant?
Are you a local Washington D.C. restaurant owner looking for an easy-to-use POS system that will help manage your entire business?
Electronic Merchant Systems (EMS) offers up the Total Touch™ POS system for a total solution.
The Total Touch POS system is an easy-to-use, comprehensive solution for payment processing as well as inventory management, employee scheduling, timekeeping, and more!
As a 30+ year old merchant services company, EMS has learned what restaurant owners need regarding payment processing and overall management in order for their business to run as smoothly as possible.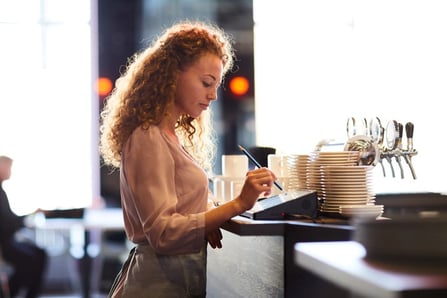 For your convenience and peace-of-mind, we maintain a strong local presence throughout the United States for our clients, with 11 regional office locations - including our headquarters in Cleveland, Ohio.
We are able to better understand our clients' needs, struggles, and triumphs in their local community because we are also in those same local communities.
Since our inception in 1988, we have had one big goal: to become the #1 merchant service industry leader.
EMS is constantly working towards this goal by continuing to provide innovative payment processing solutions, the most advanced safeguarded technology software, and 24/7, around-the-clock customer support to our merchant account holders.
Continue reading to learn more about Total Touch - the only POS system you'll need to help manage all aspects of your restaurant business while increasing sales and creating positive guest experiences.
Comprehensive, all-in-one POS System
The Total Touch POS system is able to support many different restaurant segments. No matter if you run a fine dining sit-down restaurant, a pizza delivery place, counter service, or a bar, you will be able to manage inventory, employees, all BOH and FOH aspects with this one system.
For restaurants, having great guest experience is the biggest priority in order to retain customers, attract new customers, and increase daily sales.
But how can you increase customer traffic and profits with a POS system that has weak Internet connectivity, a complicated interface, and an inability to manage all aspects of your business in one place?
That's where Total Touch comes in.
With an easy-to-use interface, your servers and staff can stop struggling with software and spend more time focusing on giving guests their full attention for more positive experiences. Total Touch helps to increase daily sales because of the quickened payment processing time and integrated inventory management system.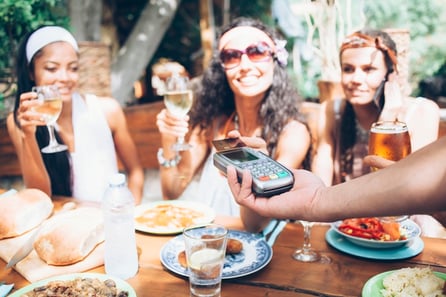 You can also choose to integrate a customer loyalty program or gift cards to further entice customers to visit time and time again, and build out mobile and online ordering options for even more convenience.
The online orders will be imported directly into the Total Touch system so that mistakes in entering the order are avoided and time is saved.
With a system that allows order placing, employee clock-ins, BOH inventory management, timekeeping, employee scheduling, and more management options, it's easy to see why Total Touch is the total solution for your Washington D.C.-area restaurant.
Merchant Payment Processing
As mentioned above, the simple software and interface allows you and your staff to focus more on the customers and spend less time fumbling around with a complicated POS system.
Whenever the breakfast, lunch, or dinner rush comes, you won't have to worry about avoidable mistakes being made with a Total Touch POS system.
Streamlining order input - and saving time by directly importing online orders into the system - will help to dramatically decrease stress and chaos during a busy shift.
EMS payment processing systems accept all major credit and debit cards, NFC payments, EMV-chipped cards, and more. You (and your customers) can rest assured that every payment transaction processed - whether a swipe, wave, or dip - is 100% secure and safe with our advanced safeguarded technology software.
Electronic Merchant Systems has been certified as a Level 1 PCI Service Provider for the past ten years. In addition to our elite data security status, all of our merchant payment processing systems are PCI DSS secure certified.
For the safety and assured comfort of our merchants, EMS is dedicated to maintaining our premier data security provider certifications by continuing to provide safe and secure payment processing software and products.
EMS: More than just Payment Processing
While a streamlined and reliable payment processing and point-of-sale system is vital to a restaurant's overall success, there are other merchant products and services that EMS offers for restaurant business owners.
Apart from the total solution with Total Touch, we offer payment processing systems (such as MaxxPay®) as well as products and services like gift and loyalty cards, business funding, website design and development, and more!
As a merchant account holder with EMS, you will have access to any and all of our available products and services, as well as our unparalleled, 24/7/365 customer support team!
The entire team at Electronic Merchant Systems is here to help your Washington D.C. business and meet your payment processing needs any way we can!
With whatever products and services you choose for your business, you will be able to spend less time fussing with a complicated POS system and more time focusing on the most important priority: customers.
Invest in a Total Touch POS system today and start growing your business now!
Start working with EMS today!
Outfit your restaurant with the comprehensive management tool and all-in-one POS system, Total Touch!
Contact EMS today for a consultation.
Keep the back-of-house and the front-of-house running seamlessly with one point-of-sale system and feel confident every day.
Give EMS a call, visit our regional Washington D.C. office, or click on the banner below to find out even more about how Total Touch can improve your customers' experiences and streamline your business!

About Electronic Merchant Systems
EMS has been a leader in merchant services for over 30 years, since 1988.
We offer all of our merchant account holders products and services such as website development and design, gift and loyalty cards, payment processing solutions. business funding, and more.
For restaurant owners, all our payment processing systems are PCI DSS certified secure- so your money and your customers' payment information are 100% safe, guaranteed.
Ask our knowledgeable team anything you want about the merchant services and products we offer at EMS- and you can ask any time of the day with our 24/7 client support team.
Open a merchant account today!
Start growing your restaurant business today with the help of a merchant services industry leader, EMS!
Electronic Merchant Systems Products and Services
Web design services
EMS in-house creative web development and design team
Responsive, mobile-friendly website design concept
Secure and responsible web hosting
Retail sales
Accept credit, debit, EMV-chip, gift, and loyalty cards
Android Pay and Apple Pay compatible
Bizfunds
Merchant funding from $5,000 to $250,000, courtesy of Working Capital Advances
To repay the cash advance, a small, fixed percentage of the daily card sales will go to EMS
EMS mobile payments
Turn your smartphone into a mobile, handheld credit card POS system
iOS- and Android-supported apps
Payment processing solutions
Improved, expedited cash flow
Acceptance of all major credit and debit cards
MaxxPay® Mini, MaxxPay® Pro, and MaxxPay® Premier
Gift and loyalty cards
Ability to generate new customers
Retain current customers
Customizable gift and loyalty card faces to match business
Unparalleled Customer Support
When you are implementing a new (or a new-to-you) payment processing system into your business, you are bound to run into a challenge or question along the way.
As a merchant account holder at EMS, you will have access to our 24/7, around-the-clock customer support team.
It doesn't matter if you need help or a question answered at 1PM or 1AM, someone at our customer support teams around the United States will be there to assist you!
You can rest assured being partners with Electronic Merchant Systems knowing that you have a fully-trained support team at the ready- only a phone call or email away!

Give us a call now for immediate support: (800) 615-1330

Join EMS, a Leader in Philadelphia Merchant Services
Are you a talented, bright individual looking for a career in the merchant services industry?
Come and join us at Electronic Merchant Systems!
If you are a bright, hardworking, driven individual, EMS wants to hear from you!
We are always on the search for great, qualified prospects to join our team at our Washington D.C. location.
If you are ready to start a career in merchant services, click the button below to search our open positions at EMS!
Our Washington D.C. Location
Address: 3612 Forest Dr, Alexandria, VA 22302

Phone: (703) 379-1500

Hours:

Monday: 9AM-5PM

Tuesday: 9AM-5PM

Wednesday: 9AM-5PM

Thursday: 9AM-5PM

Friday: 9AM-5PM

Saturday: Closed

Sunday: Closed