Looking for credit card and payment processing company to service your New York area business?
Do you own a business in New York and are currently searching for a credit card processing company?
Electronic Merchant Systems (EMS) is a financial institution that offers innovative and integrated POS solutions, such as exceptional credit card machines, to the greater New York City area .
Our service-focused team is ready to help your NY business thrive.
EMS is the largest privately owned and operated payment processing company in North America, with a powerful local presence across the United States.
We take immense pride in having many local offices that provide us the opportunity to connect with our merchants. Since we operate in the same communities, towns, and cities as our New York clients, we get to experience the struggles and thrills merchants face every single day.
Our strong local presences across the United States have allowed us to expand our reach, and help more businesses grow and develop with secure credit card payment processing systems.
Since EMS started in 1988, we have kept the same ultimate goal: to become the #1 merchant services industry leader. For the past 30 years, we have inched closer and closer to accomplishing that goal because of our payment processing solutions, consistently updated technology, and our unparalleled customer service.
For merchants, we offer payment processing, online payment gateway integration, POS systems, web design and development, funding for your business, mobile pay, and credit card machines.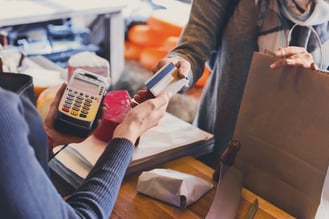 At EMS, we pride ourselves on providing clients with top-of-the-line services, highest quality of products, and expert customer support representatives.
For every New York City merchant, we guarantee safeguarded transactions. Every swipe, dip, and NFC you receive in your business is protected.
We take securing electronic payments, transactions, and all the sensitive information seriously. All of our products have been certified as secure by the PCI DSS to accomplish this safety measure.
Top notch security doesn't end with our products. EMS as a whole has been certified as a Level 1 PCI Service Provider for the last ten years. We are committed to keeping this elite standard of premier data security by continuing to produce safe and secure products and software so that our merchants can achieve the peace of mind that they deserve.
EMS is dedicated to appeasing your New York City business payment processing needs however we can.
When you give us the chance, we can grow your business with our secure electronic payment systems and web development services.
Partner With EMS Today!
When you are ready to make the switch to a reliable payment processing system (and company) that you can trust, contact EMS. We are dedicated to providing your New York business with secure credit card processing terminals, web services, customer loyalty programs, and more.
Our current merchant account holders have felt secure in their decision to partner with EMS, and we are confident that you will feel no different.
Give EMS a call or visit our local office near New York City today.
About EMS
New York-area business owners can finally receive simple-to-use merchant services like online payment, mobile pay, and credit card processing systems, courtesy of Electronic Merchant Systems.
EMS offers merchants reliable, safe, and innovative payment systems that are safeguarded, so peace of mind is not compromised.
For over 30 years, EMS has been expanding past traditional services to allow merchants to choose from a wide variety of exclusive, innovative electronic payment solutions.
Do you want to set up an online payment system for your website? Ask our talented design team about online payment gateway integration and discover how EMS can help create a streamlined payment checkout experience on your site.
If you need help to grow and retain your New York customer base, we can further discuss our customer gift and loyalty program solutions that will keep your customers − both old and new − coming back.
Ready to outfit your New York business with the best credit card processing products and services?
Start by opening an account today with EMS so that you can grow your business hand-in-hand with the largest privately-held credit card processing company in the nation.
What We Offer NY Merchants
Payment Processing
All Major Credit and Debit Cards are Accepted
Improved, Expedited Cash Flow
MaxxPay® Mini, MaxxPay® Pro, & MaxxPay® Premier
EMS Mobile Payments
Turns a Smart Device into a Credit Card POS
Android and iOS Supported Apps
Gift & Loyalty Cards
Customized Card Production
Generate New Customers
Retain Existing Customers
Bizfunds
Merchant funding from

$5,000 to $250,000 (courtesy of Working Capital Advances)
A small, fixed percentage of daily credit and debit card sales go to EMS
Retail Sales
EMV Chip Card Certified
Accepts Credit & Debit Cards
Android Pay & Apple Pay Compatible
Accepts Gift & Loyalty Cards
Web Design Services
In-House Creative Team
Responsive and mobile-friendly website design
E-Commerce Services
Responsible and reliable hosting
Let Us Help You!
We understand that sometimes when you are working with new technology or new-to-you payment systems, you may run into a few questions or challenges.
At EMS, there is no such thing as a stupid or silly question. Our well-trained customer service team is standing by to help you whenever you need assistance.
For over 30 years, we have offered 24/7 customer service support, and we plan on keeping that same principle for client support for years to come.
24 hours a day • 7 days a week • 365 days a year
Whether you need help at 2 PM or 2 AM, a dedicated customer service representative from EMS is there to answer your email or phone call.
Experience unparalleled customer support at Electronic Merchant Systems from day one when you open a merchant account with us!

Give us a call: (800) 615-1330

Don't feel like chatting over the phone? Shoot us an email!
Join EMS, a Leader in New York Merchant Services
Since our inception in 1988, we have been working to become the #1 leader in the merchant services industry.
In order for us to achieve this goal, we need a diligently hardworking and dedicated team of the best and the brightest.
We are always searching for qualified individuals to join our talented team near New York City.
Are you interested in joining EMS?
Find out how you can start a highly-rewarding career in merchant services by clicking the link below to check out our open positions.
Call or Visit EMS Today!
Our New York Location
Address:
900 E Main St, Rochester, NY 14605

Phone: (866) 367-1818

Hours: Monday – Friday, 8AM−5PM