Are you looking for the best POS system for restaurants and bars in Alafaya, FL?

Do you want a point-of-sale system that will help you streamline your business and increase your revenue? If you're ready to grow your bottom line, consider what Total Touch® POS can do for you.
When you use Total Touch® as your restaurant & bar POS system, you can:
Increase revenue
Have payment processor flexibility
Maximize restaurant efficiency
Increase online sales
Avoid system downtime
Pre-authorize bar tabs
Pour control
These are just some of the advantages of partnering with one of the most robust point of sale systems on the market.

As a restaurant owner or manager, it can be challenging to keep track of everything. Dealing with a complicated restaurant point of sale system, from employee management to inventory management, should be the last thing on your mind.

Total Touch® is a straightforward, easy-to-use point of sale system that can help you optimize your business.

We can assist you with employee scheduling, inventory tracking, and overall customer experience improvement.

Total Touch is the best point of sale solution for your Alafaya restaurant, bar, or nightclub. Additionally, thanks to the versatility of our software, we can assist you in accepting online and mobile ordering options. With Total Touch as your restaurant point of sale system, we can assist you in growing your business.
For years, Total Touch has been helping large and small restaurants like yours reach their full potential.
That includes:
Streamlining the acceptance of all major credit and debit cards

Powerful POS integrations

Total support with a US-based customer support team

Our POS systems are fast and intuitive, helping you save time and reduce costs.
If these sound like things you need for the growth of your restaurant, we'd be delighted to assist you. We are dedicated to providing our restaurants with the support and software they require to succeed.

The first step is to schedule your complimentary demo, which you can do by clicking the button below.
Are you interested in learning more about the best point of sale system for your restaurant, bar, or nightclub?

Total Touch POS was named one of CIO's Top 20 Most Promising Point of Sale Providers in 2019 and one of CIO's Top 10 Payment and Card Consulting Services in 2019.

Total Touch POS is a simple-to-use restaurant management system designed to help grow your business. Our point of sale system is specifically designed to meet the management and operational needs of restaurants.

We provide industry-leading POS software that enables you to concentrate entirely on providing the best possible customer experience while also saving you time and money.

We are a true partner who values our restaurants' feedback and acts on their requests.

POS companies frequently provide restaurant owners with a restaurant system but little to no support.

Total Touch offers on-site training to ensure that your staff understands the system completely.

Another advantage of Total Touch POS is that data can be stored locally or in the cloud. As a result, a redundant system is created that is capable of cross-checking data for accuracy even during peak periods.
Scroll down a little more to our table of contents, where you can learn more about how our restaurant point of sale system can benefit you.
Table of Contents
What Is The Best Restaurant POS System?
As the owner or manager of a restaurant, you have a full plate with your daily to-do list.

We recognize that you face numerous challenges, ranging from inventory management and product shipping to employee management and customer service.

With managing your restaurant, you may not find time to be able to research the best restaurant point of sale system.

Total Touch, on the other hand, can assist; we understand how critical time is in the hospitality industry. That is why, in order to alleviate some of the stress, we developed this point of sale solution.

How does Total Touch POS help you alleviate some of these burdens? Continue reading to discover how.
Payment Options
With an innovative point of sale system such as Total Touch, your wait staff can split checks by seat or item. This eliminates the need for your customers to argue about who pays for the appetizer.

Additionally, it simplifies the process of tracking checks and orders, ensuring that no one receives an incorrect check or has a negative experience at your restaurant.

This functionality enhances the dining experience of the customer, increasing the likelihood that they will return and allowing you to convert your loyal customers into raving fans, thereby increasing your bottom line.

We can also help them improve their dining experience by pre-authorizing bar tabs.
Pre-authorize Bar Tabs
You can improve service speed by allowing bartenders and servers to move more quickly by pre-authorizing bar tabs.

This gives your guests the option of opening a tab at the bar and then carrying it to their seats when they're ready. There will be no need to open and close multiple tabs, nor will there be a need to manage manual paper tickets. This feature enables you to maintain a positive relationship with your customers and employees.

Pre-authorizing bar tabs enables you to maintain healthy sales and profits while also delighting guests with the service you can provide.

The management of employees is one of the most challenging aspects of running a hospitality business. However, with our user-friendly interface, you will find it much easier to manage your team.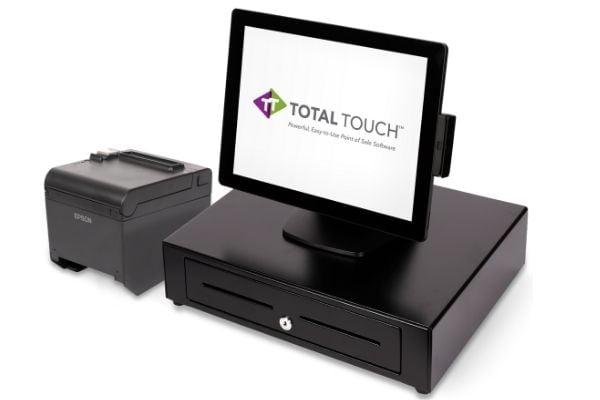 Employee Management
With our restaurant point of sale system, you'll be able to manage your employees much more easily. You'll be able to schedule your kitchen staff, wait staff, bartenders, and hostesses, as well as track employee time and permissions, enabling your staff to serve your guests.

This functionality allows you to take complete control of your restaurant, enabling you to provide superior service while increasing profits.

On the other hand, employee satisfaction is a frequently overlooked aspect of a well-run restaurant.

If you use Total Touch's simple interface, you will have a happy staff.
Easy-To-Use Interface
Nothing irritates you or your customers more than being kept waiting for their bill for an extended period of time. It has the potential to take away from what was a fantastic dining experience.

They frequently blame the waiter or waitress, but the majority of the time, the problem is with an outdated cash register system.

However, this is not the case with Total Touch. The intuitive interface enables your staff to operate it intuitively, and the clear and uncluttered screen prevents you from falling down rabbit holes while attempting to close out a table.

Along with Total Touch functionality, we offer an onboarding process that allows your staff to ask questions and receive comprehensive training on our system. Additionally, we will be on-site the first day it is operational to assist the staff with the transition.

By providing online and mobile ordering options, we can assist you in streamlining your restaurant operations and the dining experience.
Online and Mobile Ordering
Restaurants are increasingly migrating from offering just a brick-and-mortar option to having an online presence as well. Additionally, as customers get used to ordering online, curbside pickup has become more popular.

Through the use of Total Touch's online and mobile ordering capabilities, you can adapt to your customers' changing habits while increasing sales and reducing errors with our point of sale system.

With an increasing number of people placing food orders online, your establishment must be capable of processing both in-person and online orders.

Restaurants can benefit from Total Touch mobile ordering by increasing sales and efficiency. With online ordering, you have complete control over your in-house and delivery operations, including driver assignment, region configuration, and QR code ordering.

Another way in which Total Touch assists restaurants in improving customer relationships is through its API program, which integrates with all major delivery services.
API Program That Works With Major Delivery Services

By integrating with third-party delivery services such as Postmates, GrubHub, and others, Total Touch can help restaurant owners expand their delivery capabilities.

If you have customers who prefer contactless delivery, our POS system can accommodate them. You can define service areas and charge specialized pricing and delivery fees based on delivery zones using this integration.

Additionally, you'll be able to track customer payments, gratuities, and the delivery driver's location to ensure your business runs smoothly.

This delivery service is ideal because it can help you be where your customers are, allowing you to grow your customer base.
These are just a few of the features you'll receive when you upgrade to Total Touch POS. However, the benefits you will receive will be significantly greater.

From relieving the stress of running or owning a restaurant to keeping your employees happy and, most importantly, your customers happy, a powerful POS system like Total Touch will enable you to grow your business.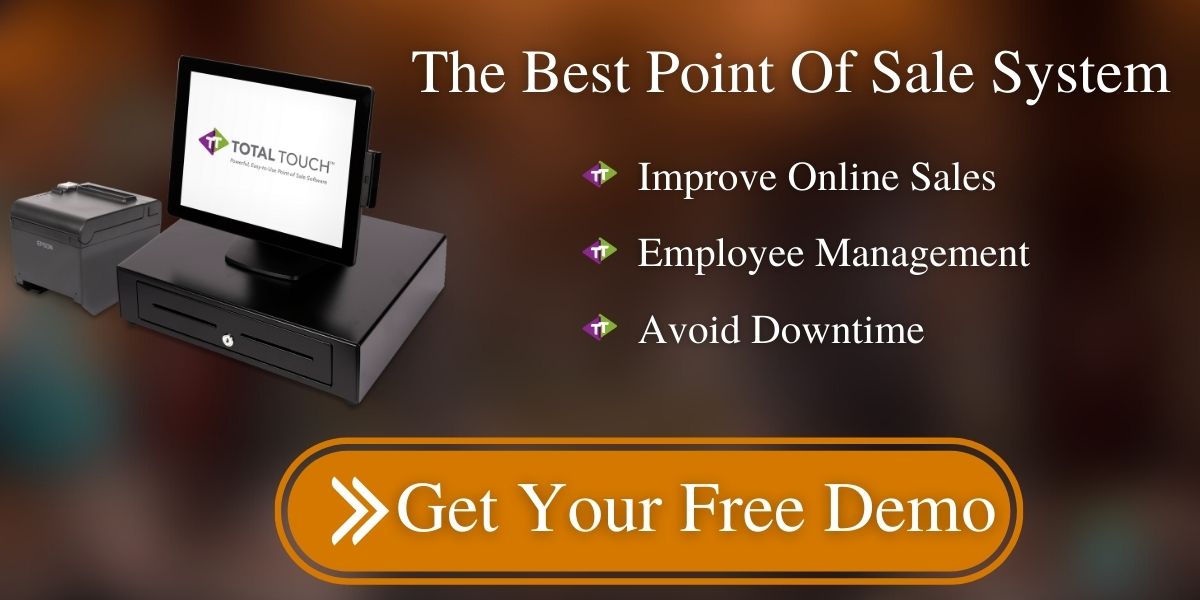 Top Restaurant Point Of Sale System in Alafaya
The objective of any restaurant is to convert customers into repeat customers. You will be able to do so thanks to our state-of-the-art point of sale system.

By implementing Total Touch POS, you can streamline your operations while increasing your bottom line.

Our integrated payment processing system enables you to quickly manage tables, resulting in a more enjoyable dining experience for the customer and shorter wait times, allowing you to serve a larger number of people.
Total Support
One of the most valuable benefits of partnering with us is our total support.

Numerous businesses will deliver your point of sale terminals but will not provide on-site training.

Total Touch provides on-site training to ensure that your staff is aware of advanced features and can quickly master the system.

Not only will we manage employee onboarding, but we will be there to help on the day your terminal goes live in your restaurant.

This demonstrates that you are not alone. You'll work with a partner who will assist you in setting up and launching your POS.
Total Choice
It is critical to have options in the restaurant industry if you want your business to be as profitable as possible.

Total Touch offers an integrated payment processing solution. We work with the majority of payment processors, which means you can choose a company whose payment processing fees align with your restaurant's goals.

This gives you total control over the payment processing rates that are most advantageous to you.
Total Integrated System
The restaurant software developed by Total Touch is a server-based system with cloud-based reporting capabilities. This results in less downtime for merchants and the assurance that they will be able to handle rush hour without incident.

Additionally, the hybrid model gives owners complete control, enabling them to monitor their business's performance from any location.

Total Touch accepts a variety of payment methods, including EMV, NFC, and tokenization, and with payment processor Electronic Merchant Systems (EMS), no credit card data is retained. This reduces your vulnerability to cyberattacks, which have the potential to reduce customer trust.

Running a restaurant requires considerable effort. You require the best point of sale system to ensure that your restaurant operates at peak efficiency while increasing your bottom line.

When you choose Total Touch as your point of sale software, you are partnering with a company that will go above and beyond to assist you in growing your business.

We strive to keep the transaction process as simple as possible so that your customers can concentrate on what matters most: enjoying themselves at your restaurant.

What are some of the ways a new POS system can help your bar and restaurant? Keep reading to see how.
How Do Point Of Sale Systems Benefit Restaurants in Alafaya, Florida?
If you've been wondering, What is the best POS software for restaurants? this is the place to be. Or maybe you've wondered What is the best restaurant POS system? You can put an end to your search because Total Touch POS is the solution.

Total Touch can assist you regardless of the type of restaurant, bar, or nightclub you own or manage.

What types of restaurants does our system work with? We have no restrictions on the types of restaurants we can help.
We can work with:
Full-service restaurants
Pizza shops
Quick-service restaurants
Enterprise-level restaurants
Mom and Pop restaurants
Independent restaurants
And many more
Thanks to our versatility, Total Touch can be used in almost every bar, restaurant, and nightclub.
But what makes it the best POS system?
As one of the leading POS companies, we are dedicated to making sure we take care of our merchants. We listen to the needs that you tell us will help you, and then we get to work making sure that you have what you need. It doesn't matter if you are a niche restaurant or a well-established bar; we can help you.
How are we able to do this? One of the ways is with our internal development team.
Internal Software Development Team
Have you ever been in a situation similar to this? You acquired equipment from a third-party processor or point of sale provider. It initially appeared appealing due to the low monthly cost or free terminals, but once you begin using their equipment, you realize it is not the best fit for your needs.

You may be lacking in advanced reporting capabilities, or your system may have limited scheduling capabilities.

This is one of the ways in which Total Touch differentiates itself from other restaurant point of sale software providers.

Not only will you be on the cutting edge of the industry with our POS system, but we can also assist you in developing custom reporting and optimizing built-in tools to ensure your business runs as efficiently as possible.

To keep our software at the cutting edge of the industry, our in-house software development team is constantly improving our point of sale system and peripherals.

Additionally, our software development team pioneered a number of industry-leading point of sale integrations that enhance the customer experience and enable you to do more business.

When you partner with us, you will not receive a one-size-fits-all program; rather, you will gain access to customized programs that will help you grow your business.

You'll have a comprehensive management system and reporting tool in one, enabling you to provide the best customer experience while increasing your profits.

Additionally, Total Touch can assist you with our SQL database.
SQL Databases
Total Touch's SQL database expands your bandwidth options. This enables you to manage a greater volume of menu items more efficiently.

Additionally, the SQL database enables us to expedite any changes you request, putting you one step ahead of the competition.

You already have complete control over managing your business remotely when you use our hybrid point of sale system. By incorporating a SQL database, you can save time managing business analytics, allowing you to focus on growing your Alafaya restaurant.

These are just a few of the advantages of partnering with a point of sale company such as Total Touch. We are a committed partner. We will not provide you with a system and then disappear. We are here to help you in increasing your bottom line by providing world-class support and the ability to assist you in developing custom business tools.
Powerful Point of Sale Software You Can Trust
Why Choose Total Touch as Your Alafaya POS Partner?
Total Touch embodies everything a restaurant needs from a POS Provider in Alafaya, FL.
Exceptional Service & Tools
You have complete control over inventory and employee management, pour control, loyalty, and gift card programs with one of the best POS systems, such as Total Touch. We can help you manage and grow your business. Total Touch POS can also pre-authorize bar tabs, split checks by seat or item, and provide other features to help you keep your customers satisfied.

Use powerful software, hardware, and credit card processing to save time, effort, and money.
Increased Profits
Increase your revenue with an integrated restaurant point of sale system like Total Touch. From quicker turnaround times and improving guest experience to having a reliable POS system that can handle your busiest times, Total Touch can help you improve your bottom line.
Total Support
With worry-free technical support for your restaurant based in the United States, you can say goodbye to support headaches. See why choosing Total Touch as your restaurant, bar, or nightclub POS system will give you complete control.
Pour Control
Total Touch can help your staff avoid errors and improve control over the dispensing of alcohol/draft beer.
Inventory Management

Total Touch provides you with comprehensive inventory tracking and a countdown of item quantities for total tracking.
Open Table Management
You can enhance the overall guest experience with open table management. From the front office or the back office, your client can manage tables to help reduce long wait times and increase checkout speed, allowing your client to do more business.
Hybrid POS System
Total Touch is a hybrid cloud and on-premises system. This enables you to safeguard critical business data by storing it on a secure server and gaining access to reports from any location with an internet connection.
Frequently Asked Questions
1. What are the Top Restaurant POS Features To Look For?
You want to make sure that the POS company you choose for your business has the experience and understanding in the industry, as well as reasonable pricing, good customer service, expanded functionality, and extensive security.
Don't limit yourself to the point of sale companies that offer the cheapest contracts or free equipment. These types of deals will generally cost you more due to a sub-par product or being locked into a contract you can't get out of.


2. Why do I need a POS system?
A point of sale system allows you to optimize your business. You'll be able to reduce operational costs by improved inventory tracking, as well as options like pour control that keeps things consistent, so you are not ordering too much or running out of inventory.
A POS system will allow your business to run efficiently and improve not only your employees' experience but also your customers.
3. Can I keep my current credit card processor?
Yes. Total Touch POS is processor agnostic, and we can work with most payment processors. However, we do have preferred processors like Electronic Merchant Systems (EMS), which have state-of-the-art industry protection that allows you to process cards quickly and securely.
4. What is the best POS system for a restaurant or bar?
The first thing you want is a POS system that is going to be flexible enough to offer your business everything it needs to be successful. From intuitive features that will allow you to improve your efficiency and increase your sales to the ability to provide a positive customer experience that will keep them coming back.
The other aspect you should look at is the POS company. Are they reliable? Are they responsive? Will they take your business's specific needs into account when working with you, or are they just trying to make a sale?
5. Do I have to be a bigger restaurant to use Total Touch POS?
Absolutely not. We work with a wide range of restaurants. From large enterprise restaurants down to small mom-and-pop or niche restaurants, Total Touch POS is perfect for you.
6. How much does a restaurant POS system cost?
Most companies offer restaurants POS systems that are one-size-fits-all with expensive upgrades, additional costs, and long-term contracts for merchant services that aren't friendly to the merchant.
Contact us to get a no-obligation quote for a comprehensive restaurant pos system and restaurant management software that's customized for your needs.
7. Does Total Touch offer online ordering?
Total Touch POS offers online ordering to help you reach more of your customers that want curbside pickup or delivery.
Choose the Best Restaurant POS System in Alafaya
We take pride in being a responsive and comprehensive partner to restaurants, bars, and nightclubs at Total Touch POS. Our dependability, security, and trustworthiness are just a few of the reasons that so many restaurants in Alafaya choose our point of sale system.

We are committed to not only your long-term objectives but also to the daily processes that will get you there. Total Touch will go the extra mile for you, whether it's lowering operational or labor costs or developing custom solutions and business tools that will help you reach the next level.
We are much more than a point of sale business. At Total Touch, we are here to help you by providing you with a solution that:
Has a personal onboarding process

Can pre-authorize bar tabs

Offers online ordering and mobile solutions

Has custom analytics

Has an intuitive interface

Offers inventory management
Don't spend another day with an out-of-date POS or a system that won't handle your busiest times.
Instead, choose Total Touch - where we offer Alafaya restaurants the most updated restaurant point of sale solutions that are simple and effective.
We not only stand behind our product, but we stand with you every step of the way to help you grow your business.

If you are looking for the best Alafaya, Florida restaurant POS system, please fill out the form below to schedule your demo.
Request a Demo