Looking for a customized point of sale (POS) system in Long Beach, CA that is built to enhance your small business?

The best point of sale systems do more than just process transactions.

These systems offer unique software capabilities that streamline your daily workflow, combining tools such as employee scheduling, customer loyalty and gift card programs, and structured inventory management.
Hardware & Software That Make Selling A Breeze
At Electronic Merchant Systems, our team has worked tirelessly for over 30 years to build customized pos solutions engineered to enhance the way you interact with your employees and your customers.

So whether you are a retail store, a bar, a fine dining restaurant, a pizza shop, or something else, we can tailor a solution for your needs. You'll make smarter, data-driven decisions - boosting your profits.
Here is how we do that.

At EMS, we developed our POS solutions around factors like affordability, ease of use, functionality, and granular analytics. We also built cloud-based solutions that are easy to set up.
We fully believe that you deserve a suite of options for scaling your business effectively.
This includes the following:
accurately tracking sales
taking all payment methods
customization options with built-in features
seamless hardware and integration solutions
ability to enhance your overall customer experience

With that said, let us dig into some solutions that work well for many types of businesses:


Retail Shop Solutions
Grow Your Business with MaxxPay® Point of Sale
MaxxPay® is a cloud-based point of sale solution designed to seamlessly connect an entire store with its customers.

It offers uncompromising quality, lifetime data storage, automatic free software updates, and much more. MaxxPay is available in multiple selections, so you can choose the option that is best for your business.

Each option comes equipped with robust features, including:


Inventory Management
Employee Permissions & Timekeeping
Transaction Reporting
EMV and NFC Technology
State-of-the-Art Hardware

MaxxPay allows our merchants to gather the critical business data they need in order to make better business decisions that are simply not possible through the use of an electronic cash register or stand-alone credit card processing terminal.
With that said, let's look at our three MaxxPay systems.
MaxxPay Premier
Steadfast Quality & Functionality
MaxxPay Premier presents a robust cloud-based pos solution for Long Beach, California businesses at a fraction of the cost of other systems. Its Android operating system is paired with modern hardware options to help take your business to the next level.

With advanced features and benefits, including the ability to add a surcharge program, MaxxPay Premier could be the last point of sale solution you ever need to buy!

MaxxPay Pro
Top Performance in a Compact Package

The MaxxPay Pro system makes getting paid easy and is always secure. Its Android operating system comes equipped with modern hardware options for optimal performance.

MaxxPay Mini
Adaptable for Your Business
MaxxPay Mini is an all-in-one payment solution that offers incredible functionality with a small footprint. It is designed to take up little counter space, while still offering all the essential point of sale features you need.

MaxxPay Mini is a great fit for retail stores, coffee shops, contractors, delivery drivers, food trucks, and many more.


Restaurant & Hospitality Solutions
Deliver an Enhanced Dining Experience with Total Touch® Point of Sale For Restaurants and Hospitality Businesses
Total Touch® is a powerful, yet simple point of sale solution designed specifically for the restaurant and hospitality industry.
It serves all restaurant and bar types, from quick-service pizzerias to sports pubs, fine dining rooms, and beyond.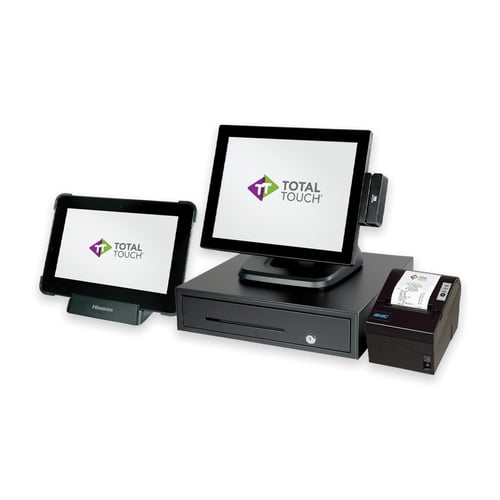 Some of the intuitive features available with Total Touch include:
Open Table Management
Online and Mobile Ordering
Online Payments
Employee Scheduling & Timekeeping
Cloud-Based Reporting
Tab Management

Total Touch is an integrated restaurant and bar point of sale solution that can help you manage sales, inventory, employees, operations, and more for your restaurant.
It is the preferred solution for all restaurant concepts, from quick-service pizza spots to premier fine dining rooms.
Unlike other popular restaurant software, Total Touch operates on a hybrid cloud and server-based system. This means that you can trust your solution will keep running, even during an internet interruption. Plus, when you're tired after a long shift, you can access any management function from the comfort of your own home.
All you need is an Internet connection!
Once you experience Total Touch, you'll begin to wonder how you ever managed without it.



Countertop Terminals
Accept All Forms of Payment with a Countertop Terminal

Our countertop point of sale terminals are designed to offer you all the processing features you need, without crowding your counter.
Each terminal is EMV-certified and NFC-enabled to provide you with the enhanced security of chip card acceptance and ability to accept contactless payments and mobile wallet payments, such as Apple Pay or Google Pay.


Some of our terminal equipment solutions to empower your business include:

EMS A920 Mobile Terminal

The EMS A920 is the world's most elegantly designed, compact, and secure electronic payment terminal powered by the Android operating system.
It offers a large, high-definition tablet color display and a neatly hidden thermal printer to maximize screen usage for customer-facing transactions.
PAX A80 Android Desktop Terminal

The PAX A80 is a simple yet reliable countertop payment solution. Powered by Android 6.0/7.1 technology, this solution offers full connectivity.
It is designed to empower you to process all forms of payment quickly and securely, even during the busiest hours of the day.
iCT220 Terminal
The iCT220 terminal is an intuitive payment processing solution that occupies little counter space. Its menu-driven display offers simple and straightforward navigation.
Add an iPP310 and give your customers the option to swipe, dip, or tap their credit/debit card to make a payment.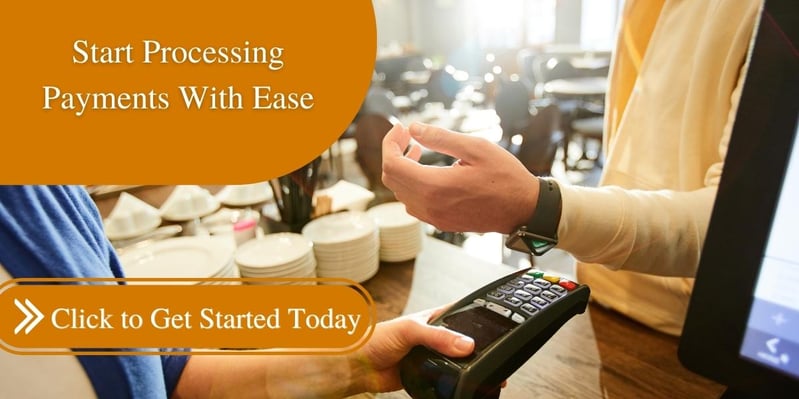 POS Frequently Asked Questions
What is a POS System?

A point of sale system is, in the simplest words, a mix of hardware and software that enables merchants to accept transactions and streamline crucial, day-to-day business activities. The point of sale (POS) is where a customer pays for a product or service.

How much does a POS system cost for a small business?
While a POS could alternatively be viewed as a cash register, point of sale systems have more features, functionality, and benefits required by contemporary standards. In addition, POS software provides all the features of cash registers, and the cash drawer is sometimes referred to as the POS cash register.

Do you have to pay monthly for a POS system?
A small business point of sale system costs between $0 and $300 per month. For most small firms, the average monthly cost of a POS system is approximately $69 dollars. With POS costs for additional software features such as advanced analytics, loyalty, and gift cards, you may spend more.

What are the most common types of POS systems?

Currently, there are four primary types of POS systems used by small businesses: legacy, tablet, mobile, and cloud-based.
How long does it take to install a POS system?

The turnaround time for a POS system typically ranges from two to four weeks, depending on the depth and complexity of your organization and your availability to answer any questions we may have along the process. Once your system has been setup, it is usual to make minor tweaks to your database.

Can a POS system work without Internet?

Locally-installed systems can operate without an internet connection since all the necessary data and information is saved on the computer or, for more extensive systems, on a server.

What makes for a good POS system?
Ideally, your system should boost the efficiency of your business. This includes generating sales reports with detailed charts and graphs. Additionally, it should feature an intuitive real-time dashboard that displays sales in real-time.
These are all features integrated with Electronic Merchant Systems POS solutions.
Sell & Grow More With Electronic Merchant Systems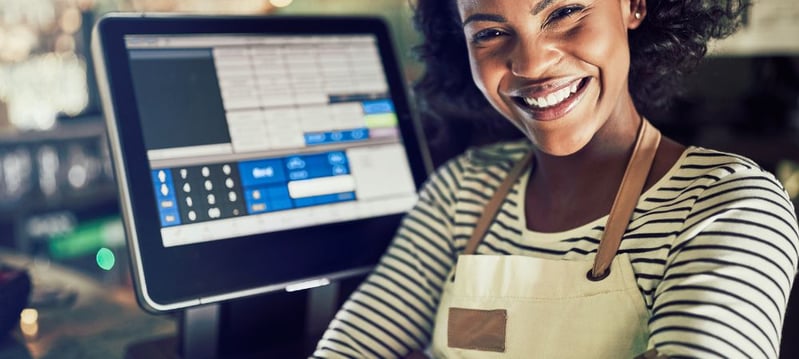 Electronic Merchant Systems' point of sale solutions provide retailers, restaurants, and merchants in Long Beach with exceptional flexibility, functionality, and convenience.
It is difficult to ignore the benefits of reporting, inventory management, employee clock-ins and clock-outs, time tracking, error reduction, customer data collection, and the ability to provide customers with product-specific information.
If you're looking for POS system in Long Beach, CA that will fit your business's requirements like a glove, fill out the form below to get a free consultation with our customer solutions specialists today.