Do you want to join the Best POS Reseller Program in Morgantown, West Virginia?
Are you ready to take your business to the next level and close more restaurants, bars, and nightclubs?
If so, then the Total Touch® POS Reseller Program is the best choice for you.
As a Total Touch® Reseller, you'll have the support of a company that can help you close more deals, increase your revenue, and get access to benefits like:
Uncapped income growth
Next day funding
A sustainable business model
Products that optimize business operations
Cash discount programs
Increased client retention
One of the best benefits of being a POS Dealer with us is that we are dedicated to you and your success. Some POS companies provide their Resellers with a restaurant POS system but offer very little support. However, Total Touch is with you every step of the way.
When you join our Reseller Program, you get a Level 1 and Level 2 customer support team 24 hours a day, seven days a week, as well as training to ensure you have what you need to build your POS business and maximize your residuals.

As a Point Of Sale Reseller with us, you can offer restaurant owners and managers the opportunity to store data on-site or in the cloud. This results in a hybrid point of sale system that can cross-check data to ensure accuracy even during the dinner rush.

Total Touch POS works with most merchant services providers. However, we have recommended payment processors that offer opportunities to help you build a sustainable business and become a leader in the industry by providing the best payment solutions for your restaurants, bars, and nightclubs.
Click HERE to learn more about adding the best restaurant point of sale system to your products, or keep reading to see how you can be the best POS Dealer in Morgantown with Total Touch.
Table of Contents:
What Is The Best POS Reseller Program In Morgantown?
Total Touch is the Best POS Reseller Program in Morgantown because we provide an all-in-one point of sale system that can help you reach more restaurants, bars, and nightclubs.
You need a partner that can help you grow your company with an innovative point of sale system that will increase your income and make you the POS Reseller that restaurants, bars, and nightclubs in West Virginia turn to.
We can also help you with the following:
Total Integrated System
With an integrated POS solution like Total Touch, you can help your restaurant owners enhance their guests' dining experience, as well as their bottom line.
Total Touch is a server-based software with cloud-based reporting features. This reduces downtime for your clients and gives them confidence that they can handle their busiest times without any problems. This will help your restaurant owners improve customer retention and allow you to maximize your residuals.
This hybrid model is the most comprehensive solution that gives business owners total control, allowing them to see how their business is performing from anywhere.
Total Support
Total Touch knows the challenges you and your merchants have to deal with. You need support from a POS company that can deliver:
Dealer channel managers with unparalleled experience
Paying on key profit points
Level 1 & 2 support
Training to make you the go-to point of sale reseller for businesses
With Total Touch you'll be able to offer restaurant owners the payment solution they need to succeed, and you'll have the best POS system that Morgantown restaurants will rely on.

As a Total Touch Reseller, we not only will give you one of the best restaurant POS systems, but we will also help keep you ahead of the industry so that you can provide your clients with the best point of sale solutions for their business.
With us, you can help restaurant and bar owners have complete control over their business and increase your residuals.
Total Increased Profit Opportunity
Total Touch is compatible with the majority of credit card processors, so your customers can choose the merchant services provider that best suits them. We do, however, have recommended payment processors in order to offer you a more sustainable business model.

Combining payment processing and point of sale software with one company offers a number of advantages.

One of those benefits is that restaurant owners can streamline their operations and focus on developing their business when they use Total Touch POS software and Electronic Merchant Systems (EMS) as their payment processor.

This will not only help them streamline their operation by using Total Touch and EMS, but it will also protect their customers' data.

Total Touch supports EMV, NFC, and tokenization, and with EMS as the merchant services provider, no credit card information is saved. This reduces the vulnerability of business owners to cyberattacks that can erode trust between them and their customers.
But there is another important reason that partnering with Total Touch can help you. We are not an IPO.
Why Should You Partner With A POS Company That Isn't An IPO?
There is a growing trend in the payment processing industry of processors migrating to IPOs and purchasing credit card processing equipment and software such as POS systems.
Even if your merchant's activity doesn't change, as a POS dealer, this can result in a loss of support for you and your merchants, as well as a loss in residuals.

IPOs are inclined to not pay on all profit points, such as ACH fees, TMH fees, Mid and Non-qual, and, in the worst-case scenario, they can alter interchange dues and assessments, as well as add risk costs. As a POS Reseller, this means it can negatively affect your revenue streams.
But not with Total Touch.
We are a committed partner to our POS Resellers and strive to meet you and your merchants' financial and technical needs. We pay on all profit points and work to ensure that you get the success you deserve and keep it.
We are YOUR partner.
If you're ready to offer the best restaurant POS system to your clients, click the link below. If you want to learn more about some of the benefits you'll get as a POS Reseller with us, please keep reading.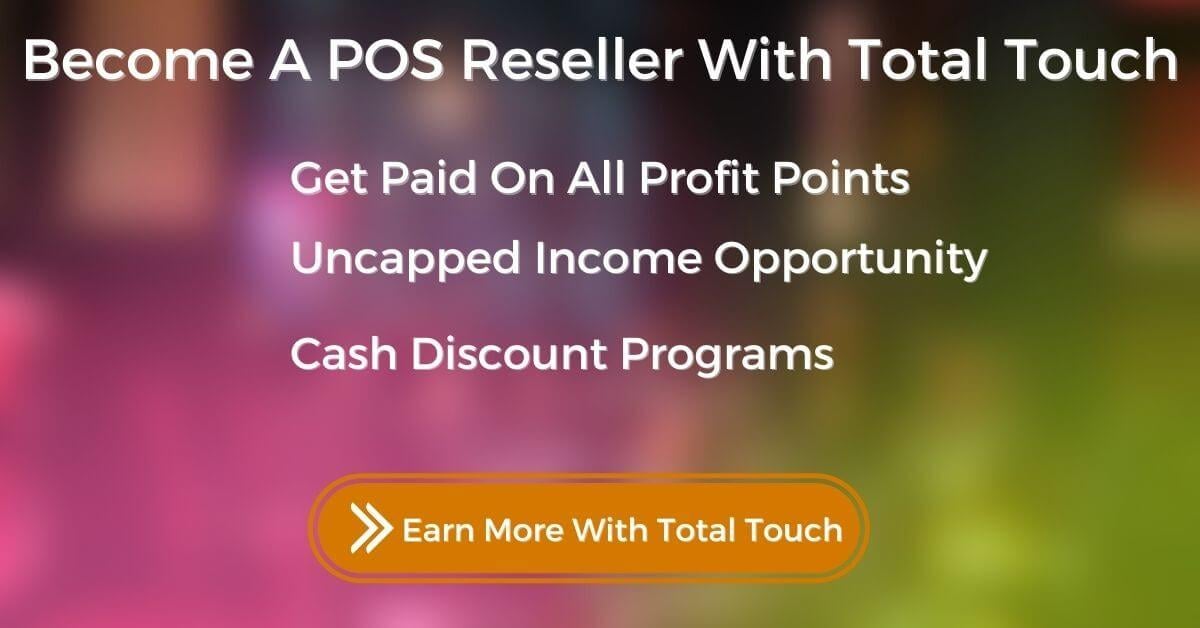 What Are The Benefits Of Selling Total Touch?
Some of the biggest advantages you will get from selling Total Touch are:
Growing your business

The ability to approach more restaurants, bars, and nightclubs

Increased residuals

Easy to use web ordering software

Reaching more merchants in the hospitality industry
One of the biggest benefits you'll get is offering your customers an easy-to-use point of sale system.

If a restaurant manager's staff is spending a substantial amount of time trying to get their current POS system to work, or if it goes down during their busiest times, they are losing money. They need reliable software, like Total Touch, to handle the dinner rush and boost their productivity.
Here are some of the valuable services Total Touch offers you and your merchants:
Open Table Management
With open table management, your merchant can improve the overall dining experience for their customers. From the front office to the back office, they can manage tables to help reduce long wait times and improve the speed of checkout, allowing your client to do more business.
Payment Options
With an innovative solution like Total Touch, your restaurant owner will be able to split checks by seat or split an item by the entire table.

This feature improves the customer experience, increasing the chances of repeat business and enabling you to increase your residual income as your client's business expands.
Another way we help you grow is with our software development team.
Internal Software Development Team
Another advantage of being a Total Touch POS Reseller is our in-house development team.

Our software team is continually updating and improving our POS products and services so that we have the best POS system and peripherals in the industry.
Our team is the first to develop and offer some of the most advanced point of sale solutions, like web ordering, which can help your restaurants earn more money and help you increase your residuals.

Adding options like QR codes, online ordering, and contactless solutions can help your merchants reach more customers.

As a Total Touch Value-Added Reseller, you won't get a one-size-fits-all program. Instead, you'll be able to give your merchants a versatile POS system that helps their business and makes you a leader in the payments industry.
You'll also be able to improve your merchant's business by being able to offer online and mobile ordering capabilities.
Online and Mobile Ordering
As one of the leading programs for Resellers, we know how dynamic this industry is.
Businesses are switching to a hybrid business model, making it easy for customers to dine in person or order online.

Your merchants need a POS system that can help them adjust to the changes in consumer behavior while reducing mistakes and boosting sales. With the seamless web ordering features of Total Touch, your clients can serve their customers whether they want to dine in or order out.

By allowing your restaurants to handle both in-person and online orders, you can support them in growing their operations. And as the trend of online ordering increases, you will be able to help your customers adapt and stay ahead of the curve.

With the incorporation of online and mobile ordering, including driver identification, region setting, and QR code ordering, your restaurant managers will have total control over their delivery operations.

When your merchants are able to grow their bottom line as a result of the point of sale solution you provide them, you will also be able to increase your residuals.
Another way Total Touch is helping you be the best Reseller in the payments industry is with its API program that integrates with delivery services.
API Program That Works With Major Delivery Services
Total Touch offers third-party delivery integrations that work with delivery services like Postmates, GrubHub, and many more.
Using this API, restaurant owners can choose service zones and establish customized pricing and delivery costs depending on delivery locations.

Restaurant managers will be able to check the total amount paid by customers and the location of the delivery driver. This will allow them to make sure their business is operating optimally.
Thanks to Total Touch's comprehensive POS solutions, they are perfect for an enterprise establishment or a local restaurant.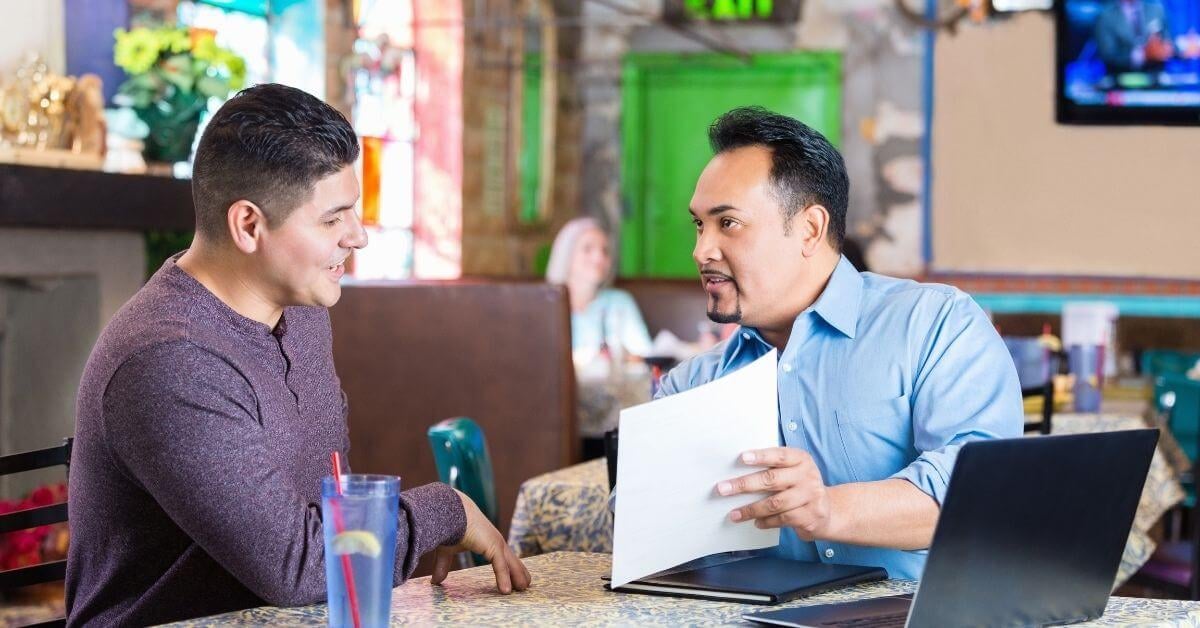 Perfect For Local Or Enterprise Level Establishments
Are your clients limited to a restaurant system because of their size? As a Total Touch POS Reseller, you can give them what they need to manage their restaurant, regardless of how large or small they are.
When you become a POS Dealer with us, you won't be limited to the type of restaurants you can approach. You'll be able to work with:
Full services restaurants

Independent restaurants

Niche concept restaurants

Fine Dining

Casual dining

Quick-service restaurant
As a Value-Added Reseller, you need a versatile point of sale system. With Total Touch POS, you can confidently approach both upscale and independent restaurants.

You can help a pizza restaurant succeed by integrating delivery and online ordering, and you can provide flexible payment processing options to fine dining establishments with mobile POS systems.

When you are able to close more restaurants, you will earn more money as a POS Dealer.
One of the reasons Total Touch stands above its competitors is how easy it is to use.
Simple, Easy-to-use Interface
Restaurant owners and managers may be held back by an out-of-date cash register system. It can slow down the dining experience or go down during their busiest hours, resulting in revenue loss.

Total Touch is a user-friendly POS system. As one of the most powerful restaurant management systems, it can handle the busiest hours of a restaurant, bar, or nightclub while delivering a user-friendly experience for the staff.
With our POS, you give your clients the confidence they need to use a system that will improve interactions with their customers, enhance the dining experience, increase retention, and boost revenue for both you and your client.
Another benefit of being a Total Touch Reseller is the SQL database.
SQL Database
Using a SQL database increases the bandwidth that restaurants can operate with. This means they can handle more menu items faster.
The SQL database also gives us the capability to implement the changes that our POS Dealers request, allowing them to be leaders in the industry.
With a hybrid POS system like Total Touch, restaurant managers already have complete control over managing their business remotely. Adding a SQL database decreases the time involved with managing business analytics, giving your merchant the freedom they need to grow their business.
Why Is This Important To A POS Dealer?
If you want to take your POS business to the next level, you need to provide your customers with the most advanced restaurant software and hardware.

When you join Total Touch's Dealer Network, you will sell the best restaurant POS system that will increase your restaurant's profitability and improve customer retention.

You'll be the Reseller that bars, restaurants, and nightclubs rely on for point of sale solutions.
You can stay ahead of the competition with all of the benefits of being a POS Reseller in Morgantown, WV. See how you can get access to these and other advantages down below.
Join The Best POS Reseller Program!
We will provide you with the training and products you need to expand your client base and take your POS business to the next level.
Offering your clients the best restaurant point of sale system that streamlines their business can allow you to:
Increase your residual income
Be the one restaurants in Morgantown turn to
Grow your POS business
Diversify your portfolio
As a Total Touch POS Dealer, you'll have the assistance and resources you need to sell to a wide range of restaurants, bars, and nightclubs.
Fill out the form below to see how you can earn more money and be a leader in the industry with the Best POS Reseller Program in Morgantown, West Virginia!
Become A POS Dealer!