Looking for a simple POS system that will improve the profitability of your Philadelphia restaurant?
Are you a local Philadelphia restaurant owner searching for a reliable and comprehensive POS system?
Electronic Merchant Systems (EMS) has acquired Total Touch™ POS- an inventive, comprehensive solution of hardware, software, and payment processing.
We are a 30-year old merchant-focused company providing restaurants with the best tools to give their customers an incredible dining experience, whether through a fast-casual concept or sit-down table service.
EMS has a strong local presence throughout the United States, with 11 regional office locations (including our headquarters in Cleveland, Ohio), and are ready to help your restaurant thrive with payment processing.
We are the largest privately owned and operated payment processing company in North America.
We understand the triumphs and trials that our merchants go through every day because we are in the same locations, experiencing those same events.
Since we opened our doors in 1988, EMS has always had the same goal: to grow to the #1 merchant service industry leader. We are continuously striving to reach this goal by providing innovative payment processing solutions, unparalleled 24/7 customer service and support, and state-of-the-art safeguarded technology software.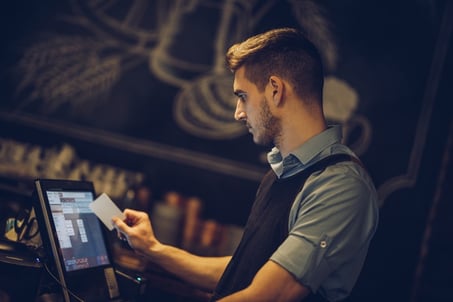 For our merchant account holders, we offer the Total Touch POS system: an all-in-one solution designed to help you increase sales and seamlessly manage all aspects of your restaurant business.
All-in-one POS System
Total Touch can service a wide variety of restaurants - from counter to table service, bars and taverns, to pizza delivery - you can manage everything in the front-of-house to back-of-house with one system.
The biggest priority for restaurants is creating an exceptional guest experience every time. How can you continuously improve guest experience with a POS system that is complicated, has weak product support, and poor Internet connectivity?
Total Touch offers an easy-to-use interface, so servers can focus on taking care of customers versus struggling with the software of the point-of-sale system.
This system also integrates gift cards and customer loyalty programs to help with customer retention; as well as offering convenient ways to order with online and mobile options.
Manage your restaurant staff with ease - employee scheduling, timekeeping, and management are all included in the Total Touch software.
Merchant Processing
For your convenience, customers can place orders on a custom-branded site, which are then imported directly into your Total Touch system. This way, your servers are able to focus on taking care of the customers, which means no more time wasted inputting manual orders and no mistakes.
The streamlined process enables your business to be flexible, save time, and simplify your payment processing system.
Our terminals and systems accept all major credit and debit cards, EMV-chipped cards, NFC payments, and more. Every transaction swiped, dipped, or waved is 100% secure with our safeguarded technology software.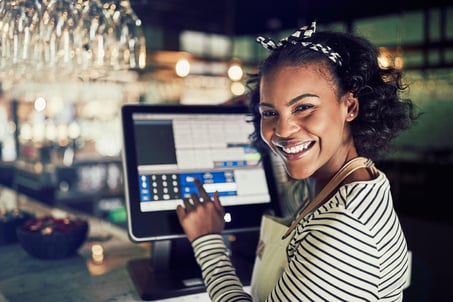 EMS has been a Level 1 PCI Service Provider for the past ten years and all of our products, Total Touch included, are certified as PCI DSS secure.
We are committed to maintaining our elite status of being a premier data security provider by continuing to provide high-quality, secure software and products to our merchant account holders.
EMS: More than just Payment Processing
At EMS, we understand that while having a reliable and streamlined payment processing system is vital to your restaurant's overall success, it isn't the only merchant service or product you need.
In addition to the Total Touch POS system, we offer merchants a wide variety of services and products such as website design, gift and loyalty cards, business funding, and more.
When you partner with EMS, you will be able to integrate any (or all!) of our offers into your business. Furthermore, you can rest assured that your merchant services will be equipped with top-of-the-line data security software and have access to our dedicated 24/7 customer support team.
Our whole team at EMS is dedicated to serving your Philadelphia business payment processing needs however we can!
All the products and services EMS offers merchant account holders are tools that help you, as the restaurant owner, save time and realign your focus to what truly matters: your customers.
Choose to invest in a POS system that will grow, not slow, your business. Choose to invest in Total Touch.
Start working with EMS today!
If you are ready to outfit your restaurant - whether a quick service eatery or premier fine dining spot - contact EMS now for the Total Touch POS. We have a dedicated team of authorized dealers waiting to help set your system up and train you (and your employees!) to ensure maximum return on your investment.
From back-of-house to front-of-house, you can find the perfect solution to manage every aspect of your restaurant with this comprehensive point-of-sale system.
Feel confident during service every day with EMS and Total Touch.
Give us a call, visit our regional Philadelphia office, or click the banner below to find out more about Total Touch today!

About Electronic Merchant Systems
All the Philadelphia-area restaurant owners can upgrade their payment processing system, website design, and more with Electronic Merchant Systems.
For over 30 years, EMS has grown past traditional services and into innovative, ever-changing products and services that our merchants need to keep up with the changing times.
Every payment processing product we offer is safe, reliable, and state-of-the-art technology.
No matter if you want to set up an online payment system for customers to order take-out or delivery online or are looking to implement a customer loyalty program, EMS is here to help.
You can ask our talented team about all the merchant needs you want for your restaurant, and they will deliver.
If you are ready to implement the best POS system, inventory management, and other merchant services and products into your restaurant, then open an account with EMS today by clicking the button below!
What are you waiting for? Start growing your business with assistance from the largest privately-held credit card processing company in the nation, EMS!
What EMS Offers Merchant Account Holders
Payment processing
All major credit and debit cards accepted
Improved cash flow
MaxxPay® Mini, MaxxPay® Pro, and MaxxPay® Premier
Web design services
In-house creative design team
Mobile-friendly, responsive website design
Responsible and secure web hosting
Gift and loyalty cards
Customizable card faces
Ability to generate new customers and retain existing customers
Bizfunds
Up-front merchant funding for your business from $5,000 to $250,000 (special thanks to Working Capital Advances for this opportunity)
A small, fixed percentage of the daily card sales go to EMS until total funding is repaid
EMS mobile payments
Turn your smartphone into a handheld credit card POS system
Both Android- and iOS-supported apps available
Retail sales
Accept credit and debit cards
Ability to accept EMV-chip cards
Both Android Pay and Apple Pay are compatible
Ability to accept gift and loyalty cards
Let EMS Help You!
It's common to have a few questions or challenges while working with a new-to-you payment processing system or service.
At EMS, we welcome any and all questions or concerns you may have, which is why we have a 24/7 customer support team ready to help!
Since our start 30 years, we have offered around-the-clock customer service- so no matter if you need help at 2PM or 2AM, one of our U.S.-based support staff members will answer your call!
Rest assured that as a merchant account holder at EMS, you will have access to our 24/7 support from day one!

Give us a call now for immediate support: (800) 615-1330

Join EMS, a Leader in Philadelphia Merchant Services
Are you a talented, driven, hardworking individual looking for your start in the merchant services industry?
If so, we are interested in hearing from you!
Electronic Merchant Systems is always on the look for qualified individuals to join our talented team in Philadelphia.
If you are interested in joining EMS, find out more about jumpstarting a highly-rewarding career in merchant services and see our open positions.
Our Philadelphia Location
Address: 1 Belmont Ave STE 410, Bala Cynwyd, PA 19004

Phone: (610) 934-7700

Hours:

Monday: 8AM-5PM

Tuesday: 8AM-5PM

Wednesday: 8AM-5PM

Thursday: 8AM-5PM

Friday: 8AM-5PM

Saturday: Closed

Sunday: Closed