Tips for Working From Home
Working from home – is it even possible?
The short answer is, yes! Working and being productive from home is possible. Freelance workers around the world do it every day.
Key Takeaway You Will Get From This Article

If you find your self working from home, you can reduce distractions and increase productivity by following a normal routine, creating a dedicated workspace, clearly defining your work hours, listening to music to break the silence, taking your normal breaks, staying connected with your team, avoiding multitasking, getting some fresh air, preparing for distruption, and being honest with yourself.
However, for many of us, working from home is new. We've never experienced a situation that requires us to stay home around the clock.
This presents new challenges as we try to balance our personal and professional lives from inside the most personal of places, our home.
Are you finding this balance to be difficult? Do you feel like your productivity suffers at home because you're too easily distracted? If so, you're not alone.
These are common challenges that many people face when starting to work from home. With a few simple adjustments, you can reduce distractions and increase productivity.
Keep reading for our ten tips to help you manage working from home.
1. Follow Your Normal Routine
Even though you only have to walk into the other room to start your workday, try to still follow your normal routine.
Give yourself time to wake up and shower, enjoy your morning coffee, walk your dog, or do some yoga before sitting down to work. We also suggest getting dressed for work. Working in pajamas can be tempting, but if you suddenly have to hop on a video call, you'll feel embarrassed and unprepared.
Plus, simply putting work clothes on can help you get in the right state of mind to seize the day!


2. Create a Dedicated Workspace
It's important to separate your workspace from the relaxing spaces in your home. If you can, try not to work from the couch or your bed.
Set up your work area at a desk or dining room table to help you stay focused and leave your work behind at the end of the day.



3. Clearly Define Your Work Hours
Another common temptation when you're working from home is to stay online all the time.
It's important to clearly define your online and offline hours.
Taking care of your mental health is essential, especially in stressful times like these. Even though your office is just in the other room, remember to unplug at the end of the day and give your mind time to rest.



4. Listen to Music to Break the Silence
Sometimes your home is distracting because it's simply too quiet!
You may find it hard to focus without the typical hustle and bustle of the office. If this is the case, try listening to soft music or turn the TV on low for some background noise.



5. Take Your Normal Breaks
Without a commute to the office or meetings to travel to, you'll have much less of a reason to get up from your work area.
Making a conscious effort to get up and stretch or move around every so often can help you stay focused.



6. Stay Connected with Your Team
Stay in touch with your colleagues via instant messaging programs like Slack, hold meetings with teleconferencing platforms such as GoToMeeting, and don't forget to embrace the video call.
It's important for all of us to stay connected and remember we are in this together.



7. Avoid Multitasking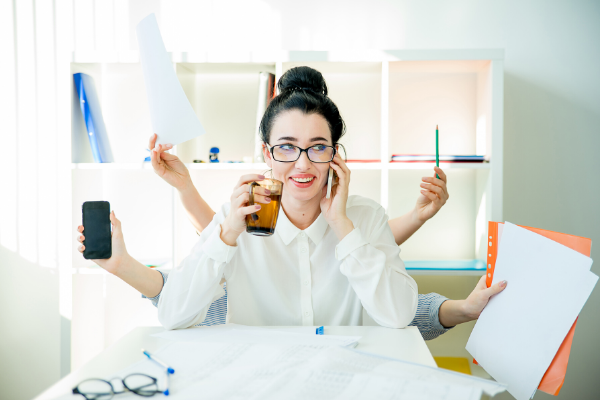 It's tempting to catch up on chores around the house when you're working from home. Fight this urge while you're on the clock!
You can very easily become distracted and end up missing a phone call or forgetting to complete a task. Instead, consider using any extra time when you would normally be driving home to get that laundry started or wash the dishes.



8. Get Some Fresh Air
Try taking a walk on your lunch break or open the windows in your home to welcome in the natural light and a fresh breeze.
Especially when you're spending so much time inside, fresh air can help your body and mind. If you find you have extra time in the morning or need a stretch in the evening, take a walk around your neighborhood.
It may feel like much of our lives are on hold right now, but sunrises and sunsets will never be canceled!



9. Prepare for Disruption
Your workday is going to be disrupted by something. Whether the mailman needs your signature, your dog starts chewing the couch, or your kids need a new activity, a disruption is going to happen.
Know that it's okay. This pandemic is affecting all our lives in different ways. As long as we stay focused and do our best, we'll get through this.



10. Be Honest with Yourself
Working from home looks different for everyone. Some of these tips may not apply to you, and there may be some things you do to stay productive that aren't listed here.
That's why it is important to be honest with yourself. What do you need to stay focused and successfully do your job remotely?
Make the Most of Your "Home" Work
As you navigate this new normal, remember that it is only temporary.
Someday soon life will return to normal and these experiences will only make us stronger. In the meantime, focus on your mental health, stay in touch with your colleagues, and ask for help when you need it.
To read more tips on handling COVID-19 restrictions and recommendations, check out these blog posts:
How to Clean Your Touch Screens
Tips for Restaurants Switching to Carry-Out and Delivery
How Business Can Stay Clean and Safe
Sources: Good Housekeeping, NPR