7 Factors that Motivate Employees
The first step in having a successful business is hiring the right people. No matter what your company goals may be, it is critical to have a team of hardworking, happy, and motivated employees.
The second step is keeping them motivated, so they stick around. You don't want disengaged employees or great folks walking out the door.
Employee motivation is the energy, commitment, persistence, and creativity workers bring to their jobs.
An engaged employee is likely to be more productive and provide a higher quality level of work.
It goes without saying that substantial pay and benefits are a great traditional motivator for most people. But what else can you do to motivate your employees? What truly dictates job satisfaction?
In the article below, we will discuss several things you can do to motivate your employees.
Table Of Contents:
1. Make Sure They Want to Come to Work
No one wants to work in a dingy, dull space for hours on end.
A positive employee experience starts with the area they work in.
If your workplace is an aesthetically pleasing, well-lit, functional, and fun space, it will be a lot easier for your employees to get out of bed and come to work.
Make sure your space is well-kept, and your equipment is up-to-date and working. Keeping things clean and clutter-free is huge when it comes to an inviting workplace.
Keeping your place tidy also benefits your company culture. It also means keeping things clean and nice looking. And this doesn't have to break the bank.
Feature local artists or pick up exciting furniture pieces. These little touches make things more enjoyable for your employees.
2. Proper Management is Key
Motivated employees almost always have good managers.
This should be a no-brainer, but poor management is one of the leading reasons motivation levels decline.
Respect, honesty, support, and clear communication are essential.
Effective management, like any other skill, takes knowledge and practice, but if you're an excellent person to work for, your employees will be more loyal, and your workplace culture will benefit.
Liking the person you work for will make the tough times a little easier, and motivated employees will be more willing to go the extra mile for you.
Management development and coaching are necessary to keep employee motivation high. The workforce changes continuously, and so do employees' characteristics and motivational factors.
Tip: Having monthly or quarterly performance reviews opens the door to communication which, just like any relationship, is key to determining an employee's state of mind.
3. Appreciate Your Employees
Studies have found that nearly all employees are motivated to work harder when they feel appreciated.
Appreciated, satisfied employees report they would stay longer at their company.
Unexpected treats like snacks, lunches, dinners, or thank you notes can go a long way to show employee appreciation. Even simply providing helpful and constructive feedback has a significant positive impact.
There are countless ways to show employee appreciation that you can do on a regular basis to keep your employees satisfied, engaged, and retained.
Offering flexibility like telecommuting and flexible schedules shows employees you value them.
You can also involve your employees in the decision-making process, give them career opportunities, and recognize them at a team meeting or company newsletter.
4. Empower Your Employees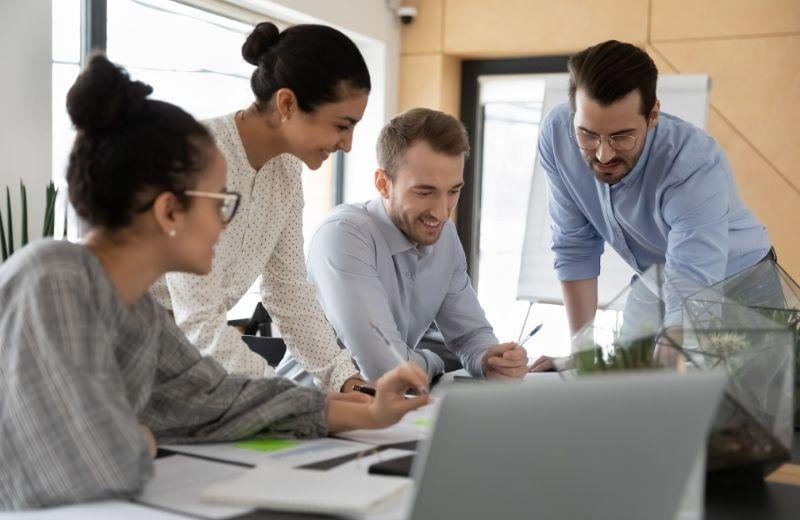 Another great motivator for employees is giving them the freedom to make decisions themselves.
It's hard to stay motivated if you can only do what other people tell you to do. Especially if you have potentially groundbreaking ideas that you can't incorporate into your work.

Empowering your employees is essentially showing them that you trust them. This type of trust can send a powerful and positive message.

Plus, it gives your employees ownership of their work - which is likely to make them care more and aid their professional development. Employee empowerment is crucial to improving employee motivation.
5. A Sense of Purpose
These days, employees want their job to be more than clocking in, clocking out, and getting a paycheck.
Sure, the pay matters. But, what is the outcome of their work? How does completing a task make them feel?
Being able to attach a sense of purpose to the job goes a long way.
Whether a long day's work is tied to growing the company, making people's lives better and easier, or providing a good or service that revolutionizes an industry, knowing that your work directly impacts someone in a positive way is powerful.
Business owners and managers can help establish this sense of purpose by making sure every employee understands the company's "why." This is usually dictated in a company's mission statement.
What is your company's ultimate goal? How does it make the world a better place? These are questions you need to make sure your workforce knows and embodies.
6. Reward Your Employees
An engaged employee is way more likely to stay with your business for the long haul. Firstup reports that only 30 percent of employees millennials are actually engaged in their workplace.
A great way to keep employees engaged is to reward them for a job well done. If you want to motivate unmotivated employees, you should consider starting an incentive program.
You could offer a quarterly bonus or a commission structure better than your competition.
Or you could foot the bill for additional credentials. Some companies even offer profit-sharing.
When your employees know they will be rewarded for a job well done, they'll be more likely to do a good job and see things through.
7. Understand What Motivates Your Employees
Not all employees are the same, so they won't all be motivated by the same things. That's why accepting employee feedback is critical for figuring out how to motivate them.
Some people want monetary rewards, some appreciate recognition for a job well done, and some want the freedom to work from home or on a flexible schedule.
Trying your best to understand your employees and utilizing open communication is a direct path to cultivating a motivated workforce.
Boost Your Workplace with Exceptional Payment Processing
Now that you have a better understanding of how to keep your employees happy and motivated, it's time to take a look at your payment processing.
Do you have outdated and slow payment terminals? Want to turn your phone into a credit card reader? Or develop a robust gift and loyalty program?
Electronic Merchant Systems (EMS) is a national payment processor that has been dedicated to helping small businesses grow and thrive in their markets for over 30 years. In that time, we've gathered over 1,000 Google Customer Reviews with a 4.7 rating.
So, you know that you're in good hands! Click below to speak with our payment experts and discover how EMS' credit card processing can benefit your business today.