Tips to Switch Your Restaurant to Carry-Out
Has your restaurant business been affected by the novel coronavirus COVID-19?
As the pandemic continues, local governments across the nation are calling for precautionary measures to slow the spread of illness.
Key Takeaway You Will Get From This Article

When switching your restaurant to carry-out it's important to make ordering easy, market the change to your customers, encourage online ordering and delivery, and equip your restaurant and staff with proper supplies.
Unfortunately for many states, these precautions include moving dine-in restaurants to carry-out and delivery only.
This is an unprecedented situation. It has taken most restaurant owners by surprise, and left many scrambling to figure out how to keep their business running.
Whether you're already equipped to prepare carry-out and delivery orders or not, this is still a trying time for your business.
We hope to ease the burden at least a little by sharing tips and insight on being a carry-out and delivery restaurant.
Table of Contents
1. Equip Your Business and Staff
The first step in pivoting to this temporary reality is to get your business ready.
If you already offer takeout or delivery service, you will have an advantage here. If all of this is unfamiliar to your restaurant, you'll need to bring the team together to brainstorm the best way to quickly pivot for your customers.
First, you'll need to make sure you have the right containers for transporting food. Whether your customer comes to the restaurant to pick up their order, or you send it to them via a delivery driver, you'll want it to stay at a safe temperature.
You also need to make sure it is in a sturdy container to prevent leaks and spills. Check out stores like Costco, Sam's Club, Walmart, and even Amazon to buy these containers in bulk.
Once you decide on the containers you need, get your staff ready for the change. If you want to offer delivery, find out who is comfortable with pivoting to delivery driver for the time being.
These team members will need to be friendly and personable, as they will physically represent your business. You should also make sure they are prepared to answer questions and offer advice on storing and reheating meals.
Depending on your operation, you can assign other staff members to specific roles such as taking orders, processing payments, and quality control.
Get the kitchen team together to talk about your menu, and any adjustments that may need to be made. Make sure you post the new menu on your website, social media pages, in your front window, and keep them on-hand in your restaurant for quick phone orders.
Prepare hosts and servers to accept orders over the phone and help to facilitate any orders that may come in online, if you have that capability.
2. Make Ordering Easy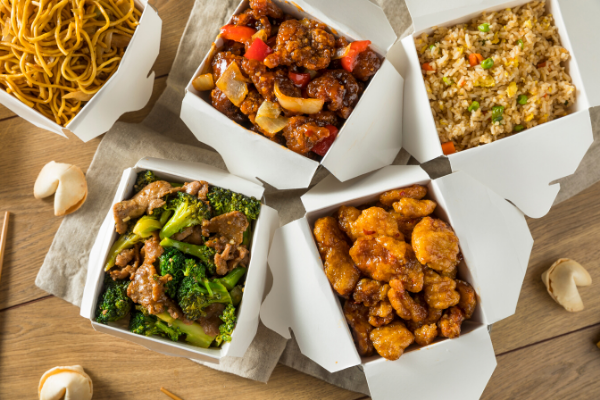 We touched on this briefly above. A key factor for keeping your restaurant running efficiently will be to make ordering easy for customers.
If you have a website equipped for online orders, that's great! You're one step ahead. If your website isn't prepared to accept orders online, that's okay. You can still accept phone orders and even consider accepting orders via email.
It may also be beneficial to partner with a third-party delivery service such as Uber Eats, GrubHub, or DoorDash. This will help you reach more customers and increase your delivery abilities. The more options your customers have available for placing orders, the better.
If you're offering delivery directly through your restaurant, consider encouraging customers to place direct orders with an extra incentive. For example, free delivery within a certain distance or with an order over $50.
Studies show that 80% of people are more likely to try a restaurant if a deal is being offered.
3. Market the Change
Finally, market these changes to your customers on as many channels as possible.
Customers who would typically visit your restaurant for happy hour with friends or sit down for a nice relaxing evening with a loved one will be missing you! Make sure you tell them that you are still open and eager to provide them with a delicious meal.
Depending on what access and information you have, post your announcement and menu in the following ways:
On your social media pages: Facebook, Twitter, Instagram, etc.
By sending emails to regular customers
With a display in the window of your restaurant
On the home page of your website
With push notifications through your mobile app
Along with marketing your temporary carry-out or delivery service, we recommend marketing gift cards if you offer them. Gift card sales may be crucial to your business right now.
They're a great way for your customers to support you by giving you revenue now for a meal they will purchase later. Consider offering additional incentives or gift card bundles to encourage more customers to buy now.
Encouraging Online Ordering & Delivery Stats
The good news is. most Americans are used to ordering carry-out or delivery.
Even if you haven't offered it before, they know what to expect because most of the population orders delivery or takeout at least once a week.
In fact, customers ordering delivery or takeout often spend more than they would if they dined in the restaurant. Here are some encouraging statistics regarding delivery and takeout:
60% of U.S. consumers already order delivery or takeout once a week.
34% of consumers spend at least $50 per order when ordering food online.
Working with a third-party delivery service has raised some restaurant sales by 10% - 20%.
20% of consumers say they spend more on off-premise orders than a dine-in experience.
31% of consumers say they use third-party delivery services at least twice a week.
59% of restaurant orders from millennials are takeout or delivery.
Digital ordering and delivery have grown 300% faster than dine-in traffic since 2014.
Remember, your customers know that your business may be struggling, and they want to support you! Make it easy for them to find out how to order carry-out or delivery and stay in touch with them to let them know other ways they can help.
We'll get through this together!
Want the Best Carry-Out Merchant Services?
Electronic Merchant Systems offers excellent credit card processing options for restaurants, especially if you are making the change to carry-out only during this pandemic.
From comprehensive point of sale solutions, to mobile payment processing and online ordering solutions, EMS has the tools and services your restaurant needs.
Check out EMS' Restaurant Merchant Services today.
Sources: UpServe, National Restaurant Association, GrubHub