Boost Sales This Holiday Season For Your Business
Did you know that holiday shoppers contribute to about 30% of the average retailer's annual profits?
According to the National Retail Federation, this year's shoppers are expected to spend 4% more than last year during the months of November and December.
That means holiday spending will increase to between $727.9 billion and $730.7 billion this year.
There's no denying it – these next couple of months could make or break your business for the year.
How have you prepared to welcome the eager holiday shopper who's hunting for a deal? Are you equipped to stand out from the competition?
One of the best ways to differentiate your business and entice shoppers is through effective marketing. We know, hiring a marketing company or consultant may not be in this year's budget, but that's ok! Because with a little bit of imagination and some hard work, you can market your store on your own.
Keep reading to explore our ten tips for marketing your business this holiday season. We hope you find these tips helpful, affordable, and full of festive flare!


Table of Contents:
TIP ONE: Consider gift categories when organizing your merchandise.
During the holiday shopping season, you have a lot of competition for customer attention. Often shoppers plan to visit multiple stores in one afternoon until they find the perfect gift.
You can help them find that perfect gift at your store! When planning merchandise displays for the holidays, try to look at the store with the customer in mind. What exactly will they be looking for when they walk in the door?
Someone searching for a gift for a family member might lean towards a display that says, "Perfect gifts for Mom", or "Give Dad what he really wants". Many holiday shoppers are also on a budget, especially if they're searching for the perfect gift for close friends and family members.
Try building sections of your store by price and labeling them as such with a nice big sign.


TIP TWO: Make it easy for customers to shop with a gift guide.
Since many of your customers during this season will be shopping for gifts, make them a gift guide!
Depending on the type of store you have and your capabilities, this could be a small booklet, one-page brochure, or even a feature in a mobile app. The gift guide should clearly list your gift-worthy products, include photos, and detail the location of exactly where it can be found in your store.
Be sure to distribute your hard work through a variety of channels to reach as many customers as possible. Post it on your website, social media pages, print copies for your store, and even try asking other local businesses if you can leave some at their locations.

TIP THREE: Gift cards make great holiday gifts – be sure to promote them at your store!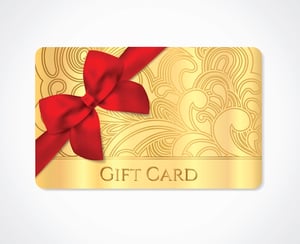 Finding the perfect gift for the holidays can be so overwhelming. When in doubt, many customers will gravitate to a gift card as the perfect stocking stuffer.
Investing in holiday-themed gift cards and prominently displaying them in your store can help you boost profits during this season.
In fact, most gift card holders end up spending more than their gift card is worth when they visit your store. If you need help bringing a unique gift card idea to life – contact us!
Our creative team specializes in creating professional, eye-catching gift cards to delight your customers and keep them coming back for more.


TIP FOUR: Encourage customers to shop small and shop local.
Locally-crafted and handmade goods make incredible gifts, and as we've mentioned in a previous post, small businesses have a big impact on their local economy.
Therefore, it's so important to encourage your customers to shop at their local small businesses rather than the big box stores during the holidays. Try partnering with other local artisans and get customers excited about your products!
For example, if you sell home décor at your store, try partnering with a local candle maker. Ask if you can sell some of your products out of their store, and you'll sell some of theirs from your store.
Then, market the new partnership to your customers and theirs, promoting the perfect, personal gift bundle for a happy homeowner!


TIP FIVE: Shorter lines equal more customers and increased profits.
Did you know the longest time a customer is willing to wait for any type of service averages out to about 14 minutes?
That's typically how long you'll have until you lose their attention or their sale. Throughout most of the year, this is easy to maintain but the task becomes trickier during peak holiday season.
One way to help cut those lines down is to increase the number of checkout options available to customers. If you only have one register, consider adding a solution such as EMS Mobile, which will allow additional cashiers to accept payments via a mobile device or tablet.
You'll be cycling customers through faster than ever!
TIP SIX: Increase loyalty incentives on Black Friday weekend.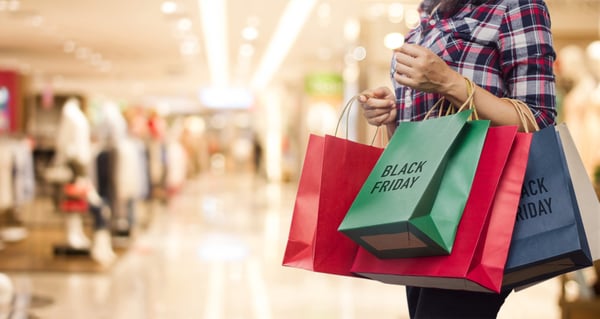 Everyone likes perks! Buy one get one free, 50% off sales, additional 20% coupons – all these discount promises are great ways to get customers in the door.
If you have a loyalty program for frequent customers, you can take the savings one step further by offering double the rewards points during busy shopping weekends. Be sure to let them know about their exclusive offer through email or social media!
Don't have a loyalty program? Contact us today and let our creative professionals help you get started.


TIP SEVEN: Create a bright display of employee favorite products.
Displaying and marketing your employees' favorite products can help customers in their buying decisions and is a great way to increase engagement with your store.
You can even include a photo of the employee with the display and encourage customers who want to know more about the product to find that specific employee. It's like posting a personal product review where all questions can be immediately answered.


TIP EIGHT: Decorate your store for Instagram.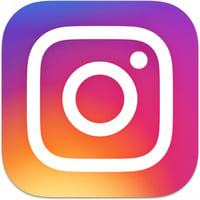 Speaking of creating bright displays, try setting your store up for free publicity!
If you are intentional with your store décor, holiday enthusiasts may pose for pictures and post them on their personal social media pages.
You couldn't ask for better, free marketing. Pinterest is always a great resource for decoration inspiration.


TIP NINE: Boost holiday posts on social media.
Online window shopping is growing in popularity every year. Many customers will search for gifts online first, and then visit your store when they're ready to make a purchase.
To grab customer attention, create festive, holiday-themed ads marketing your business and products. Especially for peak holiday shopping weekends, consider spending a bit of your marketing budget to boost those ads and gain some extra traffic.


TIP TEN: Create a holiday content calendar and craft tailored emails.
Our final tip will require more planning, but it can help you have a successful holiday season. First off, know that blasting a single email, one time to your customers is not going to cut it.
For an email campaign to be successful, it needs to be tailored to the different segments of customers you have.
A segment could be determined by age, gender, location, shopping habits, frequently purchased items, and more depending on what customer data you have collected.
Then, you should plan to send multiple, tailored emails to each segment of customers.
If you're not sure when to send these emails, here's a holiday hint: try sending an email for early bird shoppers, customers who take their time to shop throughout the season, and last-minute shoppers.
Keep your email messaging simple, friendly, and of course festive! And remember, you can also post this messaging to social media to engage more of your customers.
To read more tips on marketing through email for the holidays, visit HubSpot's blog.
There you have it, ten tips for marketing success this holiday season! We know how important these next few months are going to be for your business.
They're also going to be busy, crazy months of purchases, returns, exchanges, and (hopefully) more purchases. We want to see you succeed during this season, so we'll be providing more helpful holiday tips throughout the month.
Visit our blog again next week for information on preparing for Small Business Saturday!
Sources: Lightspeed, HubSpot