Are you eager to get a fresh start in 2022, or is the future still too unpredictable to get excited about? Both feelings are completely understandable, especially for the small business owner. The ongoing pandemic and all the economic struggles that come with it have even the most optimistic entrepreneurs feeling stressed.
One of the biggest challenges small business owners are still wrestling with is the job market. In November 2021, 48% of small business owners reported job openings they could not fill, according to the National Federation of Independent Business. The current number of unfilled job openings far exceeds the 48-year historical average of 22%.
We're also still struggling with supply chain issues, which have caused some products to completely disappear from shelves for weeks or months at a time. All this is on top of feelings of anxiety, loneliness, and even depression we feel when a friend, loved one, or coworker needs to isolate or quarantine.
Although there are still challenges to face in the days ahead, success in this new year is possible.
Here are six things you can do to turn 2022 from a conundrum into a conquest!
1. Get to know your customers... again.
These past two years have changed us all. Many of us have made big changes to how we work, how or when we shop, and even what we do with our spare time.
For many of your customers, life is completely different now than it was in January of 2020. If you haven't taken the time to do so already, you need to get to know your customers all over again.
Take the time to deeply understand their new needs and wants. This will help you plan your marketing efforts and make helpful, informed changes to your business throughout the year.
2. Plan on adapting your marketing strategy.
Marketing is crucial to the success of your business because it's one of the greatest tools you have for gaining new and retaining current customers.
Typically, you might take time at the beginning of the year to set a marketing strategy for the next twelve months. In 2022, however, planning that far ahead will be challenging. There's no telling when this pandemic will end and when life will return to "normal".
With this in mind, we recommend approaching the new year with a flexible marketing strategy.
Take time to sketch out your ideas for campaigns or promotions, but try not to put too much stake in them. In these times, it is more effective to convey sensitivity and awareness for the issues facing your audience than try to proceed as if everything is normal.
According to Content Marketing Institute, "Exercising sound judgment and practicing good sense in what and how your content communicates to your audiences could determine whether your brand continues to be welcomed into their lives or gets tuned out permanently."
Essentially, there are five simple words to keep in mind when it comes to marketing in 2022 - be ready to make changes.
3. Approach the hiring process with an open mind.
If you are one of the 48% of small business owners struggling to fill open positions, don't skip this step!
There are many reasons for the disconnect between job seekers and business owners right now. (You can read some of those reasons here.) However, one thing is clear - the businesses that have found success in the challenging labor market are the ones that have evolved their hiring practices. To reach and attract the qualified, motivated job candidates you want, you will also need to approach the hiring process with an open mind.
Don't be afraid to expand your hiring budget to offer bigger salaries, signing bonuses, or better benefits. If expanding the budget is completely out of the question for you, find other ways to attract top talent. Prove that your business is a fantastic place to work and make sure your company culture shines through during interviews.
For additional pandemic-related hiring tips, click here.
4. Offer flexible options to your current employees.
CEOs and leadership teams are continuing to adapt and innovate in order to save their businesses.
One of the most notable ways many business owners achieve this is by equipping their workforce to work from home. If your business is fortunate enough to allow employees to work from home, we encourage you to keep exploring this option. Hybrid work styles have also become popular over the past few months, as many employers welcomed their teams back to the office.
Working from home has its benefits, such as avoiding layoffs and helping to keep employees healthy, but it also has its challenges. One of the biggest challenges remote workforces often face is maintaining productivity. It's simply too easy to get distracted when you move your workspace into your personal space.
If your team is struggling with productivity, here are a few things to try in 2022:
Set clear, documented deadlines for tasks and assignments to help your team stay focused.

Enforce typical work hours to give your team a sense of normal routine.

Keep in touch with your team about more than just work. This shows that you care and will help you continue to build healthy working relationships, even from a distance.

Encourage your team to continue to communicate and work together via instant message, video call, or over the phone.
5. Include local SEO in your strategy and optimize it frequently.
Another issue your business may have noticed in the past couple of years is that it has become more difficult to gain new customers. A lack of customer buy-in is similar (in a way) to the hiring struggle. Potential customers may be concerned about health and safety, seeking benefits like gift & loyalty programs, or looking for businesses that offer modern order placement options.
If your business is already equipped with options like these but you're still struggling to attract new customers, the issue might actually be that new customers simply don't know you're there. Add local SEO to your marketing strategy to help your business get noticed!
Local SEO is a Search Engine Optimization strategy that targets potential customers who live in your neighborhood.
For example, let's say you own a cupcake bakery in Fredericktown. If you have a good local SEO strategy, your business should appear when someone types 'bakeries in Fredericktown' or 'best cupcakes Fredericktown' into their Google search bar. If you have claimed and updated your Google My Business page, the customer can click on your bakery's listing to learn more about your specific location, hours, menu, and more. This is a simple way to help your business get noticed online.
Click here for specific directions to help you optimize your local SEO strategy.
6. Improve your website and eCommerce experience.
How important is your website? Do you really need to sell your products or services online?
These five stats from Statista and Fit Small Business should answer those questions for you:
More than 263 million American consumers (about 79% of the population) shop online.
Millennials (ages 25-34) are the largest group of online shoppers in the United States.
In 2022, U.S. eCommerce sales will reach $1 trillion.
54% of U.S. consumers prefer to shop online.
The number of global online shoppers is predicted to rise 62% from 2014 to 2021.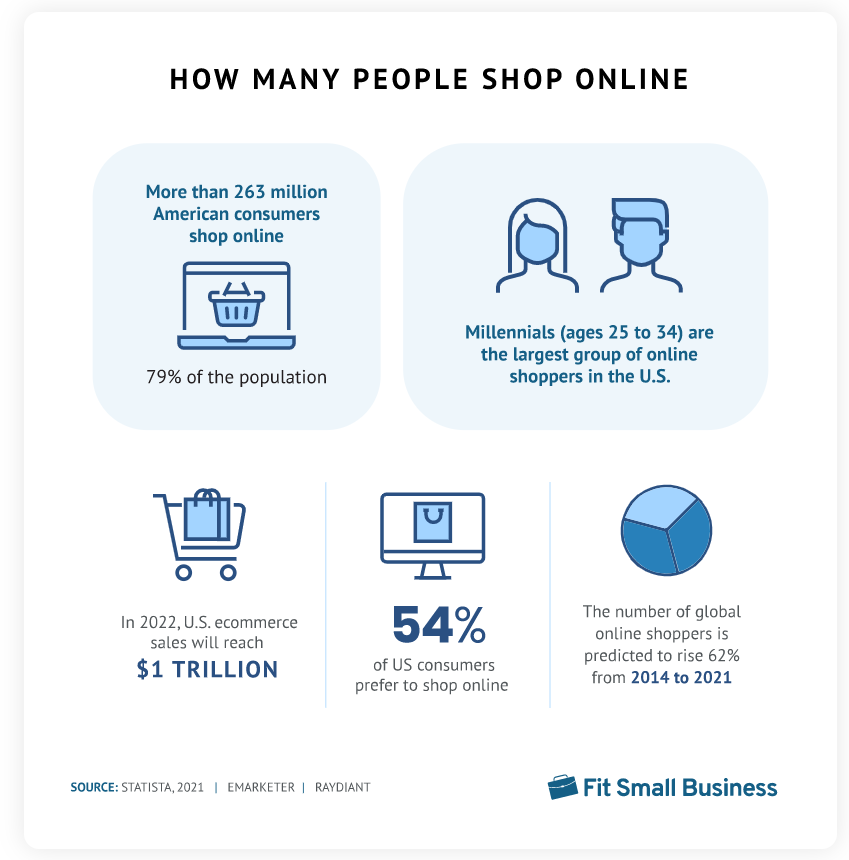 Your customers are placing orders online more than ever before. If those orders aren't being placed with you, it's time to catch up! In 2020 and throughout 2021, retail stores and restaurants shifted to offer new services for their customers, including:
Buy online, pick up in-store
Curbside pickup
Contactless pickup
Same-day delivery
These options have become popular and convenient for customers, not to mention profitable for businesses. It's likely that businesses will keep offering these options, even after the COVID-19 threat has gone. If you haven't already, now is the time to invest in improvements for your website and/or eCommerce solution. It will be a huge advantage for your business in 2022.
Need help with your website or eCommerce solution?
Contact us!
We hope that these five tips will help you grow your business in 2022 and beyond.
Sources: Small Biz Trends, Market Splash, Content Marketing Institute