As the owner of an auto parts store, you pride yourself on offering professional grade parts and services.
The trust between you and your customers is paramount in every step of the buying process. Your payment processing solution should follow suit.
If you've been looking for a way to make accepting credit cards easier for your auto parts store, you are in the right place.
At Electronic Merchant Systems (EMS), we have the payment solutions you need to help your business grow.
In this post, we'll review the benefits of credit card processing solutions for your store. Keep reading to learn about the advantages payment processing solutions can have for your auto parts store.
Article Highlights
There are a number of payment processing solutions to help auto part businesses accept credit cards. Some of those are credit card readers, credit card terminals, online payment portals, and mobile payment solutions.
These can improve speed and convenience for your customers when it comes to transactions.
Accepting major credit cards and giving your customers a simple way to pay will raise your level of service and help you grow your customer base.
Contact EMS today to see how we can help you get started with payment processing for your auto parts store.
Table of Contents:
Credit Card Processing Solutions For Your Auto Parts Store
In today's world, credit card payments have become a must-have for business owners.
As a business owner, you need to work with a payment processor that can help you take payments quickly and securely.
There are a number of ways your auto parts business can accept credit or debit cards.
You could accept cards online with a secure payment gateway. This can help you build an online presence and serve more customers, growing your customer base.
But what about your in-person customers? That's why you need an easy-to-use point of sale system.
Using a POS system can help you take your business to the next level. Let's look at some of the benefits of a POS system.
Quick Payments
Fast payments will please your customers. With a state-of-the-art POS, you can accept chip cards, contactless cards, and swipe payments from all major credit cards.
High Functionality
As an auto parts store owner, it can sometimes be a struggle to keep proper inventory records. Having a POS terminal makes tracking inventory more manageable.
This means you won't run low on inventory or have to send your customers to your competitors in the auto parts industry.
Easy-to-use Interface
Your POS system should be easy to use and navigate. This includes adding or removing items from the cart quickly or processing refunds and credits with ease.
When your employees can handle the auto enthusiasts who come into your store quickly, they are more likely to return, allowing you to grow your business.
Security
One of the most important parts of payment processing is making sure your customers' data is secure. Make sure your POS terminal has encryption built-in so you can protect your customer's data from any breaches.
Cloud-based Back Office
Using cloud-based back-office reporting allows you to view your data from anywhere with an internet connection. This way, you can always have easy access to see the health of your store.
By making it easier for your customers to pay, they'll drive away from your business with a smile on their faces, and they'll recommend your business to everyone they know. Happy customers mean recommendations to friends and family. Recommendations mean more business
Having access to the right credit card payment processing solutions for your business can help you grow.
Now, let's look at how this technology can help improve auto parts businesses.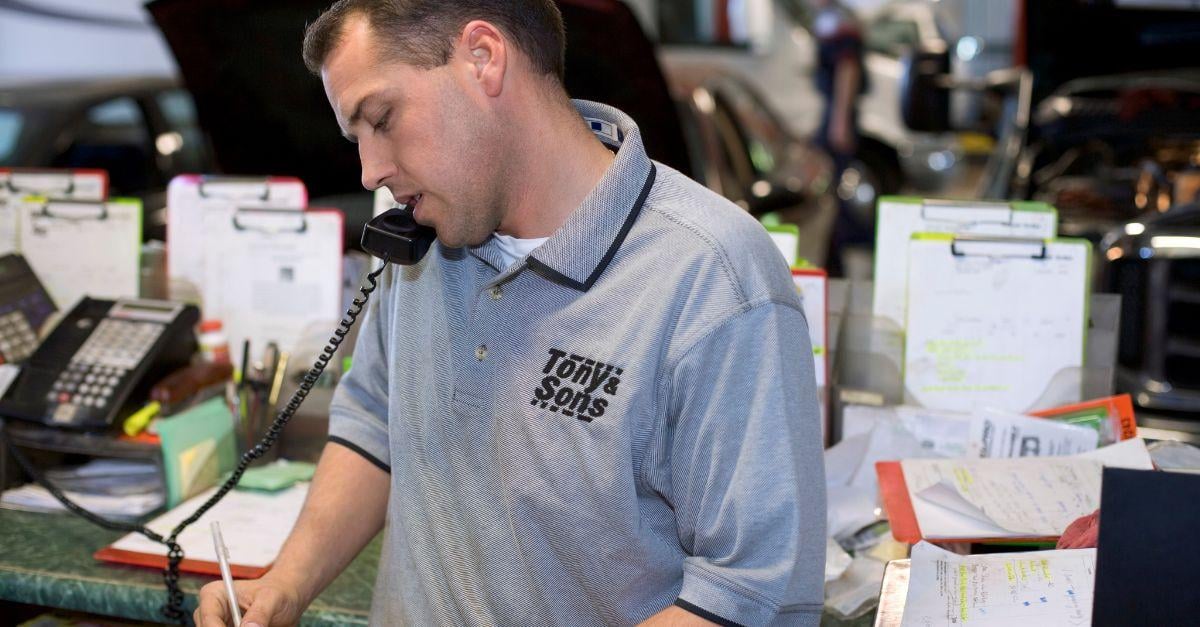 Technology Solutions for Speed & Convenience
Technology solutions are becoming increasingly popular when it comes to managing auto parts stores.
Conventional methods of payment, such as cash and check, can be slow and difficult to keep track of due to the manual tasks involved.
This often results in long lines at the register and customer dissatisfaction.

In contrast, automated payment processing systems like credit card readers, point of sale systems, and mobile apps provide more convenient experiences for auto parts stores, their staff, and customers.
For example, customers benefit from quicker checkout times as they no longer have to wait in line to pay with cash or checks. In addition, various customer loyalty and gift card programs can also help drive customer retention.
Overall these solutions are an effective way for auto part stores to improve speed and convenience for both themselves and customers when it comes to transactions – thereby creating an all-around better experience at the register.
Fast and Easy Checkout Processes
Having a fast and easy checkout experience is essential for any auto parts store.
A smooth and seamless payment process can put customers at ease and encourage them to complete a purchase.
Customers no longer have to waste time standing in long lines at the counter while an employee is trying to work an overly complicated or out-of-date point of sale system.
When you partner with a leading payment processor, like EMS, you can accept various card types as well as gift cards with speed and convenience.
But that's not the only benefit you'll get.
The use of contactless payments is also becoming more and more popular. Allowing your customers to pay with contactless payment options such as Google Wallet and Apple Pay allows sales to be quickly completed.
These measures simplify the checkout process and provide better security and privacy protection with advanced encryption techniques that prevent customer data leaks.
By streamlining the checkout processes and giving customers fast and easy options, businesses can create a great shopping experience while ensuring secure payment methods.
This encourages customers to keep coming back and boosts your store's visibility, ultimately leading to a growing bottom line for your business.
To find the best payment technology solutions for speed and convenience, it pays dividends to research and ensure the best fit for your business needs.
Contact EMS For Your Payment Processing Solution For Auto Supply Stores
Electronic Merchant Systems can streamline payment processing for your auto parts store.
With over 30 years of payment processing experience, we'll improve your store's payment processing systems and help you take your business to the next level.
You'll also get access to our dedicated support team, which is available 24/7/365. They have the expertise and experience to help with any situation. If you have problems or questions, contact our support team any time, day or night.
Start Growing Your Auto Parts Store Today! EMS is the only merchant services provider you need for your auto parts store.
We can meet all of your needs, including:
Providing the top payment processing tools and opportunities
Improving your cash flow
Providing the best credit card rates
Streamlining your business operations
If these auto parts store payment processing opportunities sound like they'll help your business grow, click the link below to get started on your free consultation.