The COVID-19 outbreak in the United States has forced businesses to make big changes very quickly. Large offices sent employees to work from home for the first time, restaurants closed to dine-in customers, retail stores shifted to curbside pickup or delivery only, and even our favorite radio personalities started delivering broadcasts from home. These are changes we never saw coming.
Key Takeaway You Will Get From This Article

Keep the health and safety of everyone in mind by continuing to offer curbside pickup and delivery options, post and share the specific measures you are taking for customer and employee protection, take advantage of technology, find ways to make the distance fun, support your community and give your customers an opportunity to help.
And now, as businesses begin to open again and employees head back to work, it seems like all anyone can talk about is "the new normal."
But, what is "the new normal" and what does it mean for your business?
In this post, we'll share some insight on this topic, along with tips for balancing customer experience with the health and safety expectations set by your local government.
Note: Our research and inspiration comes from our headquarters state of Ohio, along with the Centers for Disease Control and Prevention and the World Health Organization. Please visit your state's health department website for the requirements and recommendations for businesses in your area.
Examining "The New Normal"
Here in Ohio, one particular idea is being repeated over and over again, "things are not going back to normal any time soon." We've heard it said many different ways, but the root of the idea is the same. We're going to be doing things differently for a while. That means all of us, whether customer or business, need to find our own "new normal."For Ohioans, your "new normal" may include cloth face coverings at work and public spaces, following the specific rules for reopening businesses and restaurants, or lots of hand washing, sanitizing, and disinfecting of high-touch surfaces.
There's still plenty of uncertainty about what the future holds. However, many retail stores, salons, and restaurants are now able to reopen and get back to business.
If your business has recently opened, you may be struggling to focus on customers while also adhering to the new health and safety rules. Let's look at some ways you can safely deliver a great customer experience while remaining compliant with these regulations.
How to Put Safety AND Customers First
As your retail store, restaurant, salon, or other direct customer-facing business prepares to open, it's important to keep the health and safety of everyone in mind. You also need to focus on delivering a positive experience for your customers. Especially right now, those two ideals go hand-in-hand.
You may think that marking a one-way path on the floor or talking to a customer through a face mask provides a negative experience, but it doesn't. Your customers want to see that you are taking the virus outbreak as seriously as they are. By showing that you are putting their safety first, you're already starting to make the best of a less-than-ideal situation. And even in a socially distant world, people still talk. If your customers are proud of the measures you are taking to put their safety first, they'll share that with their friends.
Here are some more ideas to help you focus on providing a great experience in a safe environment:
1. Continue to offer curbside pickup and delivery options.
Some of your customers may not be ready to visit your business in person quite yet. Show them that you understand and you care by allowing them to pick up their order curbside or offering free, contactless delivery. According to a recent survey, 71% of consumers say if they think a business is choosing profit over people, they will lose all trust in that business. This is one way you can put people first.


2. Post and share the specific measures you are taking for customer and employee protection.

Uncertainty is lurking behind every corner right now. Give your customers some assurance by sharing what your business is doing to protect them. If you've added one-way arrow marks to your floor or you're sanitizing pens between each use, let your customers know. You can help them feel more at ease about visiting your business with a simple social post or email about your efforts.


3. Take advantage of technology.
Many businesses are finding ways to take meetings, classes, and even events online. Technology has never been more advanced, more helpful, or more necessary than it is right now. If you haven't already, do some research and explore the many platforms available for engaging your customers from a distance.


4. Keep people apart, but find ways to make the distance fun.

A study from Prosper Insights & Analytics found that 95% of consumers want companies to implement physical protection and distancing measures to help keep them healthy. Even though the majority of your customers want to be apart, forced separation still makes things gloomy. What if you changed it up a bit? Create a more personal experience by placing encouraging quotes on the floor for customers to read as they stand in line. Or, encourage your employees to draw a smile on their face mask to brighten up the experience. Approaching your health and safety measures in a creative way can make a lasting impression. Here's a great example of a local Cleveland donut and beer stop, Brewnuts, creatively supporting their customers.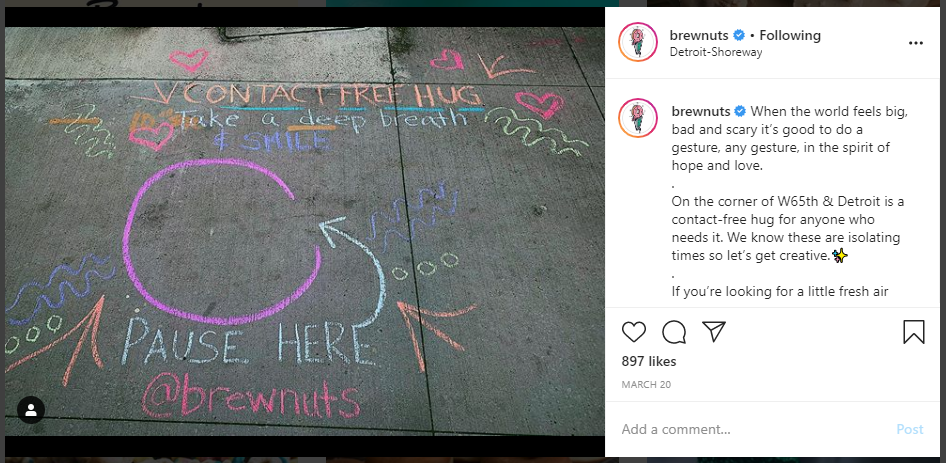 4. Support your community and give your customers an opportunity to help.

Many Ohioans have made a point over the past three months to support their local small businesses and frontline essential workers as much as possible. This mentality of support isn't going to stop. You can come together with your customers to show your support for your community. Start a collection for local nonprofits that may be struggling, or collect food for the Greater Cleveland Food Bank. Not only will this help people in need, but it will bring you and your customers together.
These are all merely suggestions, but we hope they inspire you. At the end of the day, the biggest thing your customers want from you right now is a genuine, human experience. If you can deliver that through your gloves and face mask, you're doing a great job.
For more tips on reopening your business after COVID-19 closures, click here!
Source: Forbes