Despite many changes over the past couple of years, there is one thing we as humans have continued to seek. Connection. People are innately drawn to other people. We want to talk, eat, share, celebrate, shop, and experience the world around us together.
Key Takeaways You Will Get From This Article

1. Use a ticking countdown timer on your website/emails that shows how many days, hours, and minutes are left in during a sale.

2. Try using social media to reach out to an influencer in your target market and ask if they would be interested in developing a partnership to promote your goods or services.

3. Pump up the enthusiasm for your products or services with exclusive giveaways.

4. Gift cards are a low-risk, high-reward way to boost profits for your business.
When the holidays are here, a special sense of connection seems to fill the air. This season is special because it offers a dedicated time for many people to come together and show love and appreciation for one another through gift-giving.
Those special gifts, whether physical items, gift cards, experiences, or handmade creations, could come from a business like yours. But first, shoppers need to know you're there and ready to help them make this holiday one for the books. That's where your holiday marketing strategy comes in!
The complexity and depth of your strategy completely depend on your business, budget, and bandwidth. Some businesses have the funding to purchase radio or television ads, while others are working with limited budgets and need to pursue smaller-scale options. Regardless of which category you find yourself in, we're here to help inspire you with some holiday marketing ideas!
6 Holiday Marketing Ideas for Small Businesses
Create a Holiday Gift Guide
Encourage customers to purchase gifts for everyone on their list by creating a holiday gift guide for your business! This guide can be constructed for digital, print, or both. However, we strongly recommend focusing on a digital version. Here's why.
According to a recent report from PYMNTS.com, nearly 90% of US consumers plan to make holiday purchases online in 2021. That's a whopping 13% more than 2020, which was already a landmark year for online holiday shopping. A digital gift guide meets these consumers where they are, and if thoughtfully crafted, can even entice them to purchase more and purchase now!
Gift guides also help customers who are short on time or running out of ideas. Your business can be the holiday hero who steps in to save the day! Make sure your guide is simple to navigate, easy to read, and visually appealing. You can organize it by product type, department, or the classic for him/her items. If it's time to take the gift-guiding to the next level, try organizing it by unique categories such as:
Personality Type
Specific Interests, Hobbies, or Passions
Unique Experiences
Exclusive Items
Speaking of exclusive items, everyone loves a holiday bundle! Try thinking of unconventional ways you can combine the products or services you offer into can't-miss holiday deals!
Use the Power of the Countdown Timer
Missing out on a great deal can be a serious bummer during this time of year. You can lean into this notion by adding a countdown timer to your website and/or marketing emails.
For example, let's say you're offering a discount on all sweaters until the end of November. Instead of writing "Valid through 11/30," you can add a ticking countdown timer that shows how many days, hours, and minutes are left in the sale. Even if that countdown is 30 days long, the visual representation of time ticking away will create a sense of urgency and exclusivity that words can't express.
By the way, countdowns can be used for more than just sales! You can also use them for upcoming events, special offers, announcements, and more. Just be careful not to have too many going at once, or they might not be as effective.
Expand Your Reach with Influencer Marketing
Are you not sure what "influencer marketing" means, but are also too embarrassed to ask? Don't worry, this is a judgment-free zone! Here's a quick explanation for you, courtesy of Sprout Social:
"At a fundamental level, influencer marketing is a type of social media marketing that uses endorsements and product mentions from influencers–individuals who have a dedicated social following and are viewed as experts within their niche."
Leadpages estimates that by 2022, annual spending on influencer marketing will reach $15 billion.
This approach is often successful because consumers trust other consumers more than they trust the companies or salespeople selling to them. Plus, thanks to social media, today's influencers often feel like our friends. We can follow them on social media with one click and suddenly have a window into their lives.
If you're introducing new products or packaging around the holidays, influencer marketing could be a great way to get the word out! Try using social media to reach out to an influencer in your target market and ask if they would be interested in developing a partnership to promote your goods or services.
For example, Corporate Natalie is an influencer on Instagram and TikTok, and the self-proclaimed "CEO of Work-From-Home Jokes". Her videos are hilariously relatable, and she has thoughtfully partnered with brands such as Bulletproof Coffee. Natalie also endorses some of her personal favorite brands to her followers.
Partnering with an influencer like Natalie might be out of reach right now. Try starting small and seek out micro-influencers (fewer than 10,000 followers) whose audiences significantly overlap with your target market. If they agree to a partnership, you could be in for a mutually beneficial, brand-boosting adventure!
Promote Your Products with a Giveaway
While we're on the topic of social media, let's talk giveaways.
Nothing makes shoppers more excited than deals and freebies! Pump up the enthusiasm for your products or services with an exclusive social media giveaway. Keep in mind that the purpose of your giveaway is not necessarily to give away free stuff.
The true purpose behind a giveaway is to encourage engagement with your business. Keep the rules simple and clear, and make sure the main directive is to share your post. Let's look at an example.
Make it Minnie by Ashley Wolf is a retail brand that sells Disney-inspired jewelry and apparel. Ashley frequently posts giveaways for gift cards or free products. Here's a big giveaway she posted recently for an exclusive line of Halloween jewelry: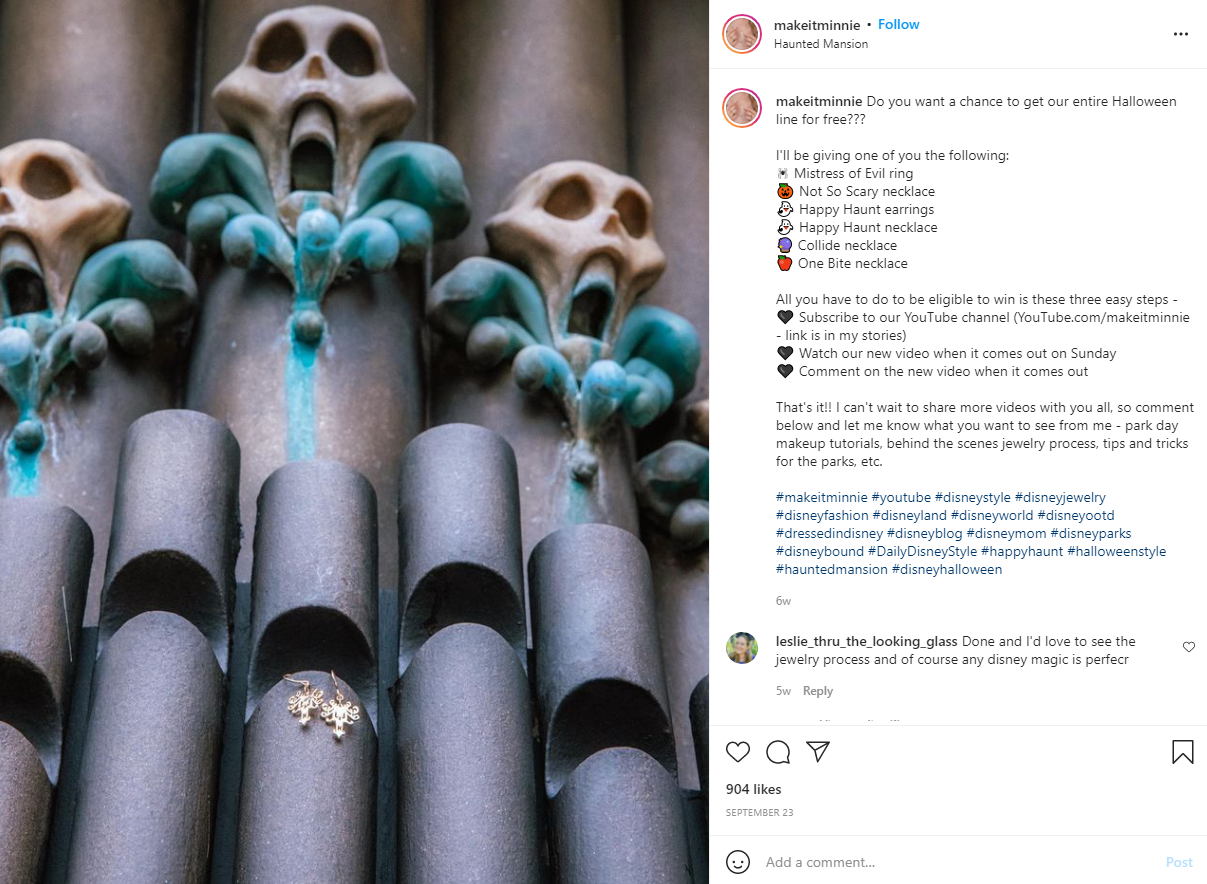 Source: MakeItMinnie on Instagram.
Through this promotion, Ashley gave one lucky person six different products. The rules simply stated:
"All you have to do to be eligible to win is these three easy steps -
Subscribe to our YouTube channel (YouTube.com/makeitminnie - link is in my stories)
Watch our new video when it comes out on Sunday
Comment on the new video when it comes out"
Ashley does a great job of encouraging her followers to engage with her brand. Not all giveaways include this much product, but the bigger the prize, the bigger the potential! This post received 904 likes and over 100 comments.
Offer Complimentary Gift Wrapping
Most shoppers have ample free time during the holiday season. Just kidding! We wanted to see if you were paying attention.
Actually, most holiday shoppers feel completely overwhelmed at this time of year. There's just too much to do! Dozens of items to purchase or make, gifts to wrap, cookies to bake, meals to cook, families to entertain, and the list goes on.
Your business can give these busy shoppers a little bit of time back in their day by offering gift wrapping! Whether you choose to offer this as a complimentary or paid service, make sure you take time to train employees on proper wrapping techniques. A customer who walks away with a beautifully wrapped gift will certainly be jollier than a customer with a crumpled mess of tissue paper.
Plus, your team's handiwork can help create a memorable opening experience for the gift recipient. It's a nice way to spread some holiday cheer, far and near!
Promote Gift Cards
We can't end this post without talking about gift cards.
Did you know that 47% of consumers prefer to receive a gift card over a traditional gift? How about the fact that the average consumer spends $59 more than the value of their gift card? And what would you say if we told you 44% of shoppers say a gift card is an incentive to visit a store they wouldn't have otherwise?
Gift cards are a low-risk, high-reward way to boost profits for your business, especially during the holiday season. When a customer purchases a gift card, they essentially pre-pay for a future purchase. Sometimes, that future purchase is never made, which means you keep all the gift card amount as profit. Promoting these little pieces of plastic on your website, in-store, via email, and through social media is very simple and can help you boost profits.
If you don't already have a gift card solution in place, you might be thinking that you need one right now. We agree! And we think you'll be pleased to know you don't have to go far to find help.
Electronic Merchant Systems provides custom gift & loyalty card programs for businesses like yours! Our in-house designers will create a unique card that is consistent with your brand and needs.
This holiday season, don't be afraid to show the human side of your business. Connect with customers on social media, enhance their experience with thoughtful gift guides or wrapping services, and do everything you can to make the holiday shopping experience a pleasant one.
Sources: Leadpages, PYMNTS, SproutSocial