Electronic Merchant Systems (EMS) is an industry-leading provider of payment processing and merchant services solutions. EMS is headquartered in Cleveland, Ohio, with offices and agents located across the country. Since 1988, the company has been helping business owners grow their financial well-being by offering a comprehensive suite of innovative, cost-effective payment solutions and high-quality customer service.
Throughout EMS' 30+ years operating in the payments space, they have served hundreds of thousands of small to mid-sized businesses. Business owners across many industries trust EMS to provide reliable payment services and support, a call the company is happy to answer.
Innovative, Cost-Effective Solutions
EMS is committed to providing innovative solutions at affordable rates. In fact, they offer the lowest swipe rates in the industry, reinforcing their mission to help business owners improve their financial well-being.
The company is also committed to providing high-quality, attentive customer support. Unlike most other providers, EMS offers live support 24/7/365.
The professional, attentive representatives who serve on the EMS Customer Support team operate out of their corporate headquarters in Cleveland, Ohio. These team members are dedicated to helping EMS customers find answers, solve problems, and gain the knowledge they need to help them grow their business.
A Culture of Caring Makes EMS Stand Out
EMS has fostered a culture of caring for customers that helps them stand out in the industry.
"Many companies spend countless hours and resources trying to discover what makes them different," said Dan Neistadt, President & CEO of EMS. "We don't have to because our true distinguishing quality is embedded within the company. We all care about people – whether those people are customers, fellow team members, or the Greater Cleveland community."
It only takes a few seconds on Google to verify this key differentiator. EMS has accrued (and continues to maintain) a 4.7-star rating, thanks to over 1,000 genuine customer reviews.
EMS is a people-focused company that goes above and beyond to serve its customers. However, they don't expect you to simply take them at their word. Spend a few moments reading through their Google reviews and you will soon become a witness to customer service success stories.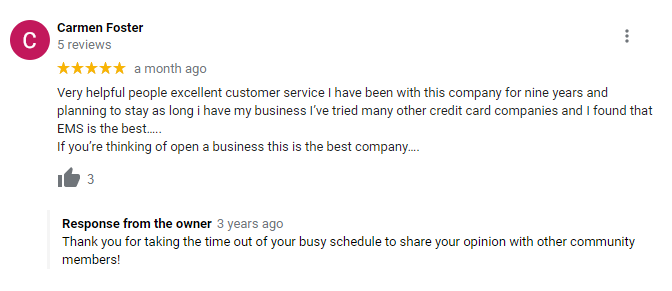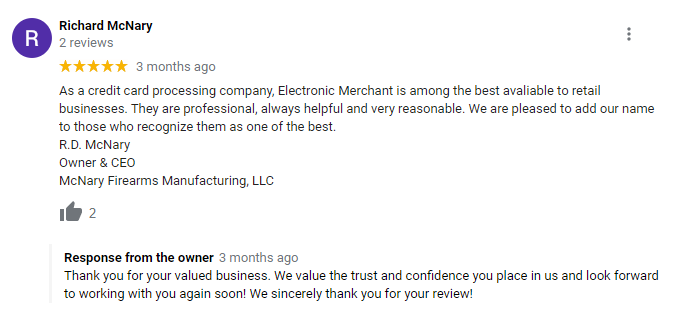 Leading with Authenticity and Positivity
While reading through these and other reviews, you'll most likely notice that every single one includes a "Response from the owner". These are genuine, personal responses from an EMS team member.
EMS recognizes that customer feedback, both positive and negative, is essential to company growth. Therefore, they take time to read each individual review and respond with an appropriate expression of gratitude or offer to help resolve an issue. Many customers have returned to update their original review after receiving a response and further assistance from the EMS team.
"We're fortunate to have some of the most compassionate and talented professionals in the area on our team," stated Neistadt. "Throughout my time at the helm, I've seen so many people positively affected by the kindness of EMS employees."
This kindness often extends beyond customer service. EMS partners with many local charitable organizations serving the Greater Cleveland community, including:
The Cleveland Browns
The Greater Cleveland Food Bank
Cornerstone of Hope
Coach Sam's Scholars
Ohio Affiliate of Prevent Blindness
Cleveland Christian Home
Even outside of office hours, the team comes together to volunteer, donate, and give back in support of these organizations and others.
"It's exceedingly difficult to measure in any sort of physical sense the value of what you're doing in people's lives," Neistadt stated, "but when you go out into the world and see the faces of the people you're serving, it becomes easy to measure the value to your own life."
Thank You for Your Feedback
Electronic Merchant Systems is grateful and honored that 1,000 customers took the time to post a review. These reviews are essential in helping a company achieve success in today's digital world, where customers often trust reviews as much as the opinion of a close friend or family member.
The company will continue to offer intentional, caring service and support to all its customers and partners.
Request a Consultation
EMS is a top choice for business owners looking to boost profits and a trusted partner for financial institutions everywhere. Some of the payment processing solutions they offer include:
Find out how EMS can serve your business when you request a consultation!