The possibilities for building brand awareness for your small business are endless with a pop-up shop.
In a recent blog post, we touched on the concept of "retailtainment" events as a strategy for gaining and retaining loyal customers. A retailtainment event can be anything that creates an experience to attract and engage customers. Even in the age of online and mobile shopping convenience, nothing can replace the experience of going out shopping. Customers seek out new experiences from their favorite brands, and it's up to you to decide how to present those experiences. Not sure where to start? In this post, we will expand on an event type that is growing popular, the pop-up shop.
Table of Contents
What is a Pop-up Shop?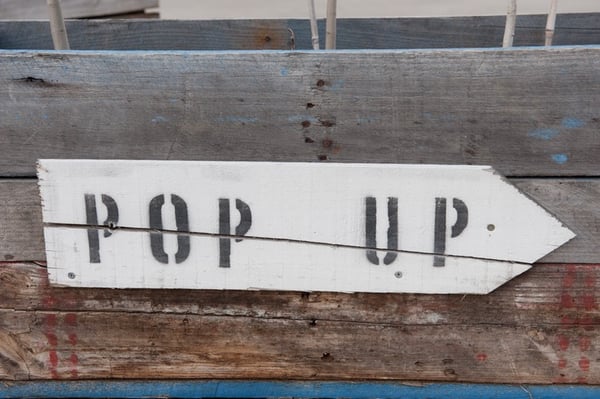 A pop-up shop is a small, temporary outlet of your store. Pop-ups have become especially popular for online-only retailers, such as Third Love, but are also being used by brands in need of a boost like Hollister's Gilly Hicks.
The cost to launch one is far less (sometimes as low as $50 per day) than a permanent storefront, and is typically paid in advance.
The length of time that your shop is open is entirely up to you and your landlord. Some are open for just days, and others for weeks or months. Just be sure to choose a high-traffic area such as a city center, mall, or busy street!
Even though they are typically only open for a short time, pop-up shops are growing increasingly popular. Their temporary existence appeals to the get-it-before-it's-gone or fear-of-missing-out (FOMO) mentality of most shoppers.
They also satisfy the frequent shopper's desire to discover something new. Here are some ideas for making the most of your time as a pop-up:
A 'Pop'ular Way to Build Brand Awareness
One of the biggest uses for a pop-up shop is to build brand awareness.
Share your shop's location on social media, create eye-catching signage to welcome strolling shoppers, and create experiences that will make customers want to find you again. Even big brands use temporary means to give their marketing a boost.
For example, Taco Bell is opening The Bell: A Taco Bell Hotel and Resort from a pop-up location in California. Reservations for the cheesy experience sold out in just two minutes.


Test New Ideas
A pop-up allows you the freedom to explore new ideas and see how customers respond.
Experiment with a new location, try new display configurations, test new marketing materials, and even present new products. On this smaller scale, there is less risk for you and more room for creativity!


Make Connections with Customers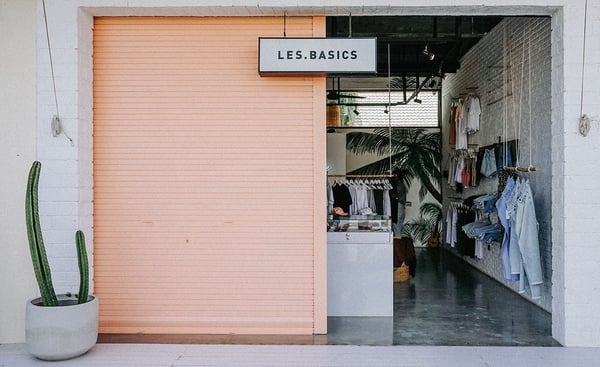 A more intimate setting allows you to personally get to know your customers and build relationships. Especially if you are an online only retailer, a pop-up can be a great way to meet your customers in person and gain feedback.
Take the time you have with your pop-up to examine and gather data on the sizes, colors, and styles that draw your customers in.


Create Experiences
Some pop-ups find success through the experiences they create. For example, beauty brand Winky Lux charges customers $10 to wander their Instagram-ready store experience.
The seven rooms of this pop-up are filled with bright colors, flowers, fluffy pillows, and more designed specifically for photos. At the end of the tour, guests can use the $10 they paid at the door towards the purchase of a product.
Plus, all the photos guests post to social media make for awesome (and free) marketing.
How Will You Get Paid?
It's probably the most important factor for your store, but often overlooked.
How will you accept payments? It's not practical to move your entire cash register over from your permanent location, and processing each payment through your online store would be far too involved.
With a mobile payment solution, you'll be able to process payments quickly and efficiently from your smartphone or tablet.
EMSMobile is an uncomplicated yet powerful point-of-sale solution that goes wherever you go. Its enhanced features and capabilities include:
Real-time payment processing in seconds over any WiFi or cellular network
Dip, tap, or swipe credit and debit cards
Compatible with your iOS or Android device
Complete itemized or simple transactions
Build multiple users for different cashiers
Connect via Bluetooth or audio jack
Don't forget to have a plan for accepting payments at your pop-up shop. After all, paying for their merchandise is the last experience a customer will have in your shop, and it does leave a lasting impression.
At Electronic Merchant Systems, we're all about making sure you get paid swiftly and simply. If you are working to build brand awareness with a pop-up shop and need a mobile payment solution, contact us today!