Junk Removal Company Payment Processing
When you're in the junk removal business, you never know what you expect.
When the phone rings, you don't know if you'll be heading to remove debris from a construction site, picking up old mattresses, or cleaning out a foreclosure.
And fortunately, junk removal isn't a seasonal job. People and businesses will always have trash they want to be taken away.
To maximize cash flow, you want to be able to accept and complete as many junk removal jobs as possible.
So, while your team focuses on removing garbage, old appliances, or cleaning out a garage, our team is dedicated to providing you with the best credit card processing solutions.
That covers email invoicing, secure credit card storage, mobile on-site payment processing, and more.
At Electronic Merchant Systems (EMS), we make this possible through our exceptional products and services.
With over 1,000 Google Customer Reviews, it's clear that we have successfully helped many businesses grow.
Click the link below to schedule a consultation or keep reading to learn why EMS is the best option for junk removal processing payments.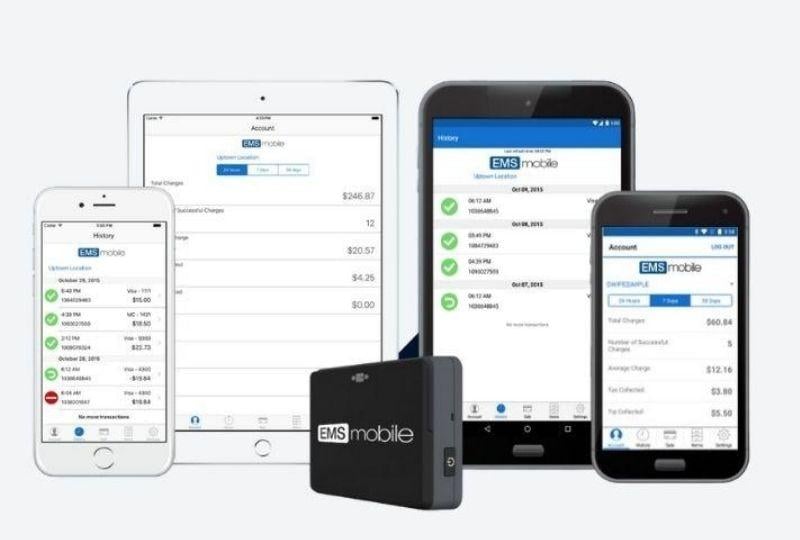 Have Your Junk Removal Business Start Accepting Mobile Payments
Your junk removal technicians are always on the move, going from house to house or business to business to remove trash.

Customers don't just want good service; they also want to pay quickly and easily. No one wants to have to work hard to pay for a service.
That is where we come in.
We provide your junk removal business with a payment solution your technicians can carry with them wherever they go.
Enter EMSmobile.
EMSmobile makes it easy for your team to turn an Android or iPhone phone into a mobile payment processing terminal.
This makes it easy and quick for you to get payments from your customers' debit and credit cards. This is just one of the many benefits of mobile payment acceptance.
Let's take a look at some of EMSmobile's additional features:
Email invoicing: You can send an email invoice to your customers and have them pay for your junk removal services with a single click. This way, customers and clients will be able to pay you securely and instantly.
Secure Vault Storage: With our virtual terminal technology, you can ensure that your customer's credit information is stored securely and conveniently reused when the time is right. This also allows you to set up recurring billing if you continually work with a business.

Business Management Tools: You can manage different aspects of your business through our merchant console.

Advantages of Mobile Payment Processing for Your Junk Removal Service

Mobile Payments Reduce Expenses
When your customers use mobile payment processing, you eliminate the need for traditional point of sale systems.
And if there is any business that can appreciate getting rid of something they don't need, it's a junk removal service.
Smartphones are easily converted into credit card readers by simply installing an app.
You can send receipts and invoices through email, follow trends in your business, receive business updates, and more.
Improved Customer Experience
Customers can pay quicker and easier if they can do so on-site with their phones. Or they can pay through an email invoice when it's most convenient for them.
This speeds up the payment process, which is good for the customer experience as a whole.
This type of payment simplicity, combined with your stellar services, can lead to loyal and repeat customers.
Efficiency and Security
One of the top priorities of any business that expects to grow and succeed is safety.
At EMS, we think you should be able to go about your business without having to worry about sensitive data.
That's why we provide safe storage vaults to protect the information your customers give you. Plus, EMS has been certified level 1 PCI provider for over a decade.
Top Payment Processing Solutions For Your Junk Removal Company
There is no better option than Electronic Merchant Services for streamlining your junk removal business's payment processing and merchant services.
EMS has the Skills and Experience to Serve You
Electronic Merchant Systems has been in the business of credit card processing for more than 30 years.
This gives us a lot of experience in merchant services that can benefit your junk removal business.
In addition, EMS has been a certified level 1 PCI provider for over ten years. Security is of the utmost priority.
24/7/365 Customer Support
Aside from having the skills and knowledge to help you, we also have a dedicated team of customer support specialists who are available to you at any time of the day, every day.

You have full access to a team of professionals who are ready to help you with any problems or answer any questions you may have.
EMS Offers:
The top payment processing tools and opportunities
Cash flow improvement
Mobile payment options to get paid faster
Email invoicing and credit card storage
Exceptional credit card rates
If these payment processing solutions for junk removal businesses sound like what you need, fill out the form below to schedule a consultation today.
Discover How EMS Can Benefit Your Junk Removal Business

Would you like to learn more about how Electronic Merchant Systems could help streamline your payment processing? Fill out this short form to request more information today.