Thrift Store Credit Card Processing
If you own a thrift store, you must meet customers, fulfill orders, handle incoming inventory, balance the finances, clean the restrooms, and much more.
We understand how hectic your days are and how long your to-do list is in the resale industry.
Therefore, we want to relieve you of some of the extra responsibilities.
This is why Electronic Merchant Systems (EMS) provides solutions to help you improve your payment operations while also simplifying essential activities like inventory management and accounting.
Keep reading to discover how EMS can benefit your thrift shop.
How EMS Can Help Your Consignment Shop
With the use of EMS, you can maintain and grow your consignment shop.
Point of Sales System
Process all types of payments, manage inventory with ease, and generate critical reports in minutes, among other things.
When analyzing your finances, this easy-to-use system will help save you all kinds of time that you can then pour into whatever else you'd like!
Loyalty Programs
There's typically no shortage of thrift stores in any town.
With the help of EMS, you can use a gift card to entice new consumers and your loyalty program to keep them coming back for more.
Combined with your constantly revolving inventory, customers are sure to return.
Wireless Terminals
Many second-hand stores are behind the times when it comes to payment options.
With EMS, you can accept all forms of payment, including EMV chip cards and contactless payment methods like Apple Pay and Google Pay.
A Unique Solution For Your Thrift Store
Ultimately, we think that payment processing should be easy for consumers and seamless for you at Electronic Merchant Systems.
However, there are so many options for processing payments that deciding which is ideal for your resale shop may be daunting. That's where we can help. Trust the payment specialists at EMS to discover the best option for you!
Over the last 30 years, EMS has worked with thousands of retail company owners. If there's one thing we've learned, it's that every retail establishment is unique!
This is why we concentrate on providing cutting-edge payment options that may be tailored to your specific requirements. We can assist you with managing and accepting payments across various retail locations, fulfilling purchases online, and even accepting credit cards while on the road.
Just tell us what you're looking for, and we'll figure it out together.
We'll create a local payment processing solution that's tailored to your needs, as well as tools you can use across your company to save money, improve processes, and increase sales.
Accept Credit Cards Wherever You Are
One thing is very obvious when it comes to running a business in the United States nowadays. You must be able to accept both credit and debit cards.
But what if you don't have access to a traditional storefront or the necessary space for a credit card machine? You'll need a mobile processing solution if this is the case. EMSmobile is required!
Process Secure Online Payments
It's critical to meet your consumers where they are, which means they're online these days!
Allow your clients to place orders or make payments online by equipping your business with a virtual terminal solution. Plus, take advantage of sophisticated features that can help you run your business more efficiently.
There are not too many thrift stores that offer that kind of convenience!
Cost-Effective Business Solutions for Thrift Shops
Would you like to manage your whole thrift store, take all kinds of payments, maintain inventory, and accept all forms of payment in one place?
You can now, thanks to Electronic Merchant Systems' comprehensive point-of-sale solution! All of our products have outstanding features and functionality to assist you in taking your consignment shop to the next level.
From countertop terminals to multi-station units, all of our point-of-sale systems are equipped with the most up-to-date features and functionalities to safeguard critical company and cardholder data.
Our company's objective includes assisting small businesses in increasing their profitability.
As a result, we are devoted to providing all of our products and services at wholesale prices. We never, however, compromise on quality. You may be confident that if you choose to adopt an EMS solution, you will be receiving the finest solution at the best price. Yes, the savings do add up quickly!
MaxxPay
MaxxPay® is a cloud-based point-of-sale system that connects a whole shop to its consumers in real-time.
It provides uncompromised quality, unlimited data storage, and free software upgrades, among other features. MaxxPay is available in a variety of configurations, allowing you to pick the best solution for your company. Each choice has a number of useful features, such as:
Management of Inventory
EMV and NFC Technology
State-of-the-Art Hardware
Employee Permissions & Timekeeping
Transaction Reporting
Countertop Terminals
Do you require an easy and secure method of accepting payments? Look no farther than an Electronic Merchant Systems countertop point of sale terminal!
Whether you require a fixed terminal or the flexibility of a wireless solution, we are devoted to offering cutting-edge point-of-sale technology that fits your business.
Our terminals are intended to provide consignment shop owners with all of the processing functionality you require while minimizing the amount of time you spend at the counter.
Our countertop POS terminals are intended to provide you with all of the processing functionality you want without cluttering the counter.
Each terminal is EMV-certified and NFC-ready, giving you the added protection of chip card acceptance as well as the option to make mobile wallet payments like Apple Pay and Google Pay.
Choose the Best Merchant Services for Your Consignment Business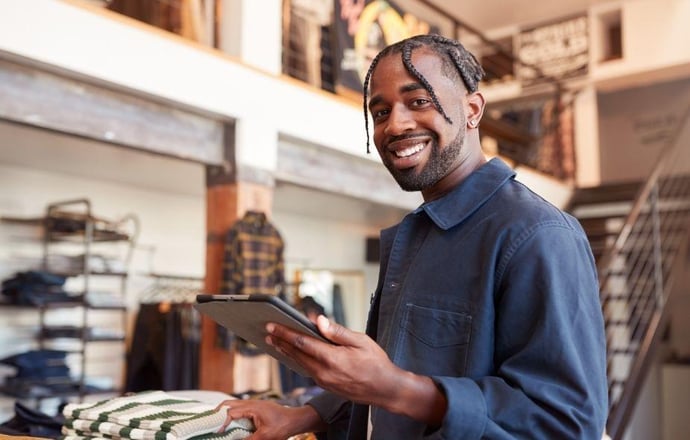 We pride ourselves at Electronic Merchant Systems on our reliability, trustworthiness, and security. This type of support is just one of the many reasons why EMS has such a strong connection with thrift store merchants.
No good merchant left behind is more than just a slogan. Our financial institution understands your needs.
We are much more than merchant credit card processors. At EMS, we are dedicated to handling all of your credit card processing needs, including:
Providing the top payment processing tools and opportunities
Improving your cash flow
eCommerce, email invoicing, contactless payment options
Streamlining your business operations
Providing the best credit and debit card rates
Don't spend another day with out-of-date terminals or slow transaction times that could frustrate your customers.
Instead, choose EMS - where we offer the most updated payment processing solutions that are simple and effective.
Just check out our 975+ Google Customer Reviews and you'll see that we excel at offering business owners just like you remarkable products and services.
We stand by our product's integrity, but should you have a concern, you can remain 100% confident knowing that our customer service team is ready, 24/7, to assist you.
If you want the best thrift shop payment processing solutions, fill out the simple form below to get a Free Rate Review.
Discover How EMS Can Benefit Your Thrift Store
Would you like to learn more about how Electronic Merchant Systems could help streamline your payment processing? Fill out this short form to request more information today.