Payment Processing for Wedding Planners
Are you searching for a fast and convenient payment processing solution for your Wedding Planning Service?
Weddings are one of the most memorable moments in a person's life, so there is significant pressure to ensure everything runs smoothly.
While you're juggling itineraries, scheduling conflicts, budgets, DJs, catering services, and booking venues, you don't want to add "hunting down payments" into the mix.
Plus, as a hospitality business that naturally handles all things related to organization, it is important that you consider which payment choices you make available to your clients.
If you're strictly using cash or checks as your main payment method, you need to update your wedding planning payment acceptance altogether.
That is where Electronic Merchant Systems excels.
For more than 30 years, it has been Electronic Merchant Systems' ultimate goal to help local businesses just like yours achieve their full potential.
With over 1,000 Google Customer Reviews, it's unmistakable that we have successfully helped many businesses expand.
Click the link below to request a consultation or keep reading to see why EMS is the best option when it comes to Wedding Planning Credit Card Payment Processors.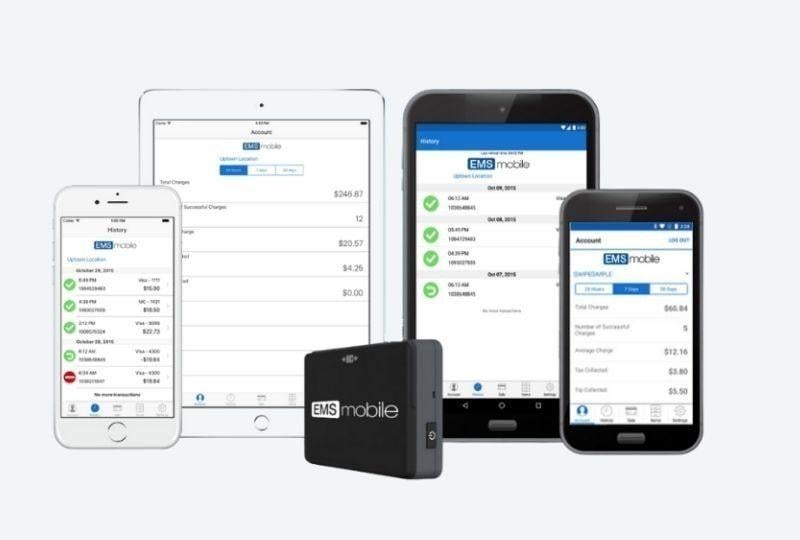 Wedding Event Payment Solutions
Are you wondering how you can easily collect payments for an event?
Or are you looking for ways to improve your current credit card processing for your wedding planning business?
EMS has your solution.
Event management is stressful. Your job is to make life easier for the bride, groom, and the guests in attendance.
Whether you accept payment before the big day, half before and half after, or the entire service fee once the reception has ended, you want to make the payment process convenient, fast, and straightforward.
One of the best ways to ensure that you are paid quickly for your wedding planning service is by incorporating on-site mobile payment acceptance.
We are excited to introduce you to EMSmobile.
EMSmobile is essentially a small business lifesaver. You will be able to turn any Android smartphone, iPhone, or tablet into a portable payment processing terminal.
That means you'll be able to collect and process payments on the spot. Quick and seamless!
It is also convenient for the bridal party because they won't have to worry about bringing cash or a blank check.
EMSmobile Advantages for Your Wedding Planning Business

Mobile Payments Reduce Expenses
For brick-and-mortar businesses, a traditional point of sale system is necessary to cover all of your bases.
However, scaling down your credit card processing to mobile payment acceptance is convenient and reduces unnecessary costs when it comes to more on-the-go services like wedding planning.
You can easily transform any smartphone into a card reader by installing the software.
This cost-effective solution also makes it easy to send receipts and invoices via email.
Improved User Experience
Weddings are special, but at the end of the day, you are running a business.
The last thing you want to do is be put in a difficult spot where you are hounding the bride or groom for a check on their wedding day.
Talk about a difficult situation to be in.
Likewise, the newlyweds probably don't want the payment looming over their memorable day, either.
That is why offering a fast, mobile payment solution makes sense for all parties involved.
In addition, EMSmobile offers email invoicing, so payments can be out of sight and out of mind for the wedding ceremony.
Complete Client Security
Electronic Merchant Systems takes security seriously, and that extends to our products and services.
At EMS, we offer valuable features such as secure vault storage, so your customer's information will always remain safe.
Get the Best Wedding Planning Payment Processing

There is no better option than Electronic Merchant Systems for simplifying and streamlining your Wedding Payment Processing.
From on-site mobile payment acceptance to convenient email invoicing, we have both you and your clients covered.
EMS Has the Experience and Knowledge to Assist You

Electronic Merchant Systems has over 30 years of experience in the payment processing industry.
That means you get to benefit from our knowledge and industry experience firsthand.
In addition, EMS has been a certified level 1 PCI provider for over ten years. This security feature is of the utmost priority.
24/7/365 Customer Support
EMS has a dedicated team of helpful and knowledgeable customer support specialists available to you 25 hours a day, seven days a week.
EMS' Virtual Terminal Technology Offers:
Quick on-site mobile phone payments
Email invoices to clients
Secure payment processor
Credit card storage
Exceptional credit card processing rates
Stop chasing brides and grooms down for payments. Instead, start offering a variety of simple and fast payment options that will make life easier for you and your clients.
If these wedding planning payment solutions sound like great opportunities, fill out the form below for a consultation today.
Discover How EMS Can Benefit Your Wedding Planning Business
Would you like to learn more about Electronic Merchant Systems' Mobile Payment Solutions? Fill out this short form to request more information today.