Music Venue Credit Card Processing
Music venues are an integral part of today's entertainment industry, whether you're a local bar with a stage or a multi-thousand stadium.
There's nothing quite like live music. Who doesn't want to see their favorite new artist live?
However, competition is fierce in the music venue business, especially for smaller venues.
There are many things you can do to keep up with the competition as the owner of a music venue. The first thing you should do is take care of your payment processing.
No one wants to lose business because it takes too long to accept a payment.
Outdated point-of-sale systems can be hard to use and lead to long lines and people being late for the concert.
If they want to grab a t-shirt or souvenir but see a line 10 people deep, they might head home empty-handed.
Thankfully, Electronic Merchant Systems can help.
At Electronic Merchant Systems (EMS), we work closely with music venues like yours to promote growth and ultimately increase cash flow.
For over 30 years, Electronic Merchant Systems' goal has been to help local businesses like yours realize their full potential.
EMS has your music venue credit card payment solutions to completely customized loyalty programs.
With over 1,000 Google Customer Reviews, it's easy to see the positive impact we've had in our communities.
If you want the best Music Venue credit card processing, click below to request a consultation or keep reading to discover why EMS is the perfect merchant services provider for your store today.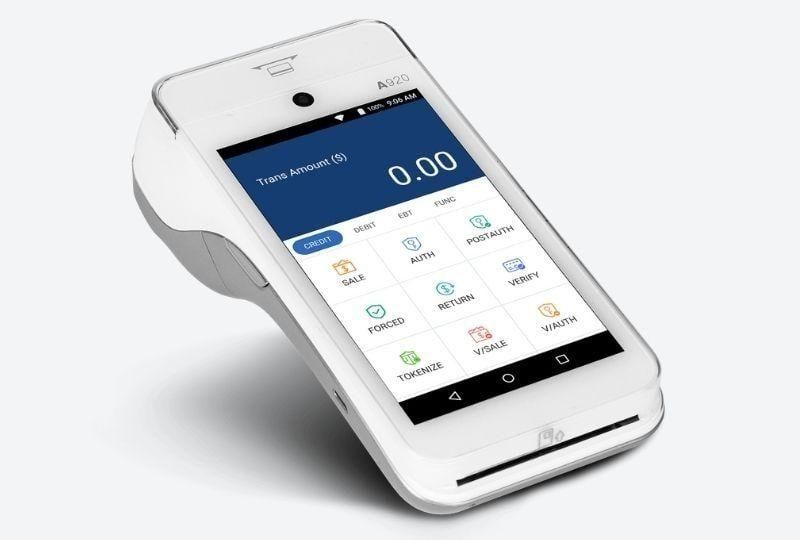 Top POS Solutions for Music Venues

We offer Music Venues POS terminals that are highly efficient yet simple to use.
With these completely redesigned credit card terminals, taking payments from your customer has never been easier.
For Music Venues, we recommend the MaxxPay Mini.
MaxxPay Mini offers an effective payment solution that takes up minimal counter space without sacrificing quality.
Benefits of the MaxxPay Mini include:
Quick Payments
The MaxxPay Mini makes it possible for customers to pay quickly, keeping them happy and the concertgoers moving along.
It also accepts all major credit cards, whether you swipe, chip, or pay with your phone.
High Functionality
From tickets to t-shirts to hats to mobile accessories, it can be difficult to stay on top of your overhead. Thankfully, MaxxPay Mini makes this easy.
All you have to do is add your venue's products, prices, and inventory, and MaxxPay Mini will handle everything else.
Easy-to-use Interface
The MaxxPay Mini offers a simple interface on an LED touchscreen.
Cloud-based Back Office
You'll be able to use our cloud-based back-office reporting anywhere you have internet access.
Are you looking for a more advanced POS system for your music venue business? Check out MaxxPay Pro.
Custom Loyalty Programs for Music Venues



When a popular musician comes to town, they likely only pick one venue. In that case, it's a bit like the luck of the draw.

However, what about local and regional artists?
If you want to establish your space as a top music venue in your city, you need to develop trust and elevate your branding.
One way to accomplish this is by offering a Loyalty Program.
With the help of EMS, you can use loyalty programs to entice folks to keep coming back for shows each and every week.
Whether you want to use a reward system for monthly shows attended or give the option to allow one show half-off just for being a member, your opportunities are endless.
EMS offers a variety of loyalty program customization to fit your music venue perfectly.
Choose the Best Credit Card Processing Solutions For Your Music Venue
When it comes to streamlining your music venue's payment processing, there's no better option than Electronic Merchant Systems.
We're proud to offer payment services and solutions that make your life easier and help you get paid faster.
EMS has the Skills and Experience to Serve You
Electronic Merchant Systems has been in the business of processing payments for more than 30 years. Out merchant services will help your music venue grow, allowing you to give your customers an unforgettable experience.
EMS has also been a certified level 1 PCI provider for over ten years. Security is of the utmost priority.
24/7/365 Customer Support
And our team of customer support specialists is available 24/7 to help you. You are never alone when you choose EMS.
No matter what problems you're having, you can reach out to a team of professionals who are ready to help you right away.
Start Growing Your Music Venue Today

At Electronic Merchant Systems, we are committed to taking care of all of your music venue merchant services needs, including:
Providing the top payment processing tools and opportunities

Improving your cash flow

Customized loyalty programs


Providing the best credit card rates

Streamlining your business operations
If these Music Venue Credit Card Processing benefits seem like a great opportunity to grow your business, fill out the form below to request a consultation today.
Discover How EMS Can Benefit Your Music Venue

Would you like to learn more about how Electronic Merchant Systems could help streamline your company's payment processing? Fill out this short form to request more information today.