Gun Shop Payment Processing
Are you looking for a credit card processing solution for your Firearms Business?

We are moving further and further away from successful cash-only businesses, so being able to accept debit and credit card payments is crucial.

This puts many Firearm businesses in the crosshairs.
Chances are - you've been denied and are searching for a merchant services provider that understands your needs and wants to help you grow in your market.

Trust us; we know it can be difficult for a gun dealer to find top-notch credit card processing services as these businesses can have a hard time finding a processor that is willing to support their business.

Thankfully, you found us here at Electronic Merchant Systems.
Unlike many big banks and other merchant services providers like Square and PayPal, EMS is proud to serve Firearm shops.
Whether your gun store needs a traditional payment terminal or mobile payment options, Electronic Merchant Systems has powerful solutions to enhance and simplify your process of getting paid.
For over 30 years, Electronic Merchant Systems has helped local businesses in the firearms industry, just like yours, realize their full potential.

That includes:
Streamlining the acceptance of all major credit and debit cards
Saving money on your credit card rates and fees
Receiving stellar 24/7/365 Customer Service
We have also accumulated over 1,000 Google Customer Reviews with a current rating of 4.7. So you can rest assured that EMS will provide the best merchant services possible.
We do require the following from our Firearms Merchants:
Don't be denied business, customers, and profit due to outdated payment acceptance methods or payment processors that don't respect your industry.
Take advantage of Electronic Merchant Systems' superior firearm-friendly credit card processing and schedule a consultation with our payment experts today.
Need a little more information as to why EMS is the top Gun Shop Merchant Services Provider? Keep reading to learn more.
Ultimate Firearm Credit Card Processing Flexibility
As you know, the demand for guns is as high as ever.
In fact, the Washington Post reported that there are significantly more guns than people in the United States.
So, what you need is the opportunity to take advantage of this demand by offering a quick and seamless payment processing solution that allows customers to buy their firearms utilizing whichever payment method they prefer.
At EMS, we give you the services and tools necessary to make this possible.
We offer FFL Dealers point of sale terminals that are simple to use, yet highly efficient.
These credit card terminals provide an updated and streamlined method of accepting payments from your customers.
For Gun Shops, we recommend the MaxxPay Mini.
With MaxxPay Mini, you have an effective payment solution that takes up minimal counter space without sacrificing quality.
Benefits of the MaxxPay Mini include:
Quick Payments
The MaxxPay Mini offers quick payment acceptance that will allow your firearms customers to pay quickly without any hassle.
You will also be able to accept all major credit cards in any form - including swipe, chip, and contactless options.
High Functionality
As a gun store business owner, it is imperative to stay on top of your firearms. MaxxPay Mini makes this easy.
Just add your inventory and prices. MaxxPay Mini will handle the rest.
Easy-to-use Interface
The MaxxPay Mini offers a simple interface on an LED touchscreen.
Cloud-based Back Office
You will have the opportunity to access our cloud-based back-office reporting anywhere you have internet access.
Mobile Payment Solutions for Gun Friendly Shops
Would you prefer to use your mobile phone or tablet for credit card processing? Does your gun shop need the option to accept payments on the go?
If so, EMSmobile is an excellent credit card processing solution.
EMSmobile is a mobile payment solution that is supported by our Virtual Terminal technology. It is the ultimate payment gateway.
For firearm businesses that frequent trade shows and gun shows, having a mobile payment acceptance solution like EMSmobile will save you time and energy.
What does that mean? It means your customers get convenience and you get paid faster.
Not to mention its functionality is second to none!
So, what can you do with EMSmobile?
EMSmobile includes:
• Mobile Payments: Our EMS Mobile technology will allow you to receive payments through a mobile device - whether you are at your store or visiting a gun or military show.
• Secure Vault: Store credit or debit card information for future use in a secure vault.
• Business Management Tools: Our app features a merchant console so you can manage the most critical aspects of your business.
You can carry out different business-related actions such as checking email invoice statuses, viewing transactions, and more.
If you do regularly attend gun shows, EMSmobile allows you to include gun accessory add-ons seamlessly on-site, which is a great way to boost your gun sales and total profit.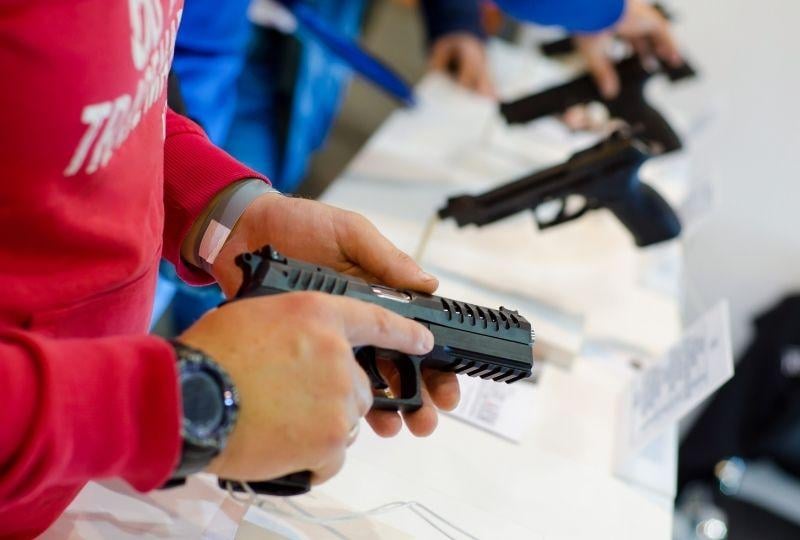 Get the Merchant Services Support Your Gun Shop Needs with EMS
When it comes to streamlining your merchant services and sale of firearms, there is no better payment processing company than Electronic Merchant Systems.

We are dedicated to helping our firearms merchants grow.
Our ultimate goal is to optimize, simplify, and speed up the way you get paid.
EMS has the Skills, Knowledge, and Experience to Serve You
With over 30 years of experience in the payment processing industry, Electronic Merchant Systems offers valuable merchant services experience that will help your Firearms Shop thrive.
In addition, EMS has been a certified level 1 PCI provider for over ten years. Security is of the utmost priority.
24/7/365 Customer Support
Aside from the skills and knowledge to serve you, we have a dedicated team of customer support specialists available at all hours of the day.
When you work with us, you are never alone.
You have complete access to a professional support staff that is ready to help you with any challenges and answer your questions whenever you need help at a moment's notice.

Give EMS a Shot and Start Growing Your Firearms Business Today
You deserve a merchant services provider that offers you exceptional services, great rates, and above all - respects your business.
At Electronic Merchant Systems, we are dedicated to handling all of your gun shop's credit card processing needs, including:
• Providing the top payment processing tools and opportunities
• Improving your cash flow
• Providing the best credit card rates
• Streamlining your business operations
If this sounds beneficial to your business and you're tired of being viewed as just another "challenging merchant," fill out the form below to request a consultation today.
Discover How EMS Can Benefit Your Gun Store

Would you like to learn more about how Electronic Merchant Systems could help streamline your payment processing? Fill out this short form to request more information today.