Physical Therapist Payment Processing Solutions
Physical therapy is important because it helps to improve mobility and function, reduce pain, and prevent further injury.
It is often given to people who have been hurt or who have a long-term condition that limits their mobility. Physical therapists help their patients reach their goals and improve their quality of life by using different methods, such as exercise, stretching, and manual therapy.
Physical therapy can help people of all ages, from kids to seniors, recover from injuries or surgeries, deal with long-term health problems, and keep their bodies in good shape.

In addition to restoring health and mobility, every physical therapist should look for more ways to further serve their patients.

To enhance the customer experience and ensure smooth transactions, you should streamline the payment process in your physical therapy office.
Electronic Merchant Systems (EMS), works closely with small businesses like physical therapy clinics to provide long-term payment solutions that promote success.
We do this through our exceptional products and services.
With over 1000 Google Customer Reviews, it's clear that we have successfully helped many businesses grow.
If you're a physical therapist looking for top-notch payment processing services, you're in the right place. EMS offers all kinds of optimized features like exceptional POS systems, mobile payment processing, and customizable gift cards.
To see if EMS is the right fit for your practice, click the button below to schedule a consultation. And if you want to learn more about why we're the best merchant services provider out there, just keep on reading.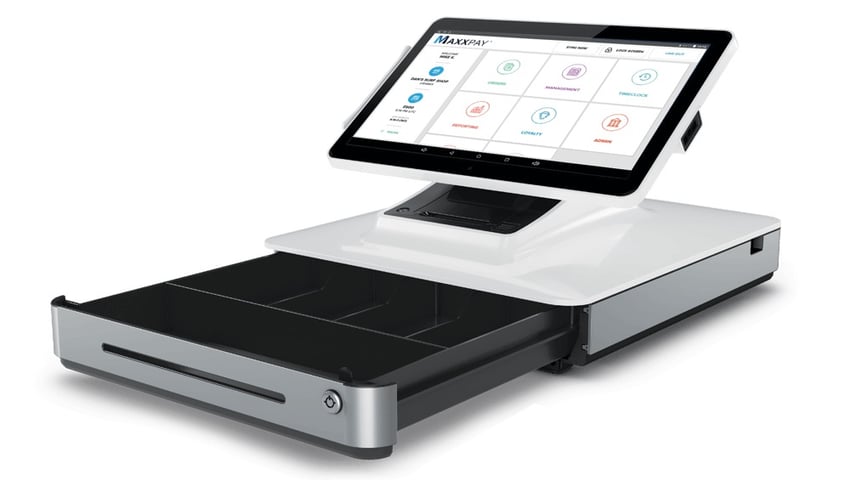 Top POS Terminal for Physical Therapists
Physical therapists can benefit from the use of reliable and user-friendly POS terminals offered by EMS.
These credit card terminals streamline the process of accepting payments from customers.
For office orthodontists, we recommend our MaxxPay® Pro.
Benefits of the MaxxPay Pro include:
Quick Payments
Speedy transactions are a massive benefit of MaxxPay Pro. All major credit card types (swipe, chip, tap, and contactless) are accepted.
High Functionality
Physical therapy offices are busy and sometimes stressful places, and it can be difficult to keep track of everything going on there. Our state-of-the-art POS systems simplify your processes.
Easy-to-use Interface
The MaXXPay Pro has a printer and 4.3-inch color screen. It also comes with a barcode reader and space for up to four bills and four coins in this cash drawer.
Cloud-based Back Office
MaxxPay Pro's cloud-based reporting system allows for convenient access to your information from any device with an active internet connection.
Merchant Services for Physical Therapists
Physical therapists can benefit from merchant accounts that provide access to useful tools that increase efficiency and improve customer service. These accounts allow for the acceptance of credit card payments from any service provider and any location.
One significant advantage is the fast, secure, and simple processing of online payments. In addition to the convenience of accepting credit cards, merchant accounts offer other advantages as well, including:
Recurring payments

—Patients' reasons for seeing a physical therapist will vary. Some people may only need to visit once or twice, while others will have weekly appointments for months or years. Regular customers will love the convenience of electronic payment processing. Just decide when and how much you want to pay, and the job's done.

Email invoicing

—Email invoicing is like an electronic receipt. Your patients receive billing statements once a month. With this change, fewer customers will need to call in with billing questions.

Get paid faster

—Once your patient has paid, you can get back to what you were doing. This allows you to accomplish more in less time.
Choose the Best Credit Card Processing Solutions For Your Physical Therapy Office
Electronic Merchant Systems can help you improve your payment processing and merchant services.
We offer a range of services and payment methods to support the smooth operation of your business.
As a physical therapist, you have a lot on your plate and may feel overwhelmed. That's why we aim to simplify your payment process so you can focus on running your business.
EMS has the Skills and Experience to Serve You
Electronic Merchant Systems has been an industry pioneer for nearly thirty years. For assistance with merchant services, contact us today.
In addition, EMS has been a certified level 1 PCI provider for over ten years. Security is of the utmost priority.
24/7/365 Customer Support
EMS is dedicated to providing excellent customer service, and our customer service representatives are always available to assist you. They are knowledgeable and happy to help with any questions you may have, day or night.
Start Growing Your Physical Therapy Business Today

Electronic Merchant Systems can take care of everything that has to do with merchant services for your physical therapy office, including:
Gift & loyalty programs
Streamlining your business operations
Providing the best credit card rates
Improving your cash flow
Providing the top payment processing tools and opportunities
If these Physical Therapy payment processing opportunities sound beneficial to your business, fill out the form below to request a consultation today.
Discover How EMS Can Benefit Your Physical Therapist Office

Would you like to learn more about how Electronic Merchant Systems could help streamline your payment processing? Fill out this short form to request more information today.