Dental Office Payment Processing Solutions
You should schedule dental visits on a regular basis instead of waiting for problems to occur. Prevention is always better than treatment, and there are many other reasons why you should visit your dentist on a regular basis.
Every dentist's office should look for ways to improve the overall experience for their dental patients.
Simplifying the payment processing is a great way to ensure a smooth transaction for everyone that visits your office.
Electronic Merchant Systems (EMS), works closely with small businesses like your dental office to provide long-term payment solutions that promote success.
This is possible through our exceptional products and services.
With over 1000 Google Customer Reviews, it's clear that we have successfully helped many businesses grow.
EMS has top-of-the-line POS systems, mobile payment processing, and fully customizable gift cards.
If you need professional payment processing systems for your dental office, schedule a consultation by clicking the link below.
Continue reading to discover why EMS is the greatest option for Dental Offices in need of a merchant services provider.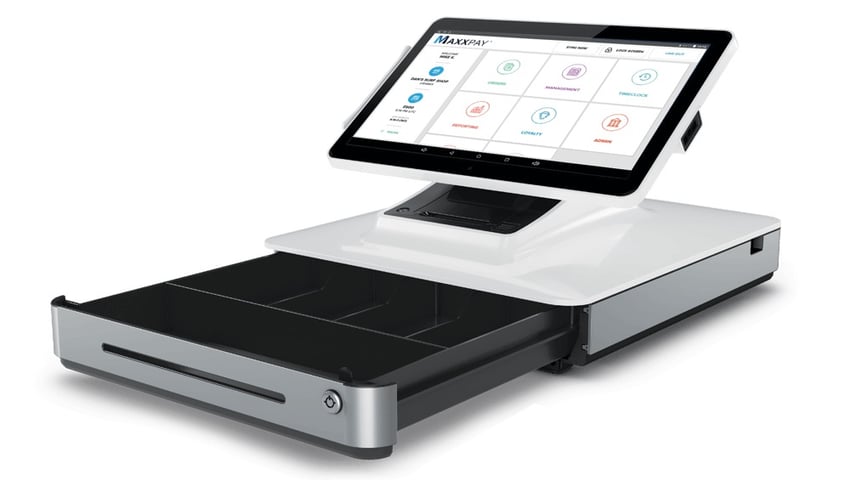 Top POS Terminal for Dentists
EMS provides reliable and user-friendly POS terminals for dentists.

With our credit card terminals, you may quickly and easily collect payments from customers.
For office dentists, we recommend our MaxxPay® Pro.
Benefits of the MaxxPay Pro include:
Quick Payments
MaxxPay Pro's lightning-fast transaction times are a major selling point. All major credit cards (swipe, chip, tap, and contactless) can be accepted.
High Functionality
Dentists know how difficult it can be to keep track of everything. This state-of-the-art POS system simplifies these processes.
Easy-to-use Interface
MaxxPay Pro comes with a printer and a 4.3-inch color display on an 8-inch touch screen. The cash drawer may hold up to four banknotes or coins, and it comes with a barcode scanner.
Cloud-based Back Office
With MaxxPay Pro's cloud-based reporting capabilities, you can access your data from any computer with an internet connection.
Merchant Services for Dentists
Merchant accounts for the dental industry come with a variety of services that can improve the way your office works and how you handle clients, as well as make it easier to accept credit cards from any provider and any location.

The main benefit is that online payments are fast, safe, and easy to track from beginning to end. However, there are other benefits that go beyond just accepting credit cards:
Recurring payments

—People who go to the dentist have different needs. Some patients only visit once a year. Others go regularly for treatments that last a few years. Payment processing is great for patients who visit often. All you have to do is set up when and how much the payment will be.

Email invoicing

—Think of it as a receipt without paper. Your clients will get a bill for your services once a month. It is simple and easy to understand. This will cut down on the number of calls people make to ask about their bill.

Get paid faster

—After getting paid by the patient, you can go right back to what you were doing. You will get a lot more done in much less time. Time is money, as the saying goes.
Choose the Best Credit Card Processing Solutions For Your Dental Office
To improve your dental office's payment processing and merchant services, reach out to Electronic Merchant Systems.

We provide services and payment options that streamline your dental office's operations. There's a lot on your plate as a dentist, and your tasks and days may seem endless.

That's why we aim to streamline your payment processes so you can focus on what really matters to your business.
EMS has the Skills and Experience to Serve You
For almost 30 years, Electronic Merchant Systems has been the leader in the payment processing industry. We are prepared to help you with your merchant services.
In addition, EMS has been a certified level 1 PCI provider for over ten years. Security is of the utmost priority.
24/7/365 Customer Support
When you work with EMS, you can get help from our knowledgeable and friendly customer service reps at any time.

Our customer service team is available 24 hours a day, seven days a week to answer any questions you may have.
Start Growing Your Dentist's Office Today

Electronic Merchant Systems can take care of all the merchant services needs of your Dental Office, such as:
Improving your cash flow
Providing the top payment processing tools and opportunities
Providing the best credit card rates
Gift & loyalty programs
Streamlining your business operations
If these Dental Office payment processing opportunities sound beneficial to your business, fill out the form below to request a consultation today.
Discover How EMS Can Benefit Your Dentist's Office

Would you like to learn more about how Electronic Merchant Systems could help streamline your payment processing? Fill out this short form to request more information today.