Meal Delivery Service Payment Processing & Merchant Service Solutions
Are you the owner of a Meal Delivery Service looking for excellent payment and credit card processing solutions or looking to open up a Merchant Account?
Electronic Merchant Systems provides businesses like yours with fast, integrated, yet simple merchant services.
Stop worrying about getting paid!
Invoice customers immediately
Create quotes or take payments on the spot with EMS Mobile
Take all forms of payment with EMS' powerful credit card processing solutions
Collect deposits before moving forward with work
Build powerful gift and loyalty programs to increase customer retention
Credit card processing should be simple for your business. Every transaction should be as smooth and safe as possible for every customer.
You need a solution that is tailored to your specific needs.
For over 30 years, Electronic Merchant Systems' ultimate goal has been to help local businesses like yours realize their full potential.
With over 1000 Google Customer Reviews, it's clear that we have been successfully accomplishing that goal.
Read on to find out why EMS is the perfect merchant services provider for meal delivery service.
Seamless Payment Processing To Keep You Cash Flow Positive
No matter what type of food you're delivering, you want your customers to pay you once the food has been delivered.
That requires being able to accept every payment type.

When EMS says they can accept all payment types, they truly can accept every payment type.
Mobile Payment Processing
Our terminals can scan conventional credit cards and accept tap-to-pay methods and chip cards.

Payment terminals from Electronic Merchant Systems will also support ePayment alternatives. This covers services like Google Wallet and Apple Pay. This allows meal delivery services to accept payments on the fly.

The last thing you want to do if you run a meal delivery service is rely on your client to write you a check.

This is avoided by EMS' wireless terminals, which process mobile payments after the task is finished.

One of the most advanced systems in the market is our own customized virtual terminal. If your customers feel more comfortable using the web to make payments, you can handle those types of payments online. It's one of the best strategies you can use to keep up with your competition.
Virtual Terminals and Email Invoicing
The EMS virtual terminal also makes it simple for you to invoice your clients. They can be contacted via email invoicing, and all aspects of their payment can be managed electronically.

Additionally, you will be able to "white label" our payment processing system. This indicates that clients will be able to pay you via a lovely, polished user interface that includes your meal delivery brand as a feature!

Make bill paying simple for your customers. Simply click the button below to begin.
Delight Your Meal Delivery Service Customers
Gift Cards and Loyalty Programs
EMS payment processing platforms also support gift cards and loyalty programs. You can accept gift card payments or provide your clients rewards for returning and continuously using your meal delivery services.

Meal delivery is a luxury many people want to take advantage of.

With our gift card and loyalty program feature, you can make sure they aren't ordering meals from anybody but you.
Elite Customer Service
Most payment processing businesses require you to open support requests or read their online how-to guides in order to resolve your issues. Never EMS!

You will always speak with a dedicated US-based customer support agent whether you call at noon or at midnight. You will be able to speak with a live person to quickly get your query answered.

And with EMS, you can anticipate receiving the same standard of customer service 24 hours a day, 7 days a week, and 365 days a year.
Choose the Best Merchant Services for Your Meal Delivery Service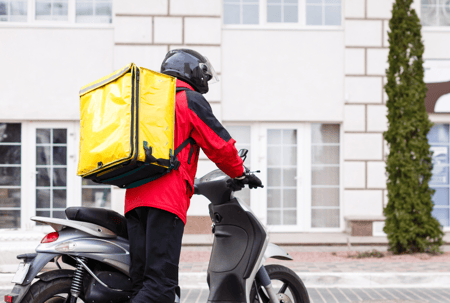 EMS' merchant services will help you outpace every other meal delivery business.
From online invoicing, convenient online payment options, to knowing our customer service team has your back, EMS has you covered.
And if you're worried about customer security? EMS has been a certified level 1 PCI provider for over ten years.
Contact EMS today to get started leveraging our cutting-edge payment processing platforms in your meal delivery service.
Our friendly and knowledgeable staff is happy to put our three decades worth of payment industry experience to work for you!
Fill out our short form below for a free consultation with our payment experts today.
Discover How EMS Can Benefit Your Meal Delivery Service
Would you like to learn more about how Electronic Merchant Systems could help streamline your payment processing?
Fill out this short form to request more information today.