Marina Credit Card Processing
Are you the owner of a Marina looking for the best payment and credit card processing solutions?
Electronic Merchant Systems offers fast, integrated, yet simple merchant services for the marina industry. If you think about it - more often than not, folks at the marina are there for leisure and enjoyment.
Whether it be a fun boat ride with friends or going out to see if the fish are biting, you want to be able to offer payment that is seamless and fast so it doesn't detract from your boaters.
Credit card processing shouldn't be complicated for your marina. You want to make every transaction as smooth and safe as possible for your customers. The problem is the many transactions that can happen at your marina.
You need a solution that is tailored to your specific needs in payment processing. This solution should be secure and easy for you and for your customers.
EMS offers marina owners exceptional pos systems, gift and loyalty cards, and even options to turn your mobile devices into credit card payment processing terminals.
For over 30 years, it has been Electronic Merchant Systems' ultimate goal to help local businesses just like yours realize their full potential.
With over 975 Google Customer Reviews, it's clear that we have been successfully accomplishing that goal.
Keep reading to discover why EMS is the perfect merchant services provider for your marina.
Your Unique Marina
Just like every boat is unique, every marina is unique. You may have a more recreational-style marina that caters to its guests in different ways.
You may have a restaurant and pool, or a snack bar and bait shop. Marina payments come in many forms.
Your slip rentals and dry storage could be your major source of income or just a part of your overall income strategy.
When you have a recreational focus with your marina, you have a hospitality focus toward your customers.
If you are a boatyard marina, your main sources of income will usually be through maintenance and boat repairs.
You may or may not have slips to rent and dry storage, but your main business is boat work and repair.
No matter if your marina is one of these or a mixture of both, it is unique and its payment processing needs are different. You want to make payments seamless with your service.
Too many marinas have lost customers because they don't want to add the convenience of common payment methods like debit and credit cards.
They are afraid of the costs, card payment processing fees, and the unknowns involved.
These marina owners need to understand the value of merchant services and how they can help their marina thrive.
How Electronic Merchant Systems Can Help Your Marina
When you have a unique marina with different types of income, you will need to make sure your payment processing is seamless. People don't carry as much cash as they used to and they want convenient ways to pay.
Being able to accept credit and debit cards is critical for positive customer interactions. Plastic truly is the preferred payment option.
Let's look at a few options we think would be fantastic to add to your marina.
POS Terminal
Your ability to take credit and debit cards is enhanced when you have a point-of-sale system designed for your marina.
EMS offers cutting-edge pos terminals that are incredibly effective, yet simple to use and don't take up much counter space.
Many transactions of a healthy marina take place at different locations. Someone can buy fuel at one location, bait at another, and drinks at another one. You want to make sure each location can take all payments.
For marinas without the bells and whistles, we'd recommend a card reader like the iCT220 Terminal.
However, if your marina does have a gift shop, restaurant, along with the traditional marina boating services, you may want to look into a more advanced payment option like MaxxPay.
MaxxPay helps marinas accept payments and manage your business, including:
Accepting debit and credit cards, including Visa, Mastercard, Discover, and American Express
Accept checks
Cash drawer
Item alert and quantity tracking
Huge 15.6 LED Display
3" high-speed printer
Sales reporting
Mobile Payment Processing
If you're looking to accept payments on the go, there is no better solution than EMSmobile. You can have staff accept payments directly at your customer's boats!
EMSmobile is completely compatible with iOS and Android devices and provides a Bluetooth card reader for your smartphone.
With this exclusive payment platform, you can:
Dip, tap, or swipe credit cards.
Create itemized or simple transactions.
Accept tips and manage cash payments.
Track and control inventory.
With EMSmobile, you can even send email invoices, store credit cards, and set up recurring billing thanks to our virtual terminal technology.
Gift and Loyalty
Gift cards and loyalty programs are a great way for marinas to keep boaters delighted and keep them coming back.
EMS' in-house creative team will help design your gift cards and assist with the creation of any loyalty program you'd like to establish.
This helps you reward your regular customers and keeps them loyal to your marina. They will feel like you are giving back to them so they are more likely to stay with you.
Choose the Best Merchant Services for Your Marina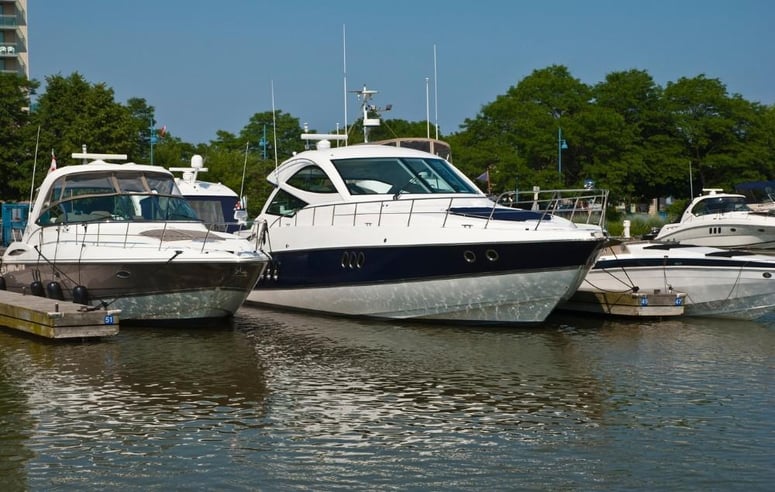 Your marina functions differently from any other marina out there. You need more than just someone to process a credit card. You need a total financial solution that is focused on your business as a whole.
That is where EMS comes in. Here at Electronic Merchant Systems, we offer:
The top payment processing tools and opportunities
Cash flow improvement
Mobile payment options
Email invoicing & credit card storage
Streamlining your business operations
Providing the best credit card rates
Not to mention Electronic Merchant Systems boasts 24/7/365 customer service, so if you ever have an issue or need help you are guaranteed to speak with a real person who can solve your dilemma.
Worried about customer security? EMS has been a certified level 1 PCI provider for over ten years.
The best time to start streamlining your marina credit card processing and giving your customers the best payment experience possible is now.
Fill out our short form below for a free consultation with our payment experts today.
Discover How EMS Can Benefit Your Marina
Would you like to learn more about how Electronic Merchant Systems could help streamline your payment processing? Fill out this short form to request more information today.