Home Health Care Credit Card Processing & Merchant Services
Build Patient Trust with Safe & Secure Merchant Services
The healthcare industry is expanding rapidly, and the demand for in-home healthcare services is on the rise. With this increased industry competition, local home healthcare providers require reliable and secure credit card processing to stay competitive and effective.
EMS has found a simple, straightforward payment acceptance solution that works for our in-home health care providers.
Our user-friendly, 100% mobile credit card readers help reduce late payments, make funds available sooner, and eliminate the hassle of manual deposits.
Electronic Merchant Systems is the top-choice provider of safe and secure merchant services and payment processing for many home healthcare businesses.
With over 30 years in the industry, our team understands how to customize payment processing to suit your business's needs.
As a Level 1 PCI Compliant Service Provider, EMS guarantees safety and security for your business finances.
All of our services are up to the Payment Card Industry Data Security Standard, so your and your patients' financial information stays safe and secure.
Opportunities for Home Healthcare Services
The home healthcare industry in the United States plays a crucial role in maintaining quality community healthcare.
It's an $84 billion industry that aims to deliver in-home care, especially to those with disabilities and aging members of society.
Gaining the trust and satisfaction of patients is crucial to the success of any home healthcare provider or agency, and a large part of earning the trust of your patients is providing a secure home healthcare payment processing solution.
Like other healthcare institutions, it is essential for you to provide your patients with an easy way to settle their payments. This is especially true if you only have a small team to cater to all your patients' needs.
EMS can help you build trust with your patients and reduce the time you spend handling finances with our full suite of safe and secure payment processing solutions, including:
Credit card processing
Check processing
EMS Mobile payments
AutoPay and more
You can also build trust with your patients by partnering with a compliant payment processing company that also allows you to accept Health Savings Account (HSA) and Flexible Spending Account (FSA) cards.
Last but not least, EMS' affordable fees make it possible for you to pay as close to wholesale as possible.
Because home healthcare businesses are considered low-risk merchants, you can secure an industry-leading rate for your home healthcare credit card processing fees – enabling your business to be more cost-effective in the long run.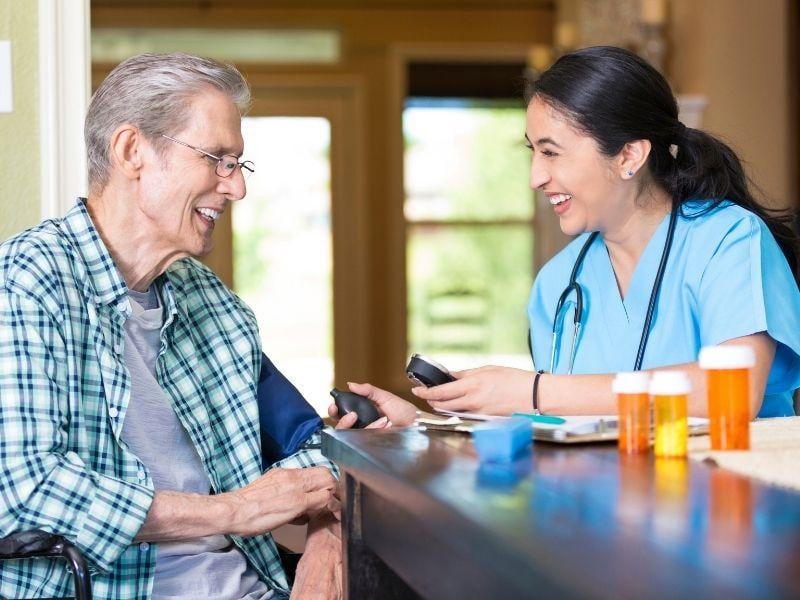 Why EMS
EMS is here to help you grow.
Point of Sale Systems
Process all forms of payment, easily manage inventory, run essential reports in minutes, and more.
Gift & Loyalty Cards
Attract new customers with a gift card and use your loyalty program to keep them coming back for more.
Modern Wireless Terminals
Accept all payment types, including EMV chip cards and contactless options such as Apple Pay and Google Pay.
Why Should At-Home Health Care Choose EMS?
Reliable Merchant Services for At-Home Care Providers
If you're a home healthcare provider looking for a payment processing solution that is reliable, easy-to-use, secure, and most importantly, cost-effective, try out payment processing with EMS today.
With our quick and easy setup process, you can begin accepting payments the same day.
In fact, if you already have a credit card reader, we'll check to see if our software is compatible, and you may even be able to keep the card reader you have.
Don't struggle with complex payment processing any longer. Start streamlining your finances while building patient trust with EMS' advanced home healthcare payment processing systems.
We Safeguard Personal Information
Rest assured that every card transaction is in safe hands. For over ten years, we have upheld the Level 1 PCI Certified Service Provider.
Moreover, the Payment Card Industry Data Security Standard has certified our payment processing for coffee shops as being safe and secure.
Best Merchant Service for Home Healthcare Providers
In the home healthcare sector, quality service is essential to everything you do. At EMS, we feel the same, and we're here to handle every aspect of your home healthcare payment processing, so you can focus on the people in front of you.
Let us help your business thrive by building patient trust and delivering the highest quality service possible to your patients.
Fill out the form below to start accepting payments for your at-home healthcare business now.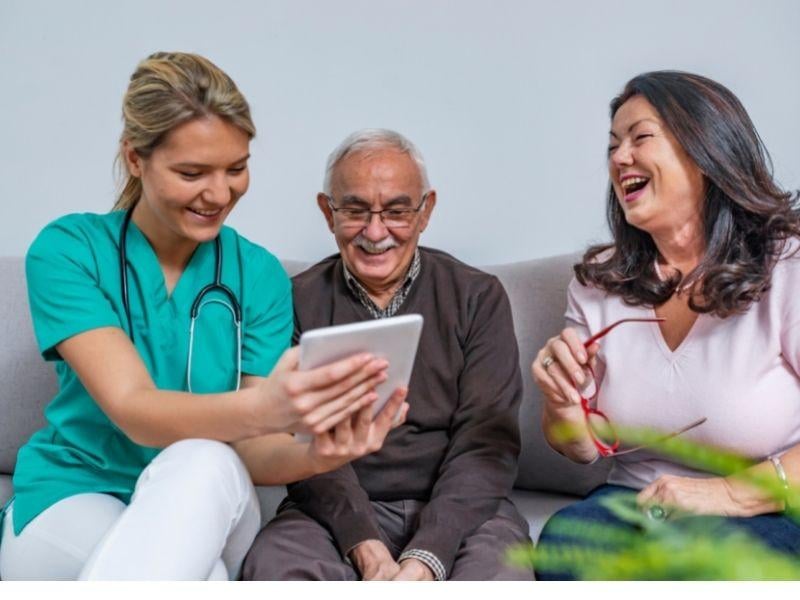 Find Out How Much You Could Save
Would you like to know exactly how much your Home Health Care Business could save with Electronic Merchant Systems? We're anxious to find out, too! And we can do so with a free, no-obligation rate review.
All we'll need from you is a copy of your most recent credit card processing statement and a few minor business details. Fill out the short form here to get started!
975+ Google Reviews | 4.7-Star Rating
Here's What Our Customers Say:

"EMS has been a pleasure to work with. Always providing great customer service. Our representative is always available to assist and as a small business we appreciate that."
AME Loyal Inc

"I have had great service from EMS. I recently had a hardware issue that they were excellent to deal with and immediately got my issue resolved."
Brian P.

"Tech support has always been available and takes care of a problem in one call. Had the system for many years now and only called for help 4 to 5 times. Great system and support."
Brita L.