Looking for credit card and payment processing company to service your Cleveland area business?
With local merchant services in and around Cleveland, Electronic Merchant Systems offers trouble-free integrated payment processing solutions, such as credit card machines, to the greater Cleveland area. Conveniently located near the Perimeter, our service-focused team is ready to help you thrive in the continually evolving payment processing landscape.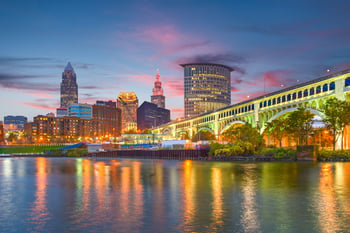 Why Do Business With EMS?
SECURE. LONG-STANDING. RECOGNIZED. COST-EFFECTIVE. RELIABLE. REPUTABLE.
For over 10 years EMS has been a certified level 1 PCI provider. We are a payment processing powerhouse that has been in business for 30 years, and our pedigree sets us apart from other Cleveland merchant service providers:
Retail CIO Magazine has ranked us at a CIO Top 10 Retail Mobility Solutions Provider. We provide your business with low wholesale processing rates.
The Better Business Bureau gave us an A+ rating for our outstanding customer service.
We also hold a 4.7 star Google review rating!!
Since 1988 our company has been helping small to mid-size business owners realize their full potential.
We are local to the Cleveland area with our Headquarters in Northeast Ohio and sales offices in over 100 U.S. cities, and with this national reach, we are able to provide our merchants with a dedicated US-based live support team by phone, email, and live chat.
Our innovative suite of business solutions, high level of quality service, and professional, dedicated employees increase the financial well-being of our clients, and our employees and clients receive the same concern, respect, and caring attitude.
EMS offers local Cleveland merchant services that go beyond the payment processing and stay competitive with the Big-box stores by providing them with programs and services such as Web Hosting & Design, Gift & Loyalty, Advanced Merchant Funding, and more, including:
What Are Your Processing Needs?
Virtual Terminal

Hardware Terminal

Maxxpay POS

EMS Mobile

Gift & Loyalty Cards

Merchant Cash Advance

Checking Processing

Ecommerce Solutions
If these topics are all on your to-do list to advances your business then it is time to talk with our friendly sales team at EMS.
Cleveland's Payment Processing Provider

Cleveland is a city that is evolving into a great business opportunity, with new residents and businesses being drawn to city life and living in Cleveland. With thriving sporting teams, museums and universities there is so much opportunity to start a business or expand your business to the greater Cleveland area.
Getting started and finding the right business to work with can be challenging but with EMS right here in your backyard, your business will be up as processing sales in no time.
Let's meet locally in Cleveland to plan the best merchant services and payment processing solutions for your company's process and growth concerns.
We look forward to working with fellow Clevelanders! Click here to Request a Quote.