Locations
Local Merchant Services in Cleveland
Searching for a credit card and payment processing company to service your Cleveland area business?
Looking for credit card and payment processing company to service your Cleveland area business?
With local merchant services in and around Cleveland, Electronic Merchant Systems offers trouble-free integrated payment processing solutions, such as credit card machines, to the greater Cleveland area. Conveniently located near the Perimeter, our service-focused team is ready to help you thrive in the continually evolving payment processing landscape.
Why Do Business With EMS?
SECURE. LONG-STANDING. RECOGNIZED. COST-EFFECTIVE. RELIABLE. REPUTABLE.
For over 10 years EMS has been a certified level 1 PCI provider. We are a payment processing powerhouse that has been in business for 30 years, and our pedigree sets us apart from other Cleveland merchant service providers:
Retail CIO Magazine has ranked us at a CIO Top 10 Retail Mobility Solutions Provider. We provide your business with low wholesale processing rates.
The Better Business Bureau gave us an A+ rating for our outstanding customer service.
We also hold a 4.7 star Google review rating!!
Since 1988 our company has been helping small to mid-size business owners realize their full potential.
We are local to the Cleveland area with our Headquarters in Northeast Ohio and sales offices in over 100 U.S. cities, and with this national reach, we are able to provide our merchants with a dedicated US-based live support team by phone, email, and live chat.
Our innovative suite of business solutions, high level of quality service, and professional, dedicated employees increase the financial well-being of our clients, and our employees and clients receive the same concern, respect, and caring attitude.
EMS offers local Cleveland merchant services that go beyond the payment processing and stay competitive with the Big-box stores by providing them with programs and services such as Web Hosting & Design, Gift & Loyalty, Advanced Merchant Funding, and more, including:
What Are Your Processing Needs?
Virtual Terminal
Hardware Terminal
Maxxpay POS
EMS Mobile
Gift & Loyalty Cards
Merchant Cash Advance
Checking Processing
Ecommerce Solutions
If these topics are all on your to-do list to advances your business then it is time to talk with our friendly sales team at EMS.
Cleveland's Payment Processing Provider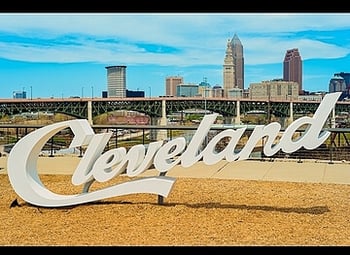 Cleveland is a city that is evolving into a great business opportunity, with new residents and businesses being drawn to city life and living in Cleveland. With thriving sporting teams, museums and universities there is so much opportunity to start a business or expand your business to the greater Cleveland area.
Getting started and finding the right business to work with can be challenging but with EMS right here in your backyard, your business will be up as processing sales in no time.
Let's meet locally in Cleveland to plan the best merchant services and payment processing solutions for your company's process and growth concerns.
We look forward to working with fellow Clevelanders! Click here to Request a Quote.
Credit Card Processing in Cleveland and Beyond
Headquartered in Cleveland, Ohio since 1988, Electronic Merchant Systems has grown to become one of the largest privately held electronic payment processing companies in America. Today, our local Cleveland merchant services team remains dedicated to the exact same principle of 24/7/365 client support that we were founded on nearly three decades ago. Experience true customer service – talk to a representative about a merchant account with EMS today. We are proud to offer premier merchant services to our Cleveland accounts as we lead companies through the ever-changing payment processing landscape.
Merchant Account Services at a Glance
All Major Cards Accepted
Debit & Credit Card Processing
Improved Cash Flow
EMV & Apple Pay
EMV Chip Card Certified
Accepts Credit & Debit Cards
Android Pay Compatible
Handles Gift & Loyalty Cards
Turns a Smart Device into a Credit Card POS
iOS Supported App
Android Supported App
Customized Card Production
Generate New Customers
Retain Existing Customers
In-House Creative Team
E-Commerce Solutions
Responsive Web Design
Reliable Hosting
Reviews
Michelle L. | ★★★★★
"I have throughly enjoyed the ease of this service! The personable staff is there to help with everything! Amy M. has went over and above to help me personally with anything I have needed!"
Looking for Additional Support?
Our support is trained to handle questions, overcome challenges, and educate our merchants on payment acceptance. You can be assured that your questions will be answered promptly and efficiently by one of our customer service professionals.
Serve Accounts on Our Cleveland Merchant Services Team
Searching for a rewarding career with one of the largest privately held companies in the merchant services industry? Electronic Merchant Systems is always looking to add to our incredibly talent team of professionals – simply click the link below to find out how you can join our Cleveland merchant services team today.
EMS Career Opportunities
Call or Visit EMS Today!
Our Cleveland Location:
Monday – Sunday open 24 hours
Request A Quote From EMS!
Ready to take your business to the next level? Our expert merchant services team in Cleveland is ready to help your business with opening a merchant account and effective, advanced technology payment processing systems.
Fill out the form below to receive an integrated payment processing quote! *One of our sales representatives will reach out to you within 24 hours.*
Prefer chatting on the phone? Give us a call at 216-710-6995.