Searching for a comprehensive point-of-sale system for simple, total management of your Charlotte restaurant?
Are you the owner of a restaurant in the Charlotte, NC area and are looking for an all-in-one, reliable POS system?
Reach out to Electronic Merchant Systems (EMS) today for the total solution: the Total Touch POS system.
Since 1988, EMS has been in the merchant services industry, providing merchants with innovative and reliable payment processing solutions and other merchant products and services. That's over 30 years of merchant service experience!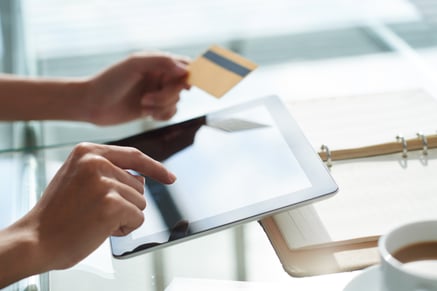 In our tenure, we have grown to become the largest privately owned and operated credit card processing company in North America, and are on track to meet our goal of becoming the #1 merchant services provider in the country.
EMS has built a strong, local presence with 11 regional locations scattered across the United States (including our Cleveland, Ohio headquarters).
With innovative, unparalleled merchant services and products available, 24/7/365 support, and more- it's no wonder why more small business owners are choosing to work with EMS!
For our merchant account holders who run restaurants, we have the Total Touch- an innovative, comprehensive POS system that allows you to manage the entire restaurant (FOH, BOH, employee schedules, inventory, and more) through one device.
Continue reading to learn more about how the Total Touch can streamline your Charlotte-area restaurant!
Comprehensive point-of-sale System
The Total Touch can easily be implemented into a number of different restaurant concepts, including fine dining, fast-casual, fast food, food delivery service style, bars, and more.
Guest satisfaction and experience are important for restaurants, and there isn't any way to achieve a high level of either with a clunky, slow, and unreliable POS system.
The total solution for fast payment processing and easy input of orders is the Total Touch POS system.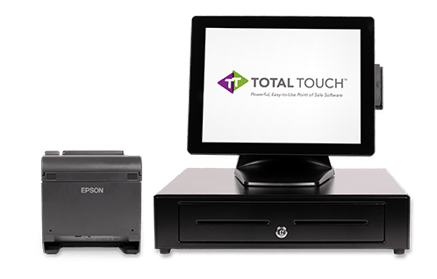 This all-in-one point-of-sale system has an easy-to-navigate interface, accepts all major credit and debit cards (as well as other forms of card payments), allows for direct import of online/mobile orders, and total management of employees, inventory, and more!
The direct import of online and mobile orders allows for valuable time to be saved and avoids human error.
You can also implement gift and loyalty cards into your restaurant and swipe those on the Total Touch as well. Both loyalty programs and gift cards increase your customer base and help with retaining existing customers and attract new visitors!
This point-of-sale system isn't just the total solution for servers! As the owner, the Total Touch gives you the ability to manage timekeeping records, inventory, employee schedules, front-of-house, back-of-house, and more through ONE device!
Contact EMS now for an authorized dealer to come to your restaurant for simple integration and hands-on training!
The choice for a comprehensive point-of-sale system for simple, total management of your Charlotte restaurant is easy- Total Touch.
Merchant Processing Solutions
The payment processing solutions available at EMS are all certified as PCI DSS secure and are 100% safeguarded with the most advanced technology software.
For you as a restaurant owner, the Total Touch POS system is perfect for allowing your customers the convenience of paying their preferred way! Total Touch accepts all major credit cards, debit cards, EMV-chip cards, near-field communications payments, and more!
With all those payment transactions swiped, dipped, or waved every day, you (and your customers) will be able to rest assured that sensitive personal and card information is 100% secure.
EMS has been certified as a Level 1 PCI Service Provider for the past ten years.
As a company, we are committed to maintaining our high level certifications and dedicated to providing the safest, most secure software and payment processing systems for our merchant account holders.
Electronic Merchant Systems: We offer more than just Payment Processing Solutions
We have worked with restaurants owners many times over in our 30+ years of merchant services experience, so at EMS, we understand that having a reliable and secure POS system is integral to the daily successes and overall success of the restaurant; however, a point-of-sale system is not the only merchant product we offer for our restaurant owner clients!
EMS offers a wide variety of merchant services and products:
Website development and design
Upfront business funding
Mobile POS system options
Gift and loyalty cards
Retail sales
Payment processing solutions
and more!
Explore all of the products and services we offer at EMS that allow for your restaurant to grow and succeed for years and years to come!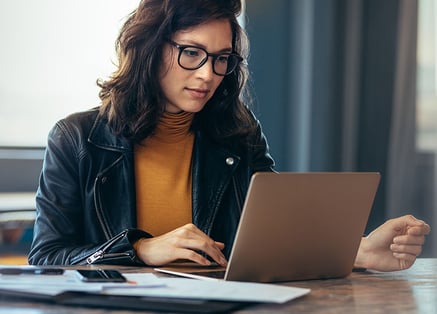 In addition to our offers above, our merchant account holders also have full access to our dedicated 24/7 customer support team. Merchant support is available around-the-clock (24 hours a day, 7 days a week, 365 days a year) through phone, chat, or email.
The entire team at EMS is dedicated to working with you to streamline your payment processing system, grow your customer base, get your brand out there, and grow your business as a whole.
With our help, you and your team are able to focus more on your number one priority: the customers.
Invest in the total solution for total management, streamlined payment processing and more- invest in Total Touch.
Get all your merchant services from Electronic Merchant Systems!
For total management of the front-of-house, back-of-house, inventory, schedules, and more- choose to implement the Total Touch POS system into your local Charlotte restaurant!
You will be able to run every shift with ease with this all-in-one point-of-sale terminal.
Reach out to Electronic Merchant Systems today for the Total Touch!
Give EMS a call, a visit, or click on the banner below for more information and a consultation on the Total Touch.

About Electronic Merchant Systems
Electronic Merchant Systems started in 1988, which is more than 30+ years in the merchant services industry.
Our dedicated team provides a wide variety of merchant services and products, such as customer loyalty programs, gift cards, secure payment processing solutions, upfront business funding, website design and development, payment gateways, and more!
For the success of your Charlotte restaurant, it is important to get the best merchant services and safeguarded products from EMS! We provide the most secure and safeguarded payment processing systems, with PCI DSS secure certifications- and EMS is a Level 1 PCI Service Provider.
As a merchant account holder, you will also have access to our 24/7 customer support.
If you are ready to outfit your restaurant with merchant products and services, open your merchant account with Electronic Merchant Systems now! Click the button below to get started.
What Services and Products Electronic Merchant Systems Offers
Payment processing solutions
Acceptance of major credit cards and debit cards
Expedited cash flow
MaxxPay® point-of-sale systems: Mini, Pro, and Premier
Website development and design services
EMS in-house development and design team
Mobile-friendly and responsive site
Responsible web hosting that is secure
Retail sales
Accepted credit, debit, EMV-chip, loyalty, and gift cards
Compatible with Android Pay and Apple Pay
EMS mobile payments
Use your smartphone as a handheld point-of-sale system
Android- and iOS-supported apps
Bizfunds
Funding amounts from $5,000 to $250,000
Working Capital Advances
A fixed (small) percentage will be taken out from the daily card sales until total funding amount is repaid
Gift and loyalty cards
Gift and loyalty card faces are completely customizable to your brand and business
Generate new customers to come in
Retain existing customers for repeat business
Unparalleled 24/7 Customer Support
Electronic Merchant Systems offers around-the-clock customer support and services to every merchant account holder.
We understand that when you are getting new products and services implemented into your small business, there could be some hiccups or learning curves along the way. For those minor inconveniences and more, EMS has a standby 24/7 dedicated support team.
We also understand the frustrations of calling into support and ending up on a call with someone halfway across the world with no real stake in your company. This is why our support team is based within the United States- and our support staff is dedicated to seeing you and your business succeed with our products and services.
24 hours a day, 7 days a week, 365 days a year- no matter if you need assistance at 2 in the afternoon or 2 in the morning, an EMS support team member will be there to answer your call, chat, or email!
If you are looking for help now, click the headset for a phone call or the envelope to send an email!


Join Electronic Merchant Systems, a Leader in Merchant Services
Searching for your chance to get involved in the merchant services industry?
If you are a bright and talented individual, EMS wants to hear from you! Our team is always looking for the best and brightest to join us!
Find out more about the open positions at Electronic Merchant Systems by clicking the button below to view and apply. We look forward to meeting you!
Best of luck with the job application process!
The Closest EMS Office to Charlotte, NC
Our Wilmington Location
Address: 2520 Independence Blvd #200, Wilmington, NC 28412

Phone: (910) 769-8188

Hours:

Monday: 8:30AM-5PM

Tuesday: 8:30AM-5PM

Wednesday: 8:30AM-5PM

Thursday: 8:30AM-5PM

Friday: 8:30AM-5PM

Saturday: Closed

Sunday: Closed