Searching for a comprehensive and easy-to-use POS system that will improve the profitability and guest experiences for your Augusta restaurant?
Do you own a restaurant in Augusta, Georgia and are currently in the market for a comprehensive and secure point-of-sale system to help manage your business?
If so, you are in luck and should contact Electronic Merchant Systems (EMS) as soon as possible for the total solution: the Total Touch POS system.
EMS started in the merchant services industry in 1988, and has since grown to become the largest privately owned and operated credit card processing company in all of North America. It is our goal to become the #1 merchant services provider overall in the country- and we are well on our way of achieving that goal!
For over 30 years, we have continued to build a strong local presence within the communities of our merchant account holders with 11 regional office locations scattered across the United States, including our headquarters location in Cleveland, Ohio.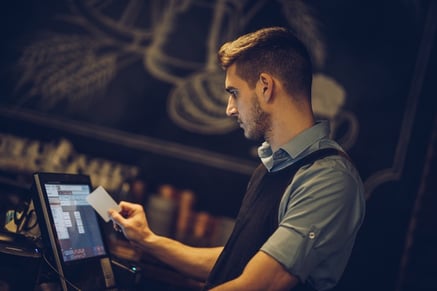 We have tirelessly worked hard to provide the best, state-of-the-art payment processing solutions with the most advanced (and safeguarded) technology software for our clients, as well as a plethora of other merchant services and products for the success and growth of small businesses all over the country.
In addition to our products and services, EMS also gives merchant account holders full access to a 24/7 client support team- available through email, chat, and phone 24 hours a day, 7 days a week, 365 days a year.
Specifically for our merchants who run restaurants, we offer the total solution for complete and total (easy) management, the Total Touch- a POS system we recently acquired.
Total Touch is an all-in-one POS system that allows for complete management of the restaurant. It's the perfect device to help streamline your business.
Keep on reading to discover more about Total Touch and how you can streamline your Augusta-area restaurant with one POS device!
Comprehensive point-of-sale System
Whether you run a fast-casual, fine dining, tavern, or a pizza delivery restaurant, the Total Touch POS system is the perfect tool to use to streamline the management of your business.
For restaurants, a number one priority is guest experience.
How are you able to give your guests a positive experience at your restaurant if you are using an out-dated, clunky, slow POS system that is unreliable and *maybe* safe?
The answer: you can't.
The solution?
Total Touch.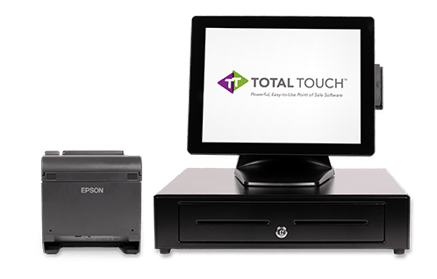 The Total Touch point-of-sale system has an easy-to-use interface that is extremely simple to navigate, which helps servers focus less on inputting orders and more time taking care of their guests to the best of their abilities.
You also have the opportunity to integrate customizable gift and loyalty cards to be accepted by this all-in-one system. Gift and loyalty cards are great ways to incentivize new guests to visit and retain existing customers (and build a regular clientele base).
There is also the neat, time-saving feature of directly importing mobile and online orders into the POS system. This feature is excellent because it helps to avoid human error mistakes and cuts down on time inputting online orders to send to the kitchen. Customers will place their online (or mobile) orders on a custom-branded site- and the option to place orders via the web increases customer convenience, overall daily sales, and guest experience and satisfaction.
The Total Touch is a completely comprehensive POS system that allows restaurant owners, like yourself, to manage every aspect of the business from one device. You can manage timekeeping, front-of-house, back-of-house, employee schedules, inventory, and more!
Our local team of authorized Total Touch dealers will help make the POS transition easy with hands-on training!
For complete, streamlined management of your restaurant within one device, it's simple: choose Total Touch.
Merchant Payment Processing Solutions
At EMS, we pride ourselves on offering payment processing solutions that are 100% safeguarded and certified by the Payment Card Industry Data Security Standard (PCI DSS) as secure.
The payment processing solutions we offer, including the Total Touch, accept the following payment forms: all major credit and debit cards, EMV-chip cards, near-field communication (NFC) payment options, custom gift and loyalty cards, cash, and more. You (and your customers) will be able to rest assured that sensitive personal information will be 100% secure with our advanced safeguarded technology software.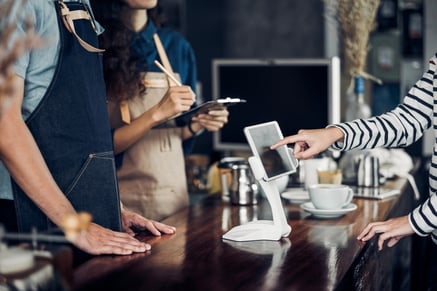 Furthermore, Electronic Merchant Systems has been deemed by the PCI DSS as a Level 1 PCI Service Provider, which is the highest level awarded to secure merchant service provider companies. We have been a level 1 company for the past ten consecutive years.
We plan to maintain these premier certifications by the PCI DSS by continuing to provide the highest and best quality software and payment products for our loyal merchant account holders.
Electronic Merchant Systems: We are more than just Payment Processing Solutions!
Having a payment processing system that is reliable, comprehensive, and secure but tat is not the only tool essential for the success of your local restaurant. At EMS, we offer all the merchant services and products restaurant owners need in order to generate more customers and smoothly run their business.
The merchant products and services EMS offers:
Payment processing solutions

Business funding

Retail sales

Gift and loyalty cards

Payment gateways

Website development and design

Mobile payment processing solutions

and more!
Once you open a merchant account with Electronic Merchant Systems, you will have full, unlimited access to our services and products.
We also have an around-the-clock dedicated client support team available through call, email, or chat- at your service and prepared to answer any questions and assist you through any challenges you may face.
Our entire team at EMS is dedicated to helping the small business owners in Augusta get secure, streamlined POS systems along with any other merchant services and products they need to help grow their business.
With a streamlined POS system like the Total Touch (and more products and services from EMS), you and your restaurant staff can get back to focusing more on what truly matters: your customers.
Choose to implement the Total Touch POS system, which is the total solution you need for your Augusta restaurant.
Get all your merchant services from EMS!
Ready to get a Total Touch implemented into your Augusta restaurant? Contact EMS today!
Allow yourself and your staff to go through a dinner rush with ease and confidence, and streamline the management of your restaurant via one device.
Open a merchant account with Electronic Merchant Systems today!
Come visit our nearest regional office, give us a call, or click the banner below for a consultation and more information on the Total Touch POS system now

About Electronic Merchant Systems
Electronic Merchant Systems started in 1988- that's over 30 years of experience in the merchant services industry!
For the restaurant owners in Augusta, GA, we offer a wide variety of merchant services and products to help upgrade and grow businesses.
Whether you are looking for website development and design services, secure payment processing solutions, gift and loyalty cards, mobile point-of-sale systems, or something else, EMS is here to help!
All the payment processing solutions we provide are PCI DSS secure certified and 100% safeguarded.
You will also have access to our 24/7/365 U.S.-based client support team.
Ready to start working with EMS? Click on the button below to open a merchant account with Electronic Merchant Systems today!
What Products and Services EMS Offers
Retail sales
All major credit and debit cards, EMV-chip cards, NFC payments, gift and loyalty cards accepted
Android Pay and Apple Pay are compatible
Website development and design services
In-house creative team
Site design that is mobile-friendly and responsive
Web hosting that is secure and responsible
Payment processing solutions
All major credit and debit cards accepted
Expedited, improved cash flow
MaxxPay® Mini, MaxxPay® Pro, and MaxxPay® Premier
EMS mobile payments
Turn your smartphone into a handheld POS device
Android- and iOS-supported applications
Gift and loyalty cards
Customizable gift and loyalty card faces
Generate new customers to your business
Retain existing customers and create regulars
Bizfunds
Funding available from $5,000 to $250,000 (courtesy of Working Capital Advances)
A small, fixed percentage of daily credit and debit card sales will go to EMS until funding is fully repaid
24/7/365 Support
In the midst of changing to a new POS system, support for any questions and challenges that come up is always welcome.
At EMS, we understand that having a dedicated support team for technical troubles is ideal- which is why we offer unparalleled 24/7 support!
Our merchant support team is available via phone, chat, or email- and when we say 24/7, we really mean 24/7. Twenty-four hours a day, seven days a week, 365 days a year. Whenever you need support, one of our members of our U.S.-based customer service team will be there to answer all of your questions.
As a merchant account holder at Electronic Merchant Systems, you have full access to our around-the-clock support team- no matter if it 2PM or 2AM, your call/email/chat will be answered!
Looking for help now? Click the headset for phone support or the envelope for email support!


Join Electronic Merchant Systems, a Leader in Augusta Merchant Services
Are you looking for your start in the merchant services industry?
If you are a bright, talented, and hardworking individual looking for a start in a merchant services company, EMS wants to hear from you!
We are always looking for qualified individuals to join our team in Atlanta!
If you are interested in working for Electronic Merchant Systems, click the button below to view our open positions!
EMS' Nearest Location to Augusta, GA
Our Atlanta Location
Address: 1505, 5775 Peachtree Dunwoody Rd Ste d160, Atlanta, GA 30342

Phone: (770) 250-2060

Hours:

Monday: 8AM-5PM

Tuesday: 8AM-5PM

Wednesday: 8AM-5PM

Thursday: 8AM-5PM

Friday: 8AM-5PM

Saturday: Closed

Sunday: Closed