Picking the Best POS System for Your Company
Choosing the right POS System for your company is a lot like dating.
You, the business owner or manager, are the young, attractive romantic interest. There are hundreds of POS vendors out there competing for your attention.

A quality POS system can make life a lot easier, but with so many options out there, how do you choose?

As a business owner or manager, you have all the power. All it takes is a little research and maybe a few phone calls, or a trial run.

Soon you'll be settling into a POS partnership that just feels right.

Picking the best point of sale system for your small businesses, retail store, or restaurant starts with knowing what to look for.

So, what's your type?
What type of POS system is right for my business?
There are three basic types of POS systems used by businesses today: Checkout Counter POS, Retail POS, and Mobile POS. Each point of sale type is suited for a particular way of doing business.

1. Checkout Counter POS System
Traditional street-side businesses typically use countertop POS terminals, also called credit card processors.

These are the calculator-looking terminals we're used to seeing at checkout.

Countertop terminals are placed on or just behind the checkout counter for a breezy checkout experience.


Countertop terminals are stationary and connect to a network via a dial-up connection or LAN line.

These systems offer a minimalist approach to credit card processing and are typically the most economical option.

Customers complete their transaction by swiping or inserting their card.
Applications can be downloaded onto countertop terminals to provide merchants with additional, but limited, features.

Businesses that do a fair amount of cash transactions and aren't looking for bells or whistles in their system are usually quite happy with a basic countertop terminal.

2. Retail POS System
We might say that the previous system, the countertop POS terminal, is the 'comfortable' choice.

You know the type. It might be the guy from the gym you see everyday or an old high school sweetheart.

Sure, they have a lot to offer. But you're looking for something more exciting. Enter the retail POS system.

If the countertop POS terminal is the safe, dependable match, a retail POS terminal is more, well, dazzling.

Retail POS systems come with specialized software and enhanced digital solutions downloaded on a tablet or iPad. These POS systems typically connect via a gateway.

Some of the features available with retail POS systems include: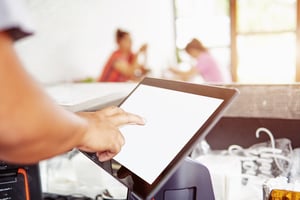 inventory tracking
accounting capabilities
data and analytics records
employee management
customer and sales information gathering

Retail POS systems are ideal for high traffic stores looking to maximize POS potential. Restaurants or businesses with paid admission can especially benefit from retail POS features.

All aspects of a company - from sales to marketing and even customer service - will benefit from a retail POS system. If that's what you're into.



3. Mobile POS Reader
Mobile POS readers bring something new to the table. With mobile POS readers, a mobile device can quickly become a safe and secure credit card reader.

A mobile POS reader is a device that attaches to a merchant's mobile phone to enable card swiping or chip insertion capabilities.
The card reading device may connect directly to the merchant's phone or it may have a wireless connection.

A mobile POS reader is an excellent option for merchants on the move. Businesses that make appearances at farmer's markets or utilize food trucks can keep up with transactions hassle-free.


Mobile POS hardware can be used on its own or in conjunction with retail POS systems.

Many merchants find a perfect POS match by using mobile POS in combination with retail or countertop systems.

Data from mobile transactions are synced between the mobile reader and central POS system to create a seamless flow of information between multiple sales locations.


Mobile POS readers can be an asset to a store's primary location as well.

With a mobile POS reader, a company can create additional checkout lines during their busy season.

If you are looking for simplicity without sacrificing certain software potential, a mobile POS system might be your perfect match.

Mobile POS is also an excellent backup option to have around in case your primary system is down. Just keep the backup relationships to the POS world.
What features am I looking for in my point of sale software?
Hopefully, you now have a better idea of what you're looking for in a POS system. Once you decide on the right POS for your business, you can start thinking about specifics.

Features like Apple Pay, Samsung Pay, and Paypal can be a deal maker or breaker for some merchants. Gift cards and loyalty programs may also make your list of non-negotiables.

1. Mobile payment options like Apple Pay, Samsung Pay, and Paypal are popular with customers because they are so easy to use.

With mobile payment, customers can make secure purchases in stores, in apps, and online without the hassle of remembering cash or a card.

Digital wallet services like Apple Pay, Samsung Pay, and Paypal work like wave payment transactions.

With Samsung Pay, customers swipe up to launch the app then secure their payment with a fingerprint.

To complete the transactions, customers simply hover the device over the card reader.

With Apple Pay, customers have the added convenience of completing transactions using their Apple watch.
It's important to know your customers and their preferred payment methods. Some merchants will greatly benefit from convenience pay options. Other merchants won't need to fuss with it.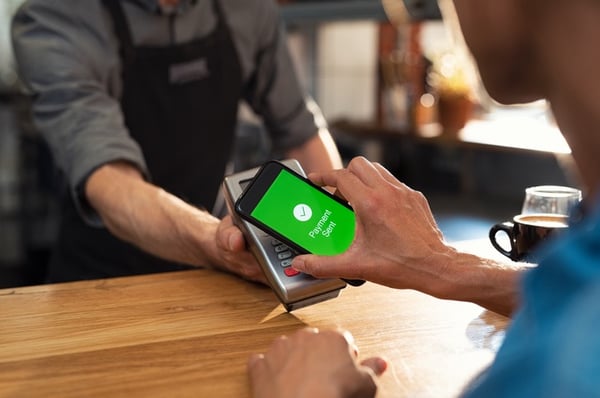 2. Loyalty Programs might also make your list of must-haves for your business. With a good loyalty program, first-time customers can become your dependable regulars.

Mobile rewards make loyalty programs even better. A good mobile rewards program will help companies engage with their customers through an app, SMS text messaging, and email all in one.

Meaningful engagement through mobile rewards will build and maintain customer relationships.

Mobile loyalty programs allow companies to offer their customers convenience rewards. This might include priority scheduling or shortcuts in line. Perks like these bring people through the door get them excited about coming back.

Mobile rewards are an excellent option for replacing physical punch cards, as well. Punch cards are often lost, forgotten, or customers accumulate them like frantic baseball card collectors.

To help customers feel more valued than frustrated by your loyalty program, you may want to consider adding mobile rewards to your software suite.

Mobile rewards often include social media engagement and SMS text messaging and email capabilities. These features will build additional rapport between you and your customers.

3. Gift cards help businesses create additional revenue. 12-18% of gift cards are never redeemed which means free money for your business.
When gift cards are redeemed, customers spend more than the value of the card 60% of the time.

Gift cards also cut down on transaction fees. Your customers can spend as much as they want without processing fees against your profits.

No matter which way you slice it, gift cards are a nice money maker.

But at the end of the day, gift & loyalty programs aren't just about helping your business financially.

Gift cards and loyalty cards build long-lasting relationships between your business and your customers.

These programs ensure your customers stay connected to your business now and in the years to come.

Do I want more than basic POS with my merchant services company?
When one person wants a lifetime partner, and the other is looking for a fun fling, the relationship devolves quickly into disaster.

While hunting for a viable POS partner, it's important to be upfront about your expectations.

Are you looking for a company invested in your success? Or, are you just trying to cross ' new credit card processor ' off your to-do list?

If you want commitment, you might consider partnering with a company that offers benefits like marketing services or capital advances.

Some POS companies offer cash advances up to 100% of a business' monthly processing volume.

A quality cash advance program can be a game-changer for businesses in need of capital.

If you're looking for an extra level of commitment in your POS partnership, you might also consider partnering with a POS company that offers marketing services.

Many electronic merchant service companies have created online learning platforms to help their customers. These online academies teach business owners, managers, and employees how to market their products and services better.

Merchant services companies may also offer website and social media management services.

These services can help businesses build their online presence without hiring a full-scale marketing team.

Partnering with a POS company that doubles as a marketing management service will help to simplify your business accounts.

Managing one account for both marketing and POS is more straightforward than working with two separate companies.

If you are a business owner or manager looking to free up your schedule, a marketing partnership may be the right choice for you.
How do I find the best price for a POS system?
You want to be sure that the company you partner with is upfront with you about fees.

Check websites and be sure to speak to a representative and read the fine print before making your final decision.

Online reviews will be an invaluable resource for this kind of project. When people have an extreme experience with a company - good or bad - they make sure others know about it.
Here's a collection of some of the most popular POS merchant services companies. Click on the feature most important to you to learn which POS company has what you're looking for.
Credit card processing options
Best all-in-one service and customer support
Advanced Retail Features
Lightspeed is designed for retailers and restaurateurs. With Lightspeed, entrepreneurs can manage, track, and sell their inventory all in one place.
$99/month

Online sales automatically synchronize with your POS for seamless tracking.

Reliable and easy-to-use cloud-based point of sale designed for retail.
Manage and track your entire inventory on the same system you use for purchases and sales.
Works with any platform or device, wherever you are.
14-day free trial
Free POS
Square POS is a great option if you're looking for free stuff. Square charges no monthly fee and no equipment costs. You only pay transaction fees. Square ranks highly for ease-of-use, features, and transparent and affordable pricing.
$0/month - no setup fees or monthly fees. You only pay on the sales you make.

Transaction rate is determined by the Square product you choose.

Deposits come in the next business day or instantly with the tap of a button.

Create as many points of sale as you want without additional costs - you only pay the transaction rate.

Account stability issues.

Not intended for high-risk businesses.

Free eCommerce integration
Credit Card Processing Options
Shopkeep partners with numerous third-party companies. Their partnerships provide customers a full spread of credit card processing options. This includes in-house email marketing, accounting services, online purchasing capabilities, and loyalty programs.
Contact for a quote
No-contract, pay-as-you-go, monthly subscription service.
Marketing and accounting services.

Compatible with most card processors, so you can keep the processor you have.

Free integration with your online eCommerce sales.
Complaints of software glitches.
No free trial
Ease-of-use
Shopify boasts one of the best systems on the market for ease-of-use. The intuitive interface enables users to learn basic front-and-back-end features in about an hour.
$9-$299+/ month

One free card reader is provided; additional readers must be purchased.

Data is stored on a cloud-based system and on iPad allowing c

ash transactions without an internet connection.

Intuitive interface - learn the basics of the system in about an hour.
Instant synchronization with Shopify eCommerce.
Lacks some of the inventory features of other merchant services accounts.
Offline mode is limited.
14-day free trial
Best all-in-one Solution
EMS is the best payment processing company for all-in-one services.
From basic POS and credit card processing services to marketing, cash advances, and more, EMS provides flexibility. If you want to add or drop services without numerous contracts and partnerships, EMS is a great option.
EMS is also industry famous for its U.S. based 24-hour customer support. Talk to a customer service representative you can understand who knows how to resolve your POS issues.
Contact for a quote
24-hour customer support based completely in the U.S. Help is available every day of the year.
Intuitive and easy-to-learn user interface.
Features range from loyalty programs and gift cards to marketing services and social media management.
Cash advances up to 100% of your company's monthly processing amount.
eCommerce online sales are fully integrated with your in-store system.
No free trial
What do I expect from my merchant services customer service and support team?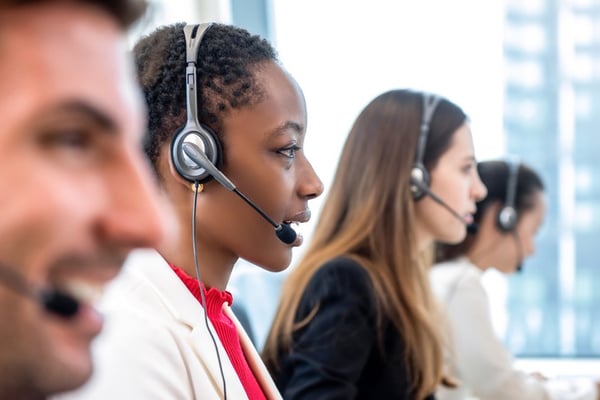 Without proper communication, no relationship can move forward.
It's the same way with choosing a merchant services vendor. You want to make sure your POS company will be upfront with you about the support services they offer.
It's also important for you to be realistic about how much support you're going to need.
Some POS companies offer 24/7 support to their customers. With these companies, you can expect someone trained and helpful will be a phone call away any time you run into an issue.
If your business only operates during normal business hours and never works holidays or weekends, partnering with a POS company with limited support may work just fine for you.
However, it will be helpful for you to plan ahead. If the POS company you choose doesn't have round the clock support you might find yourself stranded.
Do your research and make sure your POS company employs qualified support team members.
Checking out a company's website and scanning a few reviews online will help you know for sure.
You will also want to ask about customer service fees. Some POS companies charge additional fees for utilizing their customer support services.
How can I be sure I pick the right system?
If you have gathered your data and are still unsure about which system is right for you, why not give it a trial run?

Don't be afraid to try out different POS systems to determine their ease of use. You want to make sure the software you use is intuitive.

Neither your employees or customers want to see sticky note instructions plastered across the front counter.

An easy way for you to test out different POS vendors is to request a trial run from local POS vendors.

Local POS vendors will be happy to walk you through their systems and fill you in on the latest features they offer.

It'll be fun; better than a blind date.

In your trial run, be sure to ask the right questions and be certain about cost. Feel free to copy down the questions posed in this guide to ask your salesperson.
Pay close attention to user-friendliness, speed, and functionality.

You will also want to ask questions about how to transition well from your old system to your new POS software.
The process of transferring data may be complicated.
After you've tested out a few options and know firsthand how a few POS systems work, you'll feel more comfortable committing.
Looking for a Recommendation?

If you are looking for a recommendation for a new POS system, EMS is an excellent place to start.

EMS offers a range of POS options for a variety of companies.
Features like mobile POS, electronic check services, cash advances, and loyalty programs are available to you.

With EMS you can expect quality service, professional, dedicated support, and a company that cares about increasing your business' financial well-being.
Click below to contact a local EMS vendor. Find out if EMS is the POS partner you've been looking for.